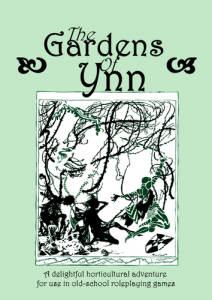 By Emmy Allen
Dying Stylishly Games
1e
Level 3-5
The Gardens of Ynn is a point-crawl adventure set in an ever-shifting extradimensional garden. Each expedition generates its route as it explores, resulting in new vistas being unlocked with every visit.
This 79 page product is a method for generating freaky garden locations/pointcrawls in a an alternate "garden dimension." Evocative writing helps lend a hand to the sunny just-a-little-bit-off character that lends an almost dreamy air to the locations. The gothic horror of a brightly lit victorian garden is fully on display. It also could do with some bolding, tighter writing for the DM mechanics, some cross-referencing, and, ultimately, is not an adventure but rather a location generator.
I'm having a hard time describing the environments this creates. I keep falling back to the "brightly lit gothic horror of VIctorian gardens" that I used in my summary. This thing does a great job of communicating that vibe. Not the full on gonzo of the more recent Alice movies, but rather the cartoon and/or the original Alice stories. Just a little off. And just a little creepy because of that. It's a nice vibe, different, and certainly one of the most well-done in this genre.
This is a combination of the encounters and the writing. The locations are random, a combination of a location and a detail about it. The Wood – of Dead Birds. The glass-roofed cemetery. A smouldering hothouse. The combinations that are generated seem to work well together and being to spark your thinking when you roll them. Each has a small evocative description. "Fruit trees spaced out every few yards, coppiced so their branches start five feet above the ground. Trunks now gnarled and grizzled with age, branches extending into a tangled canopy that ends fifty feet up." or "Steel frameworks hold up a tangle of overgrown vines, producing dappled shade beneath them." or "The ground is littered with dead birds, as if they dropped out of the sky suddenly. Brightly coloured, their feather' all broken and bedraggled." To this might be added an event, or creature, or treasure, again, almost all of them with a terse and evocative description. From there is up's to the DM to figure out why the formal orchard, littered with dead birds, has a treasure of gold coins in a wooden box, with the praying mantis creature wandering about. It all kind of works, for the almost dream-like, or slightly fever-induced, environment.
In all, about fifteen pages are devoted to each section; bestiary, locations, details, rando tables to spice things up, etc. One nice feature is that the main tables needed to generate a location are all grouped next to each other on adjacent pages. They could have used a cross-reference to the specific page number the text description appears on, in order to make the DM's life a little easier.
There's DM text for each entry also, and this is where things start to break down. It can get long, especially as the rooms get freakier the deeper you go in to the endless garden. Bolding, better use of whitespace, a tighter edit, would have all made a difference here.
The issue is, of course, running it at the table. You have a roll on the location table, and the details table. And maybe an event or creature. And then maybe looking up each of those entries (remember, no cross-references to page numbers on the tables), and then grokking the descriptions of each. And then tearing through the DM text, which can be a full page long for the more complex locations. It produces interesting results, but I have my doubts about running it at the table without longish pauses. I'd be interested in knowing about that aspect if anyone runs this.
It does so much right to creature the atmosphere. From the entryway being a chalk drawn door on a garden wall to various rumor-hooks about old books, half-remembered tales and the like. Higher numbers on the tables allow for d12 dice rolls when things are calm and d20's when things get freaky, and so on, which is a nice duel-use feature.
But, it also is JUST a collection of tables. There's nothing to put things together for a narrative. Something feels off about it. I was thinking about that, comparing it to my favorite adventure, from Fight On, the Upper Caves. That adventure is just some simple rooms. It has a couple of tough monsters, but no 'Boss of the Level" or other overarching goal. It's just an explore/loot adventure. That should be what this one is also, but they feel different from each other. Maybe it is the theming of certain sections in the Upper Caves that makes it feel different? I don't know. The random treasure seems light for a gold-xp game, so maybe not "loot it." At best, it seems like you could use this by placing another location or person/knowledge somewhere deep in it and make it a stepping stone for the party to get at their prize.
This is $3 on DriveThru. The preview shows you some of the intro text about the gardens and then the core tables for generating locations.https://www.drivethrurpg.com/product/237544/The-Gardens-Of-Ynn?affiliate_id=1892600