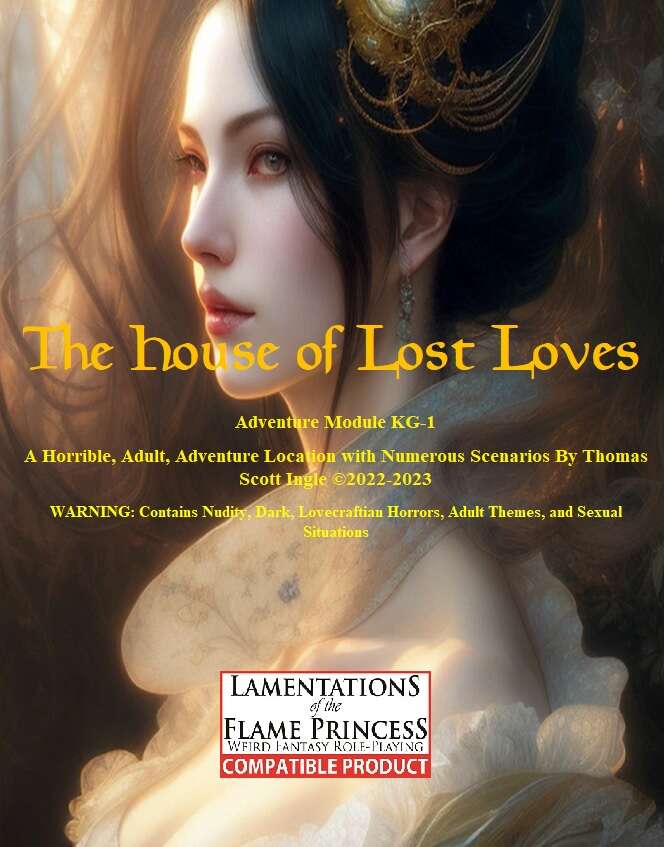 By Thomas Scott Ingle
Self Published
LotFP


The men of Dunnswain are distraught; all their wives are missing! They point apprehensively to a lone house on a hill, a couple miles from town. To paraphrase, "Our wives went there in a tizzy, and ain't been back since…!" What do these men have in common, aside from their cowardice to investigate the house themselves? Why are only the married women missing? To whom does the house on the hill belong…? A short investigation reveals all…then it's time to visit… The House of Lost Loves…!
This 84 page adventure explores, I think, the prurient sexual fantasies of the designer, Thomas Scott Ingle, mashed up with HP Lovecraft. Set in a mansion, it provides twelve different scenarios, written as a jumbled mess by a proclaimed edgelord.
Do you like big tittied anime milfs? Well, Thomas Scottt Ingle seems to. This adventure has its text overlaid on background images on … every page? And on every page there's a topless big tittied anime milf. Ok, not every page. Half the pages? Maybe? Anyway. Lots of H-cup anime milfs adorn the art in this. This goes along with the text of the adventure which is full of women getting stripped, raped, and beaten. Big tittied anime milfs getting striped, huddleing as group while getting raped and whipped. That's what you get in this adventure. I guess I should back to explain the big-tittied anime milfs Thomas Scott Ingle put in getting stripped, raped, and whipped and how we got there.
Thomas Scott Ingle opens this adventure by spending a page or so telling us what an edgelord he is and how this adventure is not for kids, cause he's so edgy. Like, seriously, he tells us, not for kids. Great, got it. I forget, that might come before or after the four pages of HP Lovecraft fan fic. Why is HP Lovecraft in this? I have no fucking idea. I guess some weird shit happens and thats what weird shit means to people? HPL? Anyway, a few pages of background/fan fic.
Ol widow Lovecraft (he got marrieD) lives in the house on the hill. A bunch of women form up a gang and go see her and are never seen again. The husbands (who , it turns out, have all slept with the widow) are afraid for their wives. But, notably, DO NOT form a gang to go deal with things. Their lack of drunken agency is astonishing.
Then we launch in to thirty or so pages of What Could Have Happened. There are twelve of them and each is three or for pages long. Each presents a different version of what is going on inside the house. With names like Wait, What, Who? And Unknown to the Lady of the Home, the titles give you wonderful summaries of what to expect from each. Each says things like "the creature is held in the basement laboratory (b4)" or "the naked raped and beaten female servants are held in the larder, B2." Good job Thomas Scoot Ingle. With the raping. I mean, why not turn to the most cliched element of all where women are concerned. What about those male servants? Have they, also, not served? Something against a little male anal/oral rape? A handy by an unwilling footman is out of the question? Let my point here not be lost. If a designer gave a shit about weird and then the duds would be taking it also. I mean, what the fuck does a tentacle care? But that's not the case in these adventures. And, thusly, I am forced to conclude that something else is going on. Some other reason that Thomas Scott Ingle has written extensively about big-tittied anime milfs getting stripped, raped and beaten. Repeatedly. In a dozen different scenarios, or so. So, you know. Draw what inferences you care to.
I don't understand how any reasonable person is supposed to use this. You have five or so pages of "what happened in this variation" and then need to cross-reference that, during play, with the house description that is thirty or so pages deeper in to the adventure. How does that actually work in play? It doesn't? It's like a template, the house, was written and then a bunch of variables were formed up and whats missing is the final running of the app to fill in the blanks in the template with the variables. But, rest assured, they are not variables, in the twelve variations presented. It's just a full of stream of consciousness text telling you what happened, backstory, who is where and kind of what they are doing. And, then, mashed in to all of this is a section in the back that says "Here's are some traps to use throughout the house is you decide to use traps." What?!
It's just free paragraph writing. On full image backgrounds which makes the text very hard to read. Did I mention that one of the variations is a Rick & Morty theme? There's one creature encounter in the house description, some cannibal parrots. Everything else you have to intuit and reference from the variations. The unnamed house servants, also, I guess? And have I mentioned how the house description conflicts with the variation descriptions of what is going on? Want in the front door? Good luck, that house description, with servants, is only accurate in a few of the variations. Otherwise, look at both at the same time … while holding the entire variation in your head, in order to run the room.
This is a nightmare product.
This is $12 at DriveThru. The preview is seven pages. You get the edgelord warning and a page of the HPL fan fic. Shitty preview, showing you nothing of the actual adventure in order to let you make you own determination before purchasing.
https://www.drivethrurpg.com/product/446451/The-House-of-Lost-Loves?1892600