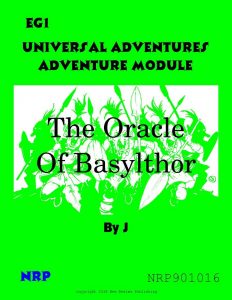 By Walter J. Jones Jr.
New Realms Publishing
Generic
Your boots scrape off the bloodstained flagstones as you step into hall. Fluted columns rise to support a arched ceiling lost in the shadows. A scrape of leather on stone and a jangle of mail echoes off the walls as a mail-clad skeleton steps out from behind a column.
Well, fuck me. NOT an adventure. Not in my taxonomy.
This fifteen page "Adventure" is organized around a deck of cards. You print out a deck of locations, a deck of encounters, and a deck of treasures. You draw a room, roll for an encounter, and maybe a treasure. After experiencing about eight rooms you get to the boss, a harpy, and finish up the adventure. It's straightforward, generic, and solo capable.
None locations. "Empty shelves line the walls and broken crates and tattered sacks litter the floor of this room." or "Broken shelves and crates and toppled weapons racks litter the floor of this dusty room." None monsters. Nine treasures.
Now that I have seen the adventure then the description makes sense. It says there are none cards of each. What I failed to comprehend, from the description, is that this is the ENTIRE adventure. A card driven "walk in to room, killa thing, move to next room" until you reach your eight room goal.
Man, I gotta pay more attention when buying.
NOT an adventure.
This is $6 at DriveThru. The preview is three pages and doesn't really inform you that you are buying just a couple of card decks.https://www.drivethrurpg.com/product/237932/Universal-Adventures-Adventure-Module-EG1-The-Oracle-of-Basylthor?affiliate_id=1892600