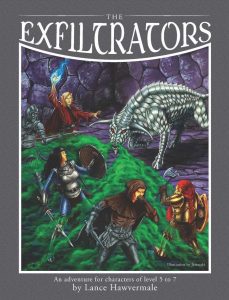 God is dead and everything is sex.
By Lance Hawvermale
Hawvermale Paper & Pen
1e/2e
Levels 5-7
One of the doomed souls within Velgate Prison is innocent, but the only way to free him is to infiltrate the prison. And if that task isn't difficult enough, what's far more challenging is getting out.
This 42 page adventure is a prison break in an inescapable panopticon prison. The designer has no idea how to format an adventure. It has wall of text, mixes important data at random in to random bots of text, stacks the cards against the party, and, to top it off, the product description is inaccurate.
I once had a boss who was the most incompetent person I'd ever seen. I mean truly a fuckwit. He stayed on the job two years. The lesson learned is that you don't have to be good at your job. You have to be good at GETTING a job. This adventure raised $2000 on kickstarter, with 100 backers. Any of you creators struggling with the quality of your product, the crippling self-doubt that comes from creating, need to learn a lesson from this product. Marketing baby, who gives a fuck about quality.
The 'quality' in question? It's a mess. I don't even know where to start. Room four of the prison describes the control room. That's where we learn that the prison has only twelve guards. Because, obviously, if you needed that information you would not look in the "prison overview" section but rather in the control room entry. Clearly.
This club has everything. The hooks are mixed in to the long background text. Page long NPC's.
This kind of shit happens over and over again. Worse, the descriptions for EVERYTHING are long and full of fiction writing. "This room is the prisons dark heart." *yawn* How about justifying itself? "The door has been reinforced by strips of laminated horn so that any check to open it is at -4." *yawn* People don't hear the door chime/doorbell, but they always hear the door being broken down.
Speaking of … The prison is a panopticon. The party is searched and everyone disabled and scanned by magic. The ambush has illusions, a spellcaster wearing a ring of inviso, massmorph attackers, and other gimps. The walls take a 50% penalty to climb. It just goes on and on and on. You WILL play the adventure the way the designer intended! He's going to be sure of that …
The opening ambush is three pages long. A column of tactics. Long NPC stat blocks. The entire thing feels more like a late 3.5 adventure than an OSR one. "You see what appears to be a weary traveller." That is both a common way to write and a shitty one. Wasn't there a good blog post about "appears" somewhere?
Finally, and just to show how petty I am, you don't break in to free an innocent. You get captured. The entire blurb is wrong.
Abort! Danger! Abort!
This is just badly written and designed dreck. I will again use the most stinging rebuke I know of: Why would you attach your name to this?
This is $7 on DriveThru. The end of the review shows you the three page ambush and half of a LONG NPC description. https://www.drivethrurpg.com/product/238100/The-Exfiltrators?affiliate_id=1892600