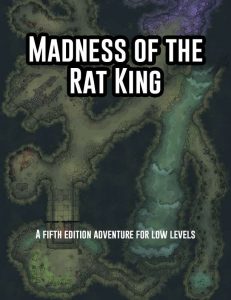 By Tomer Abramovici
Maniac Brews
5e
Low Levels
This is a 28 page adventure (plus a dozen battle maps) in a fourteen room cave complex with a rat theme … with about half the 28 pages being appendices for new monsters and magic items. It can be wordy in places, and has a kind of 4e "enter room/face challenge" vibe going on in places. It's also got a format that helps mitigate the wordiness and steers closer to interactivity than most products. There's are things to explore and do! A decent effort that makes me interested in seeing another product from the publisher.
The monster descriptions, proper, are not that good. The first couple of sentences need to be what the DM immediately needs, the looks and demeanor, and not their creation history or some such. There's a good example of this in one entry: Nipples the rat. The description starts with "Albino with a large cranium." Perfect! When the DM flips to the monster appendix it needs to be easy to find the most important info, which is almost always the description & demeanor. (Well, besides the stat block, obviously.)
But it makes up the gaps with some creativity. Explody rats. Laser-Rats. Rat-Bear-Pig. It gets in to the spirit of real D&D by providing a new mix of monsters to pump up the old. New monsters keep players on their toes. They don't know what to expect, it's full of mystery. Further, they are a resource, in some cases, to exploit. In this case the dungeon has a couple of potions of rat control. Wonderful! It turns a great feature of the dungeon, the new rat monsters, explicitly in to a tool for the party to exploit to overcome other challenges! This is the sort of creative play opportunities that I'm looking for. It was a miss, however, to not put "wielding" rules in to the description of the Laser Rats; that's the first thing I would do if I saw one.
There are a lot of battle maps, about one per room, I think. I don't think they add much. They, along with the writing style and vocabulary used, tend to give this a 4e type of vibe. That whole "enter room and have a fight" type of thing. A focus on "Difficult Terrain" and other vocab that is clearly a callback to rules. It's a weird feeling and more than a little misplaced. The first encounters reinforce this, with a rat ambush straight out of a "this is encounter" 4e textbook. But it's … not right? Or maybe it's a toned down 4e that is them mixed with a lot of older-style interactivity?
It's that interactivity that won me over and elevates this adventure. Skeletons holding notes. A satchel hidden in the ceiling. Statues holding out their hands. Telepathy encouraging you to "Mix the blood!" Black Lotus floating the water pools. Not just a hack fest, but things to DO and explore.
The writing gets loose in places. Here's the first paragraph for one of the rooms, which occurs in front of the read-aloud: "The Rat King works tirelessly on his various experiments here, hell-bent on his delusional plans of world domination. He is constantly coming up with (and often discarding) new alchemical brews or rat mutations to build an unstoppable army. There is no end to his tinkering and half-baked schemes." That doesn't add anything to the room. It's trivia, useless during play. There's too much text like this and gets in the way of the interesting text about interactivity, in spite of the bolding and paragraph breaks.
I have to draw some comparisons to the other wererat I just reviewed, Under Tenkar's Tavern. This feels more exploratory than that, although the map is simpler. The text is formatted better to allow the DM to find things easier. It's not going to win any awards in that category, it's still not great, but there was clearly an effort made to help the DM locate things.
The adventure also has a half page to a page of suggestions for follow ups. Things that the DM could riff on regarding prisoners released, treasure gained, and so on. I like it when these small adventures do that; it adds an element of depth and continuity to them that others don't have. Yeah, it's a DM thing, but I'm all about the designer throwing the DM a bone to work with.
This is PWYW at DriveThrough, with a suggest price of … $0. It's free! The preview shows you five pages, which allows you to see the first five rooms. It does a good job of showing the color highlighting, bolding, and use of paragraphs to help organize and orient the DM.https://www.drivethrurpg.com/product/183874/Madness-of-the-Rat-King?affiliate_id=1892600