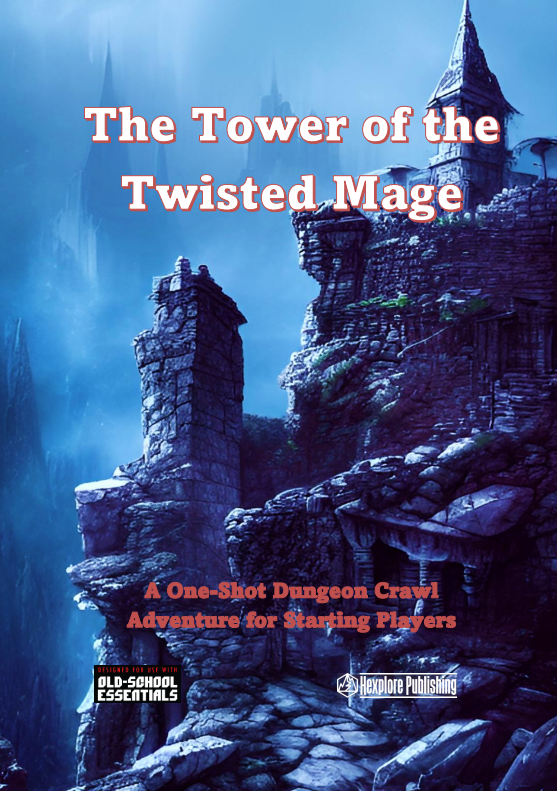 By Hexplore Publishing
Hexplore Publishing
B/X
Level 1
Orin, the Wizard is missing. And his apprentice is hiring adventurers to go look for him in his last known whereabouts: The infamous Tower of Zaradon, the Twisted Mage.
This 28 page adventure features a "tower" with four levels and about sixteen rooms, using about nine pages to do so. So generic that I had to check, multiple times, to ensure I had not reviewed it previously. It's throw-away garbage.
You see a dude in the market place looking around. I hope you go talk to him because if you don't then there's no adventure to be had! An apprentice, named either Kendrick or Cedrick (both names are used for him … and not on purpose …) wants you to go to this tower that his master was exploring and never came back from. Why doesn't he? Well, gentle reader, you see, this is just a garbage adventure. In a garbage adventure we don't bother even mentioning such things. But, whatever.
You walk down a country road to get to the tower. On the road you have an exciting encounter from a table! Just one though … from the table of eight. So, let's see … "A tree has fallen across the path, blocking the way forward. The players must find a way to remove the obstacle or go around it." Joy! Wonder! Excitement! I'm so glad I'm playing D&D tonight! I had been looking forward to it all week! Our boots might get muddy! Ohs nos! Look, if you're just gonna force one encounter then don't use a fucking table. A table was used for wanderers, if the PC"s are dawdling, or exploring, or some such. Not for a programmed encounter. Instead of saying "A group of bandits has set up a makeshift roadblock. They demand that the players pay a toll to pass." then write a short paragraph about the Murphy Boys Independant Tax Agency."
Congrats. You made it to the tower. You may now enjoy majestic room descriptions that say things like a LARGE room" a room with "HIGH ceilings." Don't fucking do this. I know you think you're doing right, but stickin gin an adjective. But, maybe, pick a better one? Large and high have little meaning. Use a thesaurus. Conjure an image in your mind. Describe that. Ceiling tower overhead. Or loom overhead, or stretch in to the shadows above. Don't fucking say high. The purpose of a room description is to inspire the DM. To conjure an image in their heads that they can riff on for the players benefit. Large don't do that.
And, maybe, watch your rooms text for padding also. Telling us that the room has two doors, as the maps clearly fucking shows, and has no encounters or traps in it is not helpful text in the room description. What's the fucking point? You think there might be some, that the designer left out? Why? Why the fuck say there are no traps or encounters in the room? You don't even consistently do it for all the rooms with no encounters or traps! "After defeating the rats, the players may find some treasure scattered among the bones." Why? Just why?! That sentence does nothing. N O T H I N G. Oh oh oh, and then it sticks the door descriptions IN THE NEXT ROOM. So if the door from room one to room two is described, you know where it is described at? In room two. Room one tells us there IS a door, but the actual description is in room two. Now, I know my readers, you're thinking "that could be ok". Maybe. But what if room two is a corridor. It makes no fucking sense at all.
My favorite, absolute favorite, encounter that I may have even seen in my entire worthless piece of shit life, is the mirror maze in this adventure. "To go forward, the PCs must pass three Wisdom saves. Failing any of the saves forces a restart. If they pass all three, they reach the end of the maze". Tedium. Just an exercise in tedium. Just like the fallen log encounter. Tedium. Nothing but tedium. Tired of reading the fucking word tedium yet? Too fucking bad. I had to deal with this adventure.
When you leave the tower you meet 1d6 rival adventurers. That's all you get. Nothing more.
There is NOTHING here. The same room concept, a room with a stone pedestal in the center with a glowing crystal on it, appears twice. Not for thematic reasons. Not for puzzle reasons. Just because. It's the most basic of descriptions. Dull and boring. Padded text. Unimaginative encounters. Tedious play. No specifics to bring something alive.
This then is the curse of man. To be forced to create only to spew shit eternally.
This is $5 at DriveThru. The preview is eight pages. Because of all of the advert padding you don't actually get to see any rooms. Shitty preview.
https://www.drivethrurpg.com/product/437138/The-Tower-of-the-Twisted-Mage-A-OneShot-Dungeon-Crawl-Adventure-for-Starting-Players?1892600
Is it possible to live a simple life without flax seed and hemp indoctrination?