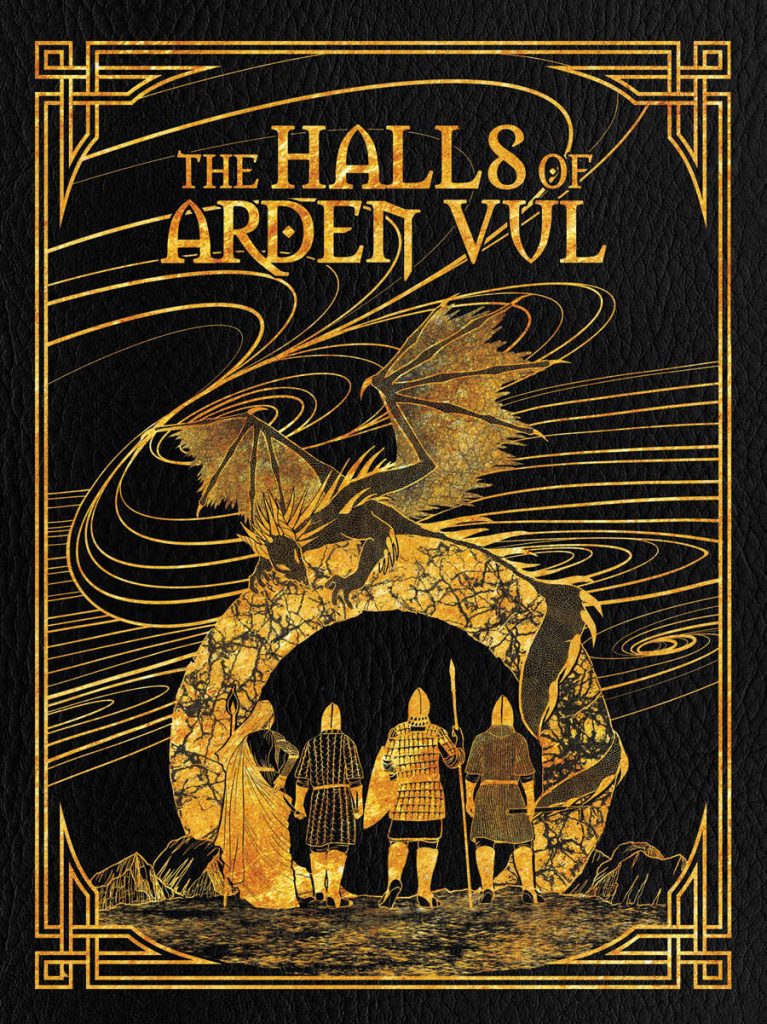 By Richard Barton
Expeditious Retreat Press
1e

This 1122 page adventure details a ten level megadungeon, with fifteen sublevels, numerous pyramid levels, with some levels having upwards to 160+ rooms. An impressive feat of overall design, with many level interconnections and puzzles/rumors/clues spread out across levels. A decent effort has been made to make the size manageable, which helps but isn't a home run. DM text can get long and it less useful than I would have liked, a testament to unfocused DM text. A singular creation, for fans & students of the megadungeon.
It's a eleven hundred pages and I've been working on it for three weeks now, and I'm still not sure this review is any good.
Let's get the obvious out of the way: Arden Vul is big. REALLY big. The biggest so far, in fact. In addition to the ten levels, fifteen sublevels, numerous "pyramids & towers with their own levels", a ruined city outside, a wilderness area outside, and a local town, it is not uncommon for a main level to have 150+ rooms on it, with sublevels having 30-50 rooms. If a modern OSR product is expected to have around fifty rooms, then this is equal to AT LEAST, say, sixty or so levels. Added in to this mix are at least twelve major factions, from cultists, to major humanoid tribes, to a dragon, to a wizards. Dungeon levels have a crazy large number of interconnections to each other, including the requisite "giant chasm that runs through many but not all levels." ig, here, is an understatement.
The book tries to make this size manageable. It has overview sections, up front that introduce central ideas and groups them together. So you might get a giant multi-page section on the factions, an in depth on each of them,how they feel about each other faction, things they want, their size and how they replace losses/are likely to react to events, areas they control and contest for, and other topics. Then, at the start of each level you get a little overview/introduction to the level. This will again mention the faction and briefly describe a few things about them, what's going on, with a concentration on what's happening right now. This same sort of general concept is followed for several different topics at the start of each chapter. Areas of legend/note get their own section, and then a brief intro in the chapter heading in which they appear. As do important NPC's, construction/style notes, ingress/egress points, and so on. Further, it's all pretty well cross-referenced. If it mentions an NPC it notes their location. If it mentions a location by name then it tells you where it is, if a clue is mentioned somewhere in the keying, then it both cross-references to the location the clue is for AND has some notes that explain it to the DM, for additional context.
But the place is big. IMPOSSIBLY big. And those efforts to make things manageable only help so much. The cross-references and "DM notes" work really well. "Places of legend", iconic locations within the dungeon, also work really well. Introduced up front, rumors, things everyone knows about, and then overview of them and their context etc. It helps them integrate naturally in to the game. Other areas though, like the factions, start to get long in their multi-page "summaries." You almost need a summary guide for the summaries. This is, especially with regard to the factions, a side-effect of the writing style, which I'll cover later on. I'm open to this being a side effect of PDF version and the print version being easier to reference during play. In this case, at least, I could have used a reference table. And the same issue with dungeon styling and areas of control. I think I would have wished that this be embedded, somehow, on the maps. Different shading to show construction styles or who's domain you were in, and/or notes on the maps to remind me what Achachian styling consisted of, or what Kertil styling consisted of. I'm am NOT gonna fucking remember that during the game. It's more likely that I will ignore, intentionally or unintentionally, that section in the level overview. And if so, then why include it at all? This is not an argument to NOT include it, but rather better methods, in our hobby, to handle these sorts of "always on "information items. I need a memory prompt, dammit! Which if why I harp on summary sheets, or on-map information so much. There's just SO MUCH. Handled well, it's going to be a major enhancement to the game. But this doesn't handle it as well as it should.
This is, at least in part, because it's not breaking new ground as a product, in terms or styling and organization. I know, I know, hipster art project D&D adventures are almost a meme now. But, there's also a trend in those products to search out the best way to present information to the DM, exploring new grounds of presentation and layout for clarity and impact purposes. This don't do that. It take the usual standard dungeon format and adds some overview/summary chapters and some introductory text and that's it. The cross-referencing and " DM notes" for the clues are just about as far as this product is willing to push the boundaries of new layout/presentation/ideas. And yet, of all the products to come out, these large ones are the very ones that NEED that additional design/layout work. You saw this in, for example, Stonehell, in which the one page dungeon was then supported by breaking it in to four sections and then also giving each section three or so pages of supporting information. I'm not saying this product should have done that, but rather using Stonhell as an example of breaking new ground in order to handle its environment better. This could have/should have gone a little further down that path as well. What? I don't know, but I do know it could use more help in this area. Is it bad? No. Above average, at least. But, not effective, or maybe completely effective, in helping the DM manage its size.
The dungeon has a serious flaw and it's best to get that out of the way: the writing is unfocused. It mixes the past and present of the various rooms, hiding decent details in favor on expounding on the past glories of the rooms. What detail there is can hide behind an indirect writing style that further obfuscates scanning.
The room of Jhentis the Ghoul is a good example of this. In the middle of a floor covered in shards of broken bottles, a strange throne of bone and wood scrap rests on a desk that rests in turn on a table Jhentis sits on this throne gnawing bones and murmuring hungrily and angrily, wearing a key around his neck and piled next his throne are coins, jewelry, unbroken bottles and scrolls. But that's not the description we get. Instead this is the description we get:
"This former alchemical laboratory houses the 'court' of Jhentris,
a particularly ambitious priest who returned after death as an
unusually powerful ghoul. Originally three large workbenches
sat in the middle of the room, and wooden shelving filled with
paraphernalia lined the walls. Most of the glassware has been
shattered, and Jhentris has built a strange throne of sorts out of
the surviving table and scraps of wood. The 'throne' consists of a
chair made of bone and wood resting atop a desk placed on top of
a table. Jhentris sits in his throne, gnawing bones and murmuring
hungrily and angrily. The walls are undecorated, save for marks
where the shelving used to rest. The floor is covered with glass
shards and other debris, rendering movement more difficult (-10'
movement). Some scraps of 'treasure' sit on the table to either side
of Jhentris's throne"
Note the rooms previous usage, leading off the description. Is this the most important thing for the DM to know when the players open the door? Of course not. It's the image of the ghoul gnawing bones, sitting on his throne, treasure, broken glass, and hungry mumbling. Note how it tells us what USED to be in the room, what is USED to be used for. This is trivia. It should not be included at all, and if it is it should not be what the room leads off with. Note how the walls are undecorated, except for the marks. Great indirect writing if you are writing to be read and substantially less so for play the table.
This is, though, a good room in terms of both imagery and in terseness. It's not uncommon for a room to go on for a page or more, as each item gets some description, again in this unfocused style. Another room tells us thar the halflings have already looted a body except for a scroll in a boot. Mening, of course, that there is a scroll in the boot. I know this sounds like I'm pixel bitching, but the product if BIG and the rooms are LONG and this all makes the rooms a chore to scan and therefore to run easily. This sort of burying of information, either deep in the paragraphs or as the secondary part of a sentence is a common occurrence.
This is furthered by a writing style that likes to use the word "large" and other common adjectives. Three stone sarcophagi lie broken and looted in the middle of a chamber. This is not evocative writing. For every Ghoul on a Throne there are fifteen or twenty broken and looted sarcophagi. These rooms seldom come alive in my mind. Again, reference being made to the more … plain? Writing style of Barrowmaze. Highlighters out! Actually, better buy a gross of them, you've got 1122 pages to read, absorb, and highlight. No bueno. Normally, this would be the killing blow for me in a review. Confused and lengthy writing making the thing hard to actually do what its intended to do: be run at the table.
But, this has something else going for it: it's interactivity..
This megadungeon is stuffed to the gills with it. The different factions, and their goals and how they can use and be used by the party is only one aspect to it. In addition to this "stretch goal" of roleplaying interactivity, the adventure is also full of "the usual" interactivity, the most common types. Hidden floor tiles full of treasure, passages, and pools and statues to mess around it. But, it then takes this to another level. It is STUFFED with those features. And, in particular, many of theme are themed. So, as you learn more about Thoth and Set, you figure out more and more how to work the various things you find the dungeon. Which position to put the statues arms in, for example. And there are numerous clues, murals, graffiti everywhere in the dungeon and its environs which help with party with their sense of discovery. "Ah! I bet this relates to that statue on Level 2!" Players LUV LUV LUV figuring things out and this allows them to do it. Plus many of the clues are for things on other levels as well, giving an additional aspect to it. There are also a TON of mini-quests to take on. These can be relatively standard things, like people in town needing/wanting something, or rescuing prisoners. I think, in fact, there's something like two pages of captives, summarized and cross-referenced of course, that you can rescue in this place. And not one room with two dozen people in it either, scattered, with different goals and different purposes. And that's just the beginning of the interactivity in this thing. Did I mention it provides rules for training? Yes, finally, an adventure setting that covers how to rid your MU of all that gold so he can train with a dude in town to get his level. It's there to cover all the bases, in the dungeon and outside of it, with scores and scores and scores of opportunities for the party to dig in deep and the DM to take adventure of emergent play.
There's a good sense of the familiar in this that is twisted just a bit to make it different. This is great for the players, and the DM, since it gives them a starting point in their heads to build upon. There's a stargate-like teleporter pad, with addresses and stones to find and place correctly in order to dial in an address. And the theming of Set and Thoth, for example. Trolls that are not trolls that are trolls are present. Familiar elements, that you can latch on to in your head, but given just a little twist in order to bring some freshness to them and make them un-generic.
This being such a large product, the question is going to arise if you can yank specific levels and reuse them for your own purposes. Yes? Maybe? I don't know? There are things going on in this that is going to make that more challenging than usual, which is going to require a little work. The level interconnections are many and varied. They are clearly outlined at the start of each chapter, which is a boon for fitting this in to your game piecemeal fashion. Certain things, though, like the chasm running through the levels or the stargate-like teleporter system is going to require a little creativity to get past. While many of the factions are generally self-contained, there are incursions of other-level factions and references to them. Again, this is going to take some work to mold and fit in to your existing game. The interactive elements, from the teleporter gates and discovering their addresses, to the Set and Thoth theming, to the statues/interactivity clues that refer to things on other levels, just are not going to make sense if you pull just one level. And, of course, the faction roleplay elements themselves. The integration of each level with the other levels is really quite involved. And that's absolutely GREAT if you're using this as a standalone and presents a challenge if you want to yank a random levels. Having said that, some levels and sublevels are more easily yoinked for standalone than others. So, CAN you? Yes. Put if you really like a level and want to yoink that specific level then you may face some rather substantial work in order to filter out and/or replace the interconnected elements. The summaries though, of the iconic locations, level interconnections, faction/level overviews, DM notes, captive-to-rescue table, cross-references and so on should help you quite a bit in this effort. You're not alone!
My notes for this adventure run eleven pages and I've only touched on the major topics. This adventure is interconnected in a way that few others are. The cross-level design and faction play across levels. The interactivity of the levels. The support for the DM in terms of cross-references, tables that summarize hostages, quests, and other topics. My chief complaint is the writing for the individual rooms, proper. They evocative nature of the writing is inconsistent and the DM text long and lacking focused. That means extra prep work, highlighters, and the like. This isn't the sort of thing that runs easily at the table, because of that. And yet, there's nothing like this on the market at all.
The PDF is $110 at DriveThru. The preview is twenty pages. Of that, there are a few pages that hint at the summarization levels: the iconic locations on pages fourteen through eighteen. Prior to that there is a section on the various builders of the dungeon, and their dungeon feature types, meant to be used for level theming architecture notes, etc. The two, taken together, given you a good hint of the sort of information the adventure provides for the DM. Can you keep the level theming fresh on hand? And yet the iconic location summary is perfect for dropping hints, legend lores and the like.
https://www.drivethrurpg.com/product/307320/The-Halls-of-Arden-Vul-Complete?src=newest?1892600