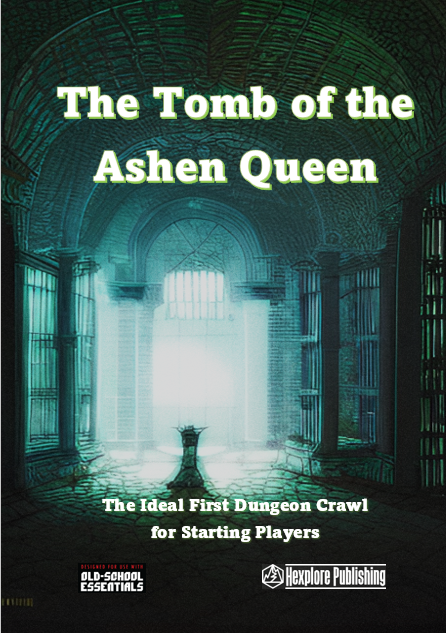 by Luiz Eduardo Ricon
Hexplore Publishing
OSE
Level 1
In centuries past, these lands were raided by a merciless warrior queen. Her name is legend, and the location of her final repose was a long, lost secret… until now!
This 26 page digest adventure uses eight pages to describe twelve rooms in a dungeon.
This is marketed as the perfect first dungeon crawl for starting players. It is important, as with all things, to not believe anything you ever read. This is not the perfect first dungeon crawl for starting players. This is a total and absolute piece of garbage of an adventure.
Our first sign is that it's twenty six pages. And only uses nine of them to describe its twelve rooms. I guess it could be worse. It could use even more pages to describe the rooms. It doesn't matter. Nothing matters. Anymore. Ever. Because some beaming idiot is always there, holding out the lumpy ashtray they just made. This is life.
Need another example? How about the map! A pretty basic affair. Just a bunch of rectangles connected by corridors in the most "I made this in powerpoint" kind of way. With a couple of same-level stairs thrown in. But, of, no, this is not the highlight of the map. Oh no. The highlight is that the fucking map doesnt use numbers. Yes, friends, our ashtray is convex. The map just has room names. Exciting names like "Orcs" or "Goblins" or "Mess Hall." It's up to us, the DM's of the world, to dig through the text and find the room that says "Goblins." I wonder if the "goblins" rooms comes before or after the "Orcs" room in the text? SHould I page further on to find it or should I turn back a few pages? If only there was some simple way to determine that! Something, like, I don't know, an ordered system of keys. Like, I don't number, what if we used numbers? So, like "Room 2" or something. Then, if we're looking at Room 1 in the text we know that Room 2 should be the next room. That would make sense! Oh, what's that? This text kind of does that? Yes! It does! "Room 1, Antechamber" That's great! But, YOU DIDN"T PUT ThE FUCKING ON FUCKING THE MAP IN THIS PIECE OF SHIT FUCKING PRODUCT! And, you named the fucking rooms something else. Is the "Goblins" room on the map the same as "Room 2 Goblins Attack" room in the text? Fuck it. You EXPECT the stoplights to be times?! You EXPECT the road to not be full of potholes?! You EXPECT COmcast customer service to provide customer service?! Fuuuuuuuccccccckkkkkkkk You! Wait at the restaurant for them to microwave your frozen ravioli.
Ah, but the adventure! There we have something! Lets' look at these amazing room descriptions! "The walls have 4 torch sconces, with burned out torches. Three doors leading out." How's THAT for a description, Mr Reviewerman?! No? Not your cup of tea? Then how about "This room is torch lit, 60×60, one locked door on the North wall. There's a pedestal with a silver amulet on the east wall" Ha! Take that! I loathe my life. I yearn, only, for escape from it. And, yet, this is what I'm presented with, every day, in every way.
Room two tells that that there is a noise and a light coming from beyond the corridor turn. That's from the perspective of room one, so, I hope you entered the room that way. And, of course, this should have been the description of the room one exit to that direction. This is basic fucking shit. And, I know the hooks are dismissed by many of you, but, they are included. Such things as "You came here on a caravan." Great. Or "you found a map in a chest." This is indeed making my life better, thanks for including that.
There is one nice thing in this adventure. Room one has dirt all over the floor and an inscription on the floor under it. Nice detail, that.
Look, I'm kind of known for being a generous kind of guy, so I'll offer this advice for everyone out there who wants to write an adventure and publish it. I'm going to assume you are writing for the joy of it. You're not one of those commercial hacks that have a Patreon and are dumping out content to your subscribers every month. There's nothing wrong with a Patreon, but, there is something wrong with pumping out shitty content in order to make money. At least there is within the context of this blog. They can be lauded on the "Capitalism: How to Find A Sucker" blog. But not here. Here we're looking for quality. Here we're in it for the love of D&D. So, let me ask you, Wannabe Adventure Writer …
Is this the best thing you have done or will ever do in your life? If you could only be known for one thing from now until the end of time, is this it? That adventure you just write and about to publish … is that it? When you are judged before god, or talked about by your sons and daughters or mentioned in media a thousand years from now, will they be holding up this adventure as the only example from your entire meaningless fucking worthless existance and saying "Yes. THIS is it"! If you cannot contemplate this being the best thing you have written, or will ever write … then don't publish it. Don't inflict it upon the rest of us.
Thing about why you're writing it. You're not getting rich. No makes money at this shit. We already covered the Patreon/ConveyerBelt crowd. They make bank. But they aren't doing it because they love D&D. They are just churning out content every month to make money with no expectation of quality. So, when we remove the potential of making more than $20 from the equation … why are you doing this? Presumably because you are excited and you love the game and you want to share that. So do that. DO it in a way that communicates your excitement and vision. Agonize over it. Tear your hair and rend your clothing over the adventure. Over the writing. Over the design. Truly visit the depths of despair and the heights of joy as you work it. Over and over and over again. Produce for us a work that is the best that you can possibly achieve, and then go beyond that. Make something that you believe could honestly be mentioned in the same breathe as G1 or Thracia or DCO. That's the bar you are shooting for in publishing. Because that's what you actually want to do. Deep down, that's what you want and that's what you yearn for and that's what you envision in your head. So do it.
This is $1 at DriveThru. The preview eight pages and you get to see none of the actual adventure, so it's a failure also.

https://www.drivethrurpg.com/product/434346/The-Tomb-of-the–Ashen-Queen-The-Ideal-First-Dungeon-Crawl-for-Starting-Players?1892600