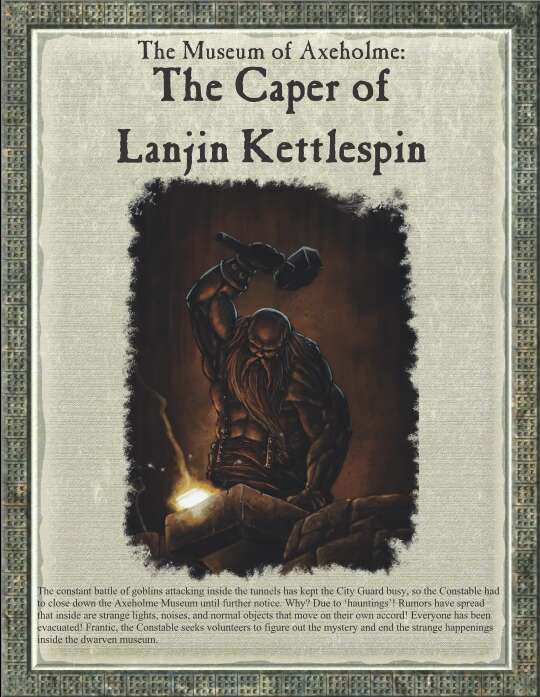 By Malrex
The Merciless Merchants
For Gold & Glory
Levels 1-3
War in the tunnels below the dwarven city of Axeholme has kept the city guard busy. This caused the Constable to close down the Axeholme Museum in frustration and until further notice!! Why? Due to 'hauntings'! Rumors have spread through the streets that locals have witnessed strange lights, noises, and normal objects that move on their own accord! Sounds like the usual to a group of adventurers such as yourselves. The Constable seeks adventurers to figure out the mystery of these hauntings….and you are hoping the reward will just be some of that sweet, sweet dwarven beer!
This 21 page adventure details a three level dwarf museum with about 35 rooms. It's probably fine. But I hate dwarf adventures and I hate museum adventures. Yes, I am a hater. The worst thing I've seen from MM, and Mr Bad King? Probably.
Let's see here, plant room? Check. Statues that come to life? Check. Things coming out of paintings? Check. Animated things? Check. Earth plane creatures? Check. Some kind of forge thing? Check. Some kind of mine thing? Check. "Bryce, stop being so cynical!" Well, stop making it so easy! Sure, a museum is going to have those things. Sure a dwarf adventure is going to have those things. Just like an exploratory adventure will have a secret door and a chasm room.
But I don't care. I hate the implications. Museums. Phooey! And the dwarves here are nothing but a pretext. It could be a human museumfor all the theming. Yeah yeah. Bar in the museum. Mining exhibit. Whatever the nature of dwarves is, it's not present in the adventure. And if you figure out what the nature of dwarves is let me know. That does seem to be the problem with all these dwarf adventures. No one seems to know what the vibe is. Including me? Anyway, museums suck in D&D, just like archeologists do. There are, of course, the required continual light lamps throughout the museum. Joy. Did I mention the legendary gnomish artist thing? No? I'm just ranting and rambling at the beginning of a review?
Ok, so, the dwarf museum is haunted. Everyone is too busy so you get to go look in to it. What does haunted mean? No clue. Nothing provided. The curator opens the doors for you. What can the curator tell you? No clue. Nothing provided. Yeah, sure, you don't have to. But, also, one fucking sentence would be nice. One sentence to communicate the curators vibe? Nope. I guess the intro says the constable is looking for volunteers, and the intro in the adventure says Balgor the curator is looking for volunteers. Whatever. There's 35 rooms. Lets get in to it. Oh, shit, I forgot. You get 300gp each and please don't steal.
Room one. Giant closed doors with a dwarf face on eit. Got it. Room two. Statues. One of them comes alive. Starting strong, I guess. "Three dwarven statues and one gnome statue stand in alcoves lining the walls, each graffitied with colorful war paint. The statues are expertly crafted with name plates. Each statue holds the tools of their particular trade." *YAWN* Room three, Foyer, with "gigantic thich multi-hued glowing crysta;s emerging from the ceiling, floor, and walls." *yawn*. Room four, Trophies. Statues of monsters. That have … come to life. Seven kobolds, five goblins and an ogre. Enjoy. Room five, mining exhibit. "Various sized lanterns hang from the walls emitting a glow on stone tablets of cartographic information. Wheelbarrows are half-filled with bits of golden and copper ore chunks and in-between piles of rubble. A few empty bird cages, expertly crafted hang from the north wall."
Is this what you want from D&D?
The adventure is not badly done. You can understand what is written and follow along. I just have no idea WHY you would to do so. For a generic description? For seeing a trope that has been done a hundred, if not thousand, times before done in exactly the same way it was done those previous times? For a plot driven by a gnome illusionists search fo a book of literature about his dad. A BOOK OF LITERATURE?!
I fucking hate magical society adventures. Just as I hate hell and all Montagues.
Enjoy this, plebiscite. I trust you're all comfy on your tacky sofas from Rooms-to-Go, lots of nibbles close at hand? Well, tuck in! And why not smoke between gobbles? Yes, go for the gusto America!
This is $5 at DriveThru. The preview is fourteen pages, so you get to see everything. There's no faulting that! Just the way things should be.
https://www.drivethrurpg.com/product/422993/The-Caper-of-Lanjin-Kettlespin?1892600
It's Tuesday, as I write this. I leave Thursday night to go live on a commune.