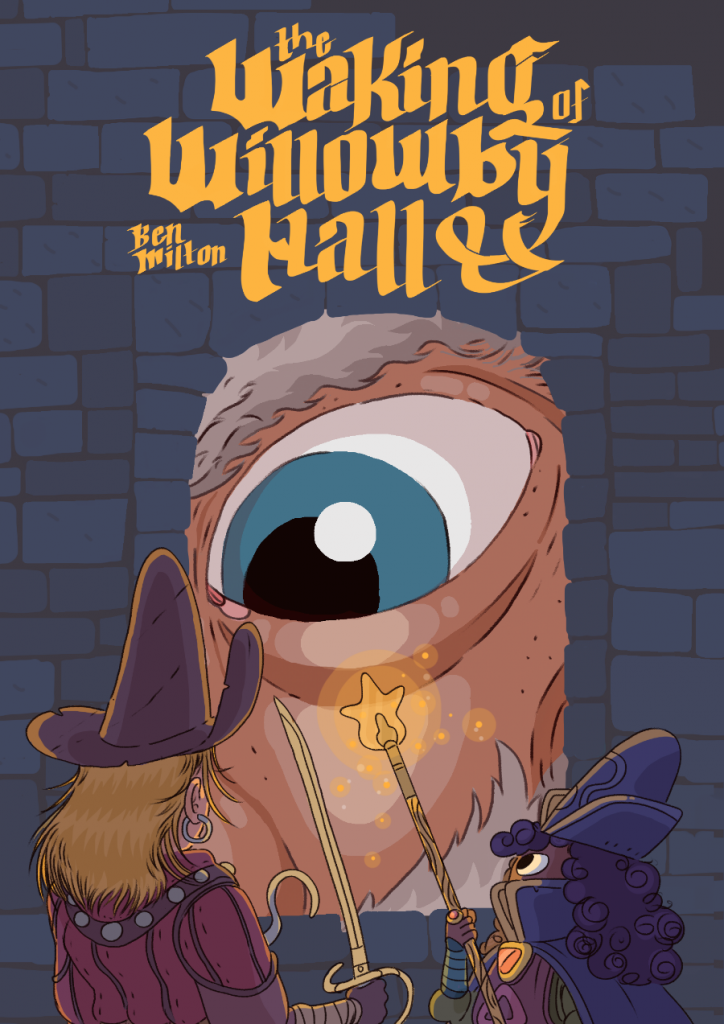 By Ben Milton
Questing Beast Games
Knave/OSR
Level 3
The manor of Willowby Hall is under siege by a giant, enraged at the theft of his magical goose. The band of thieves has taken shelter within the manor's crumbling walls, cowering with their ill-gotten poultry as the building shakes itself apart. But something else is stirring. The giant's rampage is slowly awakening a Death Knight from its black slumber, and once it rises it will call on the bones of the manor's old residents to drive out the intruders. Will the party loot the manor of its ancient relics, or succumb to the blades of its skeletal guardians? Who will make off with the goose and its golden eggs? Will anyone survive the giant's onslaught? The only way to find out…is to play.
This 32 page adventure features about thirty one rooms in a fanciful haunted two level manor home. With a rampaging cloud giant outside. It's a classic situation dungeon. You think up some situation, then dump the party in to it and giggle as all hell breaks loose as they try to loot the fuck out of everything and not get themselves killed. Ben is not just "Not a fucking idiot" but actually knows what the fuck he is doing, and it shows.
It looks like this is a part of Zinequest 2, from Kickstarter, and ran in February of 2020 for two weeks, making about $13k. Delivery was promised in December 2020 and appears to have dropped in February of 2021. At first I was like "Man! $14k in two weeks! Sweet sweet lucre! If I could do one of these every two months then …" and then, after looking at the dates, I was like "oh man, the fucking stress! Dude must have been sick with it!" The results, though, are clearly with it.
Three adventurers break in to a cloud giants cloudy home and steal his goose, rumored to lay golden eggs, and run off, being chased by the giant. He's grabbed the locals town bell from their church and is using it like a flail. The adventurers have run in to an old abandoned manor home, rumored to be haunted. Thus far we have: angry cloud giant in a silk dressing robe with a bell flair, nutso adventuring party, haunted manor, and Mildred the horrible magical goose. That's a GREAT mix of shit going on and the fucking adventure hasn't even started yet! Ben does this in just a couple of intro paragraphs and it sets the tone for whats to come.
This has a fanciful tone to it and is alluded to in that intro. The cloud giant with the goose that MIGHT lay golden eggs. He's in a dressing gown. His name is Tom, a very respectful name for a giant and sometimes for trolls. That, alone, would bring the fanciful air of the folk tale to the adventure (which I have a well known LUV for.) Midred is the perfect name for the goose and making her a horrible wretch, who honks, bites, and runs away, is perfect for this adventure! Our adventurers that stole her are Helmut Halfsword, Lisbet Grund and Apocalypse Ann the magic user. Perfect names for this sort of adventure (And an art style that complements perfectly.) But, this is no kiddie game. While it makes allusions to folklore and has a lot of very relatable things because of that, this is not a kiddie adventure. Castle Xyntillan has fun and fanciful air to it, a lightheartedness. If that's one end of the spectrum and Shadowbrook Manor is the other end then this is somewhere in the middle. Not humorous, but a kind of setting up the environment for things to take a turn. I'm a big fan of D&D play with that tone. (I might note, also, that if this were for 1st levels then it would be the perfect intro dungeon for brand new players introduction to D&D. It's accessible. Hmmm, maybe you can do it at level 3 also, it just makes them less squishy, which might be good for noobs, but not so much shit on the characters sheet as to overwhelm them?)
You get VTT maps. The inside cover has a layout of the map, along with notes around the edges for DM's quick reference. Perfect. The room format has a brief sentence, with bolded words, with bullets and indents providing "i look closer" information. Perfect format. I could write a lot more about this. I don't know, maybe I should. Whatever. I like the format. Basically, you get a one sentence intro, with a bolded word. It will have some bullets, indents under it. Then another paragraph with another bolded word or two, and some indents/bullets under it. Scanning the room, as a DM, is trivial. Reading the room to the players is easy, you're just noting the first sentence above each bulleted section. Little mini-maps dot the pages, to give context for where the party is and whats inn the next room over.
Ben has, it appears, taken the "no room keys" gauntlet. I have vented repeatedly in the past about adventures with no rooms keys. They try to describe using just text. Or, they put the room in some non-alpha format with no actual room keys. Ben also has no room keys. There are no numbers on the map and the room names, while on the mpa, are not in alpha order. But, wait, there's more!
He DOES have rooms keys. They are page numbers. Breakfast Room P. 24. Music Room P18. With a big giant Breakfast Room on page 24 to help the DM locate it. Thus the index serves as the room key. Clever boy.
There are ghosts. They want things. The NPC party is running around. The giants bell is slowly "waking up" the haunted manor. The giant serves as a focus to keep the party on the move as he looks in windows and reaches and swings his bell flail … the related waking up also serving as a timer for the party. Thus there is motivation for the party to move their asses in and around the manor.
Descriptions and great. A harpsichord says "Playing anything else causes thousands of harmless black spiders to swarm out over the PC's hands. Save or scream in terror until removed." A scream, of course, causing a wandering monster check. As does that horrible magical honking from the goose. There is A LOT to do in this adventure. Buttons to push, so to speak, and things to interact with, flee from, and leverage to your own ends.
Great fucking adventure. Knave. Youtube channel. Phat kickstarter loot. Good adventure. Beautiful spouse. House in Malibu. But, alas, no cabal membership.
This is $7.50 at DriveThru. The preview is thirteen pages and shows you nearly all of the adventure. Great preview. Check out that preview even if you don't buy it. You can see the format he's used, both in the map and the keys, and get a sense of the interactivity.  

https://www.drivethrurpg.com/product/348439/The-Waking-of-Willowby-Hall?1892600