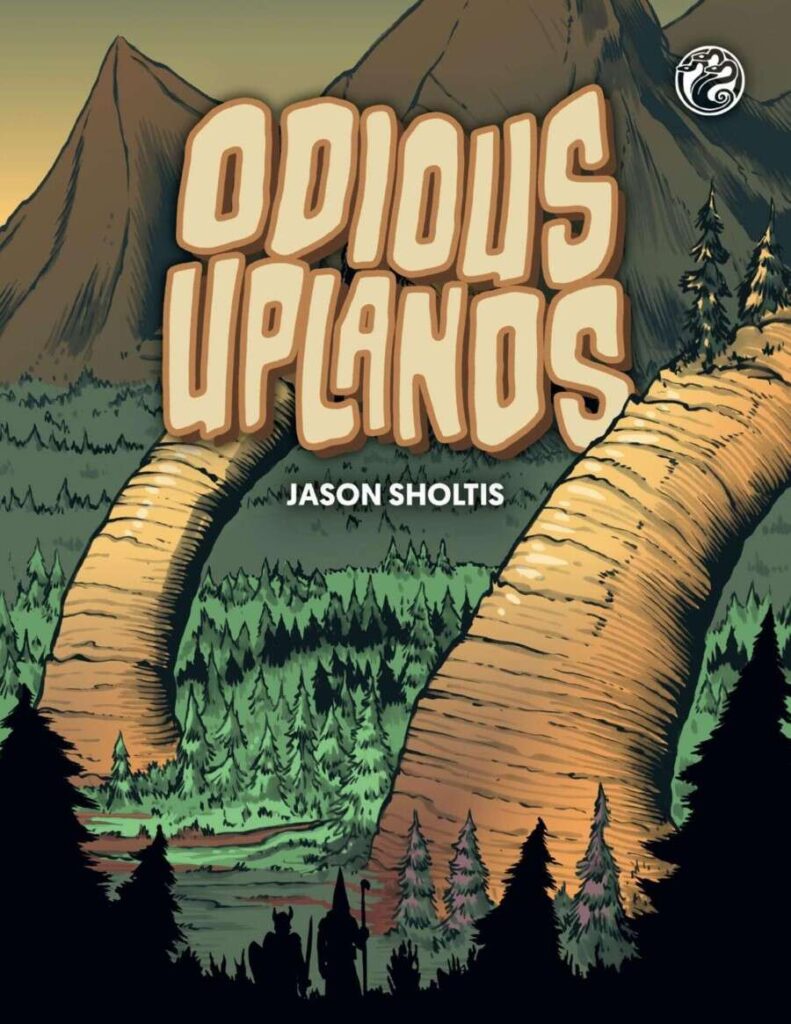 By Jason Sholtis
Hydra Cooperative
S&W
Level ... 1-?
SO YOU SURVIVED OPERATION UNFATHOMABLE? The Odious Uplands await! You and your brave companions, fresh from their terrible sojourn into the Underworld emerge into the untamed wilds of Stonespear Province, crushed for an eon beneath towering glaciers until a sudden thaw, and bathed in the dim radiance and ineffable influence of the Chaos Aurora! A land home to all manner of unique megafauna, vicious saber-toothed apes, Woolly Neanderthal rangers, scarcely describable entities staggering forth from the Underworld, and of course other adventurers seeking their fortunes.
This 170 page setting/hexcrawl features a home base as well as "upper mastodonia"; a weirdo OD&D locale that tends towards the primitive, imagined as only Sholtis could. Evocative beyond reproach, if you can hang with the Dungeon Dozen and handle some sticky descriptions then you've got a winner here.
I should mention, up front, that I like this designers work. I think his website, Dungeon Dozen, is one of the best D&D resources available. Operation Unfathomable is one of my very favorite adventures. It's one of the few I own in hardcopy. It is the ONLY adventure I have ever gifted someone. I like his brand of genre.
We have to cover the weirdness thing first, since I feel like that's going to be the thing that the stick-up-their-asses crowd focuses on. There's always been weirdness in D&D. From your black monoliths and fish-people, to Wilderlands to ASE1. Scholtis leans weird. Not gonzo. Weird. Yup, there's a dude riding a giant preying mantis. If you've got giant preying mantii then it makes sense that someone would eventually ride one, correct? (Not shown: the 100,000 idiots who tried, failed, and died) And, perhaps, that "Not shown" is the key to this. We're not talking about a magical ren faire. No Continual Light street lights and blackhole garbage disposals. It's not commoditized. Life is still strange and risky. As if the conditions in the dungeon, which might give you a +1 STR or might turn your head in to an insects, are shown, in society. Yup, there's the dude at the bar with the insect head. No, we don't ask about that. But it's all firmly rooted in the normal world. There's a lot of weirdness floating around, but the world is not weird … even though it is. A part of this is the relatable conditions that Sholtis works in. You can understand what's going on. One dude thinks that the local indigenous people, hippy cavemen are "better people than humans (he's not wrong!) and resents them accordingly." Comeone now. That's one of the most human things I've seen written down about human nature and it's in a D&D adventure. The adventure, most of the NPC motivations, and monsters for that matter, make sense. Things are relatable, even though weird. It's not generic. It's not abstract. It's relatable.
Present, here, is a town. A starting base. Fort Enterprise. The last of civilization, slightly outside the bounds of the civilized lands, in the wild north. Run by a King Conan, barbarian gone to lard, but still believing in the nurturing power of the wildlands. Ready to tame the surrounding lands of monsters. And make some loot. And a bunch of degenerates hanging about ready to farm, fish, timer, and exploit the environment. You've got a great home base. It's absolutely an adventurers town. Weirdo wizards. Weird tax rules. Idiosyncratic clerics. People (and giant slugs …) out to make a buck. That slug? An effete emissary from the underworld, a trader, hole up out of sight as a guest in the Governor/Barbarians manor. Yup, an effete slug trader hawking underworld ale. Did I mention that the God-Kings emissary in town is a lich? Just there to make sure the Gvernor/Barbarian pays his taxes. Yup, the empire has Citizen Lich's. And more than a couple are present in town. As is a local troop of the empires soldiers, looking for miscreants outside of town, searching people, especially adventurers, confiscating interesting things found. Gotta keep the party on their toes and this does that. A shanty town, a lake full of monsters. A couple of godlings hanging around. This club has it all! A great starter town. And EVERYTHING aimed at interacting with the party and inciting adventures and presenting great situations to explore with them. Rocking place.
There are about forty or so described location scattered around the Upper Mastadonia map, along with numerous other "generic sites", meaning "you find a corpse here" or "you find a fungal thing here." Something akin to the "pit traps" on a map, these have tables that you can use to expand on the encounter, providing for a constant background of themes popping up. Some of those fourty or so locations are also mini-dungeons or a few rooms.
Sholtis writes 'sticky' descriptions. The locales are memorable. You ran riff on the information present, make it your own, expand on it. You understand what the core concept is and have enough to run with it. Evocative. It's really quite a skill to be able to produce locale after locale like this. But, that should be no surprise given the Dungeon Dozen. What they are not are terse. We're looking a couple of paragraphs for most places with some bullet points. This is augmented by offset boxes and other formatting, that helps bring clarity to specific things, but, I'm talking about the main concept/description/idea. The communication of that core overview. The one that I say is sticky and helps you run the area. Yeah … that one is a little long. This is a prime case of needing a highlighter. You're gonna need to read everything, at least once, in prep and then maybe highlight about two words in each area. That, combined with the art, should let you recall enough to run the place almost on the fly. Sure, you might miss a detail or two, but the locales really are pretty sticky. The dungeons, and other locations, tend to fare a bit better in terms of "easier to scan", but the scannability is an issue in most areas and with most people, places and things. We're not talking pages and pages of text here. But there will absolutely be agame pause while you absorb for a couple of minutes.
Otherwise, great setting. Lots going on. Lots of ways for the party to get in to trouble. Perfect for making friends, and pitting them against each other for fun and profit. Really a great setting if you can roll with the given genre. It's not gonzo. It's not ASE1. But it's more than, sy, Xyntillian.
This is $15 at DriveThru. The preview is seven pages. And it suuuuuucccccckkkkkkkssss! Showing you nothing of import. The art, though, implies whats to come.
https://www.drivethrurpg.com/product/421504/Odious-Uplands?1892600