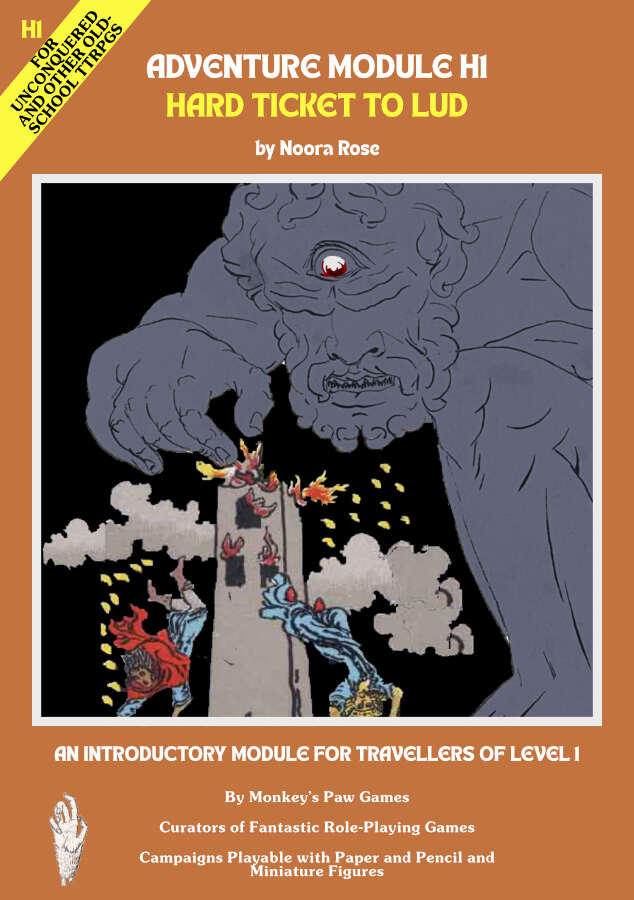 By Noora Rose
Monkey's Paw Games
OSR
Level 1
In the Long-Ago, this was not a marsh but a rugged mountain, ruled by a fierce people of stone with singular, burning eyes. The remains of their Empire lie scattered about the marsh, in places called taboo by the Luds.
This 42 page adventure is a hex crawl with about eighteen hexes detailed. The hexes are decent enough situations. There is a distinct lack of adventure motivation, though, and a descriptive style that meanders a little too much for my tastes. It's a decent idea for an adventure that is not executed as well as it could be.
Ok, so, You're staying a little village town one night and it gets attacked by four titans. This is a level one adventure, so, they are more environmental than creature. Anyway, they destroy the place. Ok. So. Now what? *twiddles thumbs* Oh, they attacked another place in the swamp also and destroyed it. Ok. And ….? I guess the party looks in to things on their own or some such? There's really no motivation for the party to do anything in this adventure, and there's no advice to the DM to get things moving or the party involved. What's actually happening is that an escalade slave was in town with an artifact and the titans are showing up to get it back. The dude wanders the hex map and the titans show up wherever he is to destroy it. There's supposed to be, I think, this great refugee clogged area, in a swamp, and so on.
Each location has a little blurb about it. They are generally decent with some situation going on interesting enough for the party to interact or poke around in, for the most part. There are a few too many "ruined city" locales with rado destroyed building searches, but, whatever. Those are always a pain to handle well and never are anyway, in any adventure. Wanna get rich in the OSR? Figure that out and make $5. Anyway, each location finishes up with two little sections: one details what is going on if the escaped slave is there and the other details what happened/location changes if the titans have been through. Nice enough. The dude wanders around randomly but the text tells us that "there's always some clue as to which way he went." Which is hanging statement if I've ever read one. There is no advice to the DM to keep these clues fresh and interesting. So, good luck.
The rumor table is ok, as if the wanderers table, who are doing things. Good things? Meh. "A swirling, buzzing cloud of mosquitoes. Perched over a corpse." Ok, sure.. Not really a situation. The NPCs present are fairly well described. Some sentences that give their appearance and motivations/quicks pretty well. Something short to hang your hat on when running them. Three asshole soldiers from a nearby Baddy Empire will "At the first sign of trouble all three will don conical bronze helms with chain veils and flee, stabbing anyone who steps in their way" Yeah, I can run that. And, all of the descriptions in the adventure are fairly well done. They do have enough specificity to start brining the area to life without really going on too long.
But there's a caveat to that statement. ALl of the descriptions are also too long. Padded out. How can it be both? Well if you just deleted the padding then you'd have a pretty focused and decent description. "There are ancient etchings upon the dolmens, their meaning lost to the elements and the Long-Ago, but each standing stone bears a small stone votive-bowl at the base" So, if I just deleted the "their meaning lost to the elements and the Long-Ago," then it would be a decent description. Terse, with some decent specificity. Dolmens. Moss-covered. The etchings are ancient. Stone votive-bowls. Not bad. Not rock star, but not bad.
And thus it is with just about everything in this. It's ok. Those wanderers are better than most adventures use, but really still not great. The hex descriptions are ok, better than a decent number of adventure in giving us situations for the party to work through or use to their advantage. But, still, padded out and you have to dig through them to run them, as with the NPC's. Monster descriptions are almost there, almost giving a description of the monster instead of their society, etc. Everything int he adventure is almost where.
Just like the core concept idea. Sure, you're chasing this dude through the swamps, I guess, while the four titans follow behind with their destruction. But there's no real motivation to do so. Why not just move on? And if it is a more typical hex crawl, with just the slave and titans as window dressing … I don't know. It doesn't seem like there's enough here to take advantage of.
I think the entire thing just needed a little bit more work. A little bit more trimming/focus. A little bit more on the chase/motivations, and the window dressing of the refugees. A little bit more, in just about every single aspect of the adventure. It is interesting to see, though, something come so close in so many different areas.
This is $10 at DriveThru. The preview is ten pages. You get to see the first hex location, Lud proper, but it's not really a great indication of the hex situations to come. The descriptive style, both positive and negative, are fully on display though.
https://www.drivethrurpg.com/product/397329/Hard-Ticket-to-Lud?1892600