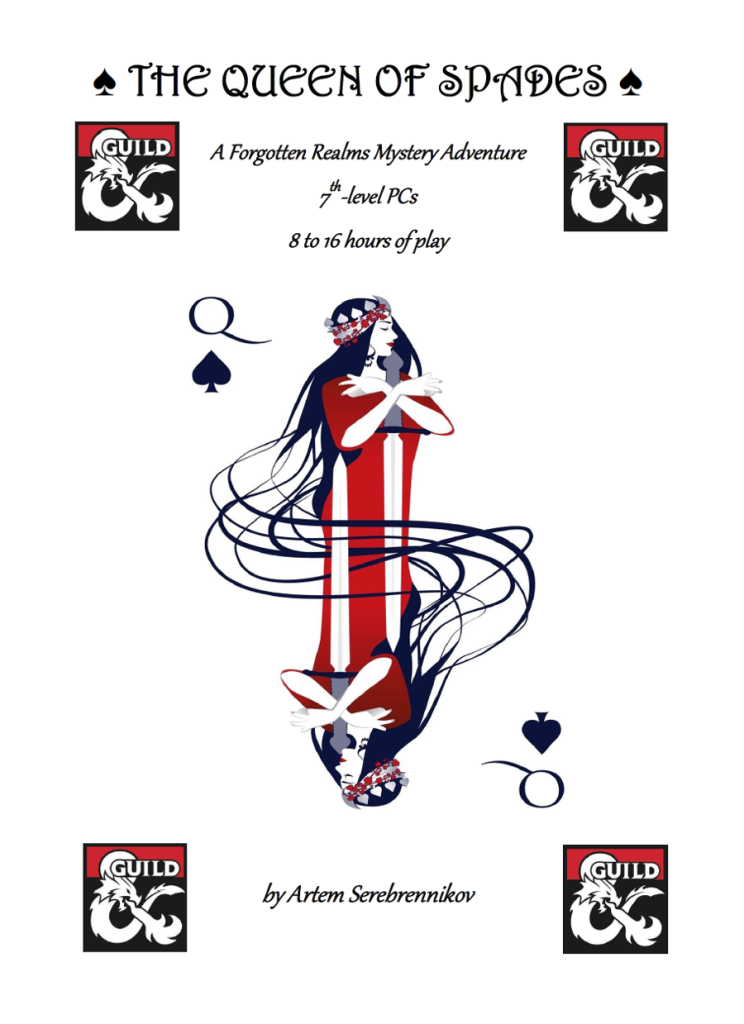 By Artem Serebrennikov
Self Published
5e
Level 7
Six murders in a single night! A major city in the Forgotten Realms is rocked by a series of gruesomely bizarre deaths of notable citizens. What mysterious murderer could have slain six people in different corners of the city? Why did the criminal leave a playing card at each scene? Could a high-stakes card game that happened ten years ago explain the goings-on? And, most importantly, is the goddess of misfortune personally involved?
This 77 page murder mystery adventure is divided in to three parts. While it coversthe bases, in a good way, in having a murder mystery at a higher level, it does so by making parts one and two irrelevant to the main arc. And dear god is it ever wordy.
This assumes a magical city ala Forgotten Realms, and isn't going to work well if you're not down with a magical renfaire. No digs intended, it's just the environment the adventure uses. And no city described, which is fine, except the specific locales, which is also fine. It's what I expect and want in an adventure like this.
Ohs nos! Five people died last night in bizarre ways. The underworld, or the guard, hire the party to figure out what's going on. You go visit each one. You get a multi paragraph description of the site, which doesn't really tell you anything except setting the scene … which could be A LOT shorter and more evocative. Then you a multi-paragraph section on the victim and how they lived their life. Then you get a couple of paragraphs on their Dark Secret (they each have one) which are all related to spreading out some red herrings. Then you get a long section on how they actually died. In every case its some freak accident. Then you get a section on witnesses. Yeah, it's long. Then you get a page or so on clues in bullet format, each one VERY long. It's fucking LONG. I'm not digging through all that shit to run this. And the clues are in a weird format, with no bolding or such to direct you as to which clue paragraph relates to what described in it, making referencing it hard. And then there are just weird things like "There's a trunk." in the clue section. Well, how the fuck do the party know there's a trunk? It's not in the overview description for the DM. I guess the party just asks "DO we find anything else" and the DM just spends ten minutes reading everything and telling the players as they stumble across it? Anyway, you get why SPeak With Dead and Divination works … everything wa an accident.
In part two you go visit some locations that are not murder scenes, that the clues at the scenes have led you to. There are people to talk to. These sections are are LONG. A couple of pages, no bolding to help direct you. Lots of shit you don't care about. Lots of shit to dig through as you are running it.
But, none of those locations matter. And none of the deaths matter either. After each location explored you have a 25% chance of running in to Mr Bad Luck, the immediate cause of everything. And then after some questions some mercs show up that were hied to kill him/bring him back to the main baddie. You then go hack up a gambling den to stop the plot to summon blah blah blah. Did I mention how long the descriptions of the gambling den are?
So, is it a murder mystery? No. Nothing you do matters. You're just killing time, as one seemingly does in almost every 5e adventure, till the plot trips over you. Just put in no effort on the investigation of the bodies, put in no effort on the follow up locations and you get the adventure handed to you then. That's why it can be run as murder mystery: nothing you do matters.
If the crime scenes and locations could be shortened, to only about a page each by removing all of the excess shit, and if the descriptions were quite a bit more evocative, then, I guess, you'd have the usual 5e adventure that has the party killing time on Wednesday night gaming session "investigating" something until the main plot happens. I'm being a little harsh here, since this the way of 5e, but, you can't call something a murder mystery where nothing you do matters.
This is $8 at DriveThru. The preview is eighteen pages. More than enough to see some of the body locations, etc and get a sense for how wordy it is.
https://www.drivethrurpg.com/product/391312/The-Queen-of-Spades?1892600