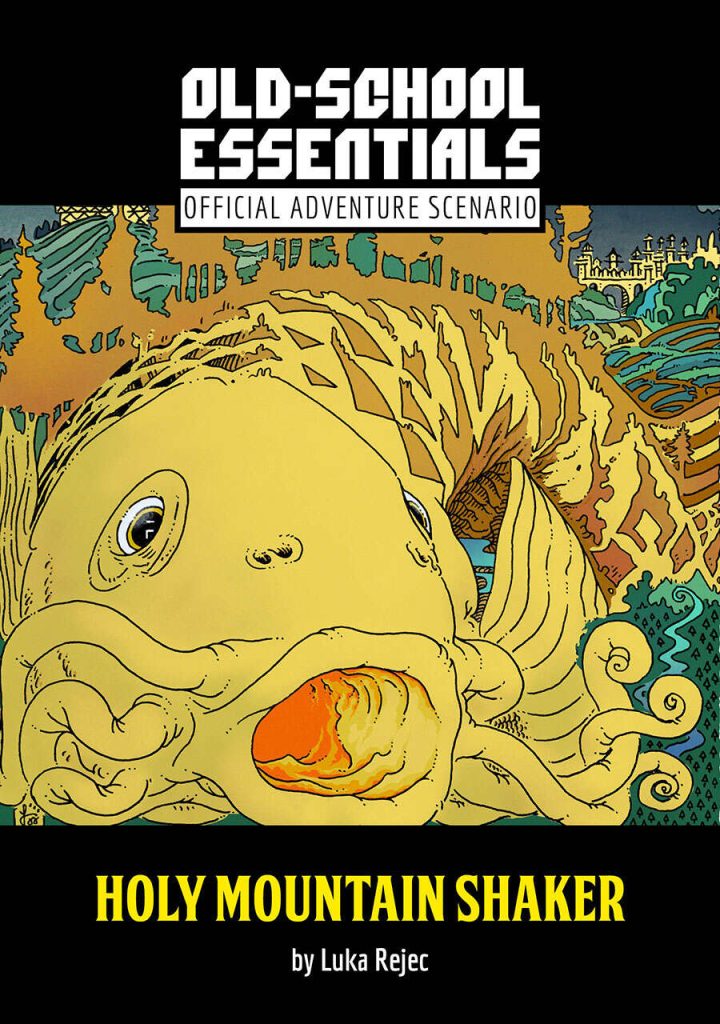 By Luka Rejec
Necrotic Gnome
OSE
Levels 5-6
Thunder and quake have come to the old town. Towers crumble, homes tumble, the quick become the dead. What omen could be more obvious? The Pharaoh Fish under the mountain is displeased. This God must be propitiated. Brave heroes must venture to buy the city's salvation. At the very least, the Town Council needs to appear in control and send some 'expert adventurers' into the depths.
This 56 page adventure uses about forty pages to describe a pointcrawl dungeon with about twenty main locations and about sixty other minor locations. Each location is jam packed with things to do and see and uses the OSE house style in a decent manner … that could be improved upon. DENSE and a real fucking dungeoncrawl, the likes of which are seldom seen. If the DM can handle it.
WRONG! People are wrong about holy mountain. This is not your usual thing, I assert. It is instead Something New in adventuring. Something that nearly works great. It's a pointcrawl dungeon. But, instead of it being a small little thing it's HUGE, the designer likening it to a hexcrawl underground. And I think that's accurate. When viewed through that lens a lot of what might be seen as flaws instead are strengths, given the nature of a hexcrawl.
There's a degree of abstraction here that I think works well in a hexcrawl. For hexes are big and you can't go on and on describing them. Similarly, the locations found in this are huge, so the text tells us, and the OSE house style is used to describe them. A style that fits in well to the abstracted nature of a hexcrawl.
The OSE house style gets some shit thrown at it. Using a keyword format, it uses bolded words to describe major features, and then, in parens after each bolded phrase/word, a few more words to help paint the pictures. Thus we get something like Hauntingly beautiful glade (swaying pines) Scarred Mountainside (blasted open) Yawning gap (entrance into mountain) Trickling stream (from gap) Crystal pool (fed by stream, filled with rubble, dead fish, glittering offerings.) I think that does a decent job of setting a scene, It takes work to make it work well, like any other format, to choose the right things to focus on and the right words to paint a pictures, and there can be misses. Following up on this style are some bullets with things like: Search pool (a few words about searching it and what you find) So, that's the OSE style. It effectiveness depends, as always, by how much the designer has tortured themselves in editing it. I think it does a decent job in this adventure.
There's a certain abstraction in this format. But, also, combined with a focus. And together they work. Take,for example, the local town. It's done in one page. None of that usual crap about businesses. The DM can make up a fantasy town. No, in this we get a little bit about what are essentially five factions for the party to encounter. A second page is filled with rumors to add some colour. Half of a third is a timeline that further brings the town to life, with the actions of the folks inside of it coming in to focus as they deal with the threat of continued earthquakes from the mountain they all live under. It adds a tremendous amount of colour to the town, focusing on how the party interacts with the people and what they are doing on their own whale the party is about. A good thing to focus on in an adventure that adds much more th e playing of the adventure than a boring old list of businesses of a fantasy town that we've all seen a million times before.
(I note, also, the art in this. I seldom mention art, but in this I do because, as when I always mention art, I think it compliments the rooms/encounters well. A cartoony style that is not childish, it reminds me a bit of Moebius. How's that for a compliment?)
What sets this apart, though, from normal adventures is the scale of the places explored. Underground, sure, but no mere 50×50 room. The spaces i this are HUGE. An underground river complex. A GIANT cavern and so on. The god fish, when you find him, IS A MILE LONG. So, we're talking a scale that, while not quite a hex, has the same energy as exploring a hex. And this is where things in the adventure start to get complex.
If you search one of these areas for a couple of hours you can find some hidden things, usually a small area that you can further explore. And if you search for another two hours then maybe you can find another area to explore (There's a six day timer in this adventure, so … search.) That means that each of the "rooms" in the pointcrawl usually has three or so other mini-chambers also associated with it. And ALL of them have a lot going on. This is where things get rough. There's an attempt to keep each point to two pages. And, using the OSE style, that's accomplished. But, also, there's A LOT going on. And it CAN be hard to follow at times. Or, maybe, non-intuitive. I think in practice its probably going to be ok … but this is one of those rare things that I think I'd want to run before making a judgment on it.
Just in that first place, the Hauntingly Beautiful Glade, you can search the pool, get all the gold in the pool ,or moved the rocks around in the pool. Searching reveals mummified scaled limbs, wearing gold rings and bracelets. Getting all the gold/limbs triggers an attack by some fish monsters as you completely loot the place. Moving the rocks around reveal drowned sarcophages, with and ancient drowned wight in red-gilded wrappings … and funerary offering with dark fish symbols.
But wait, there's more! Searching reveal a path to a high hermitage, with old cottages ans graffiti and searching THEM reveals a note about a secret path up the mountain! Further exploration reveals the dim woods with hiding cultists in a camp, trying to catch new faith fanatics unawares. That shrine up the mountain path? A fountain with spring, pure, with holy water you can collect and an ancient fish alter that sacrificing two opens a secret way in to the mountain.
That's a fuck ton! Plus, each location has it's own wandering monster table of four entries to keep the party encountering things. And it's own table of what happens when the mountain collapses at the end of the adventure … in a small of table of three ever worsening escalations.
So, a lot, right?
Can you handle that? Your enjoyment of this is going to rest on that. I think you can run this right out of the box. Just crack it open, read the town, and go. And you'll have a great adventure. I also think that if you read each area and really imagine it and get a feel for how it works together then you'll have a much better adventure. A HUGE adventure. An adventure for which a timer almost doesn't make sense at all, except, perhaps, to keep things fun back at town.
The thing is PACKED. Dense. It does go a little heavy on the ruined technology civilization theme … which is saying something for someone as in to gonzo as I am. But, also, one note this is not.
This is one of those rare things that I'm going to suggest you need to prep some before running it. That's not something I recommend often. Usually I would just say to move on to the next adventure that you DONT need to prep much, if at all. But, this is something different. Almost a hex crawl but not quite. Something new. And I think that its worth exploring more. One of those rare things that it makes sense to dig in to.
This is $7.50 at DriveThru. The previews is nine pages. You get to see that first room at the end of the preview, as well as the start of the next. It's a decent preview. 

https://www.drivethrurpg.com/product/363966/Holy-Mountain-Shaker?1892600