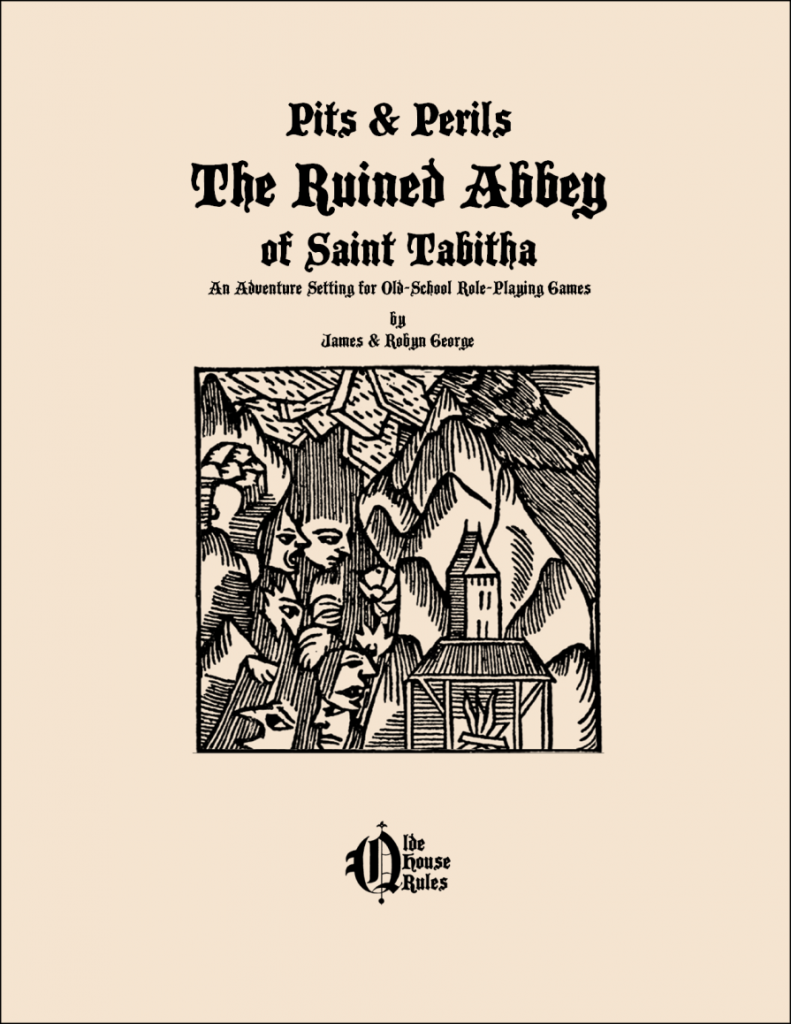 By James & Robyn George
Olde House Rules
Pits & Perils
Levels 1-3
Years ago, a sudden earthquake buried the Abbey of Saint Tabitha and ever since, evil things stalk the hills east of Dunkirk. Can a novice group of heroes reclaim the abbey for law? Let your players decide!
This 48 page adventure details 27 rooms in a ruined abbey. Partially keyed, room backstory, conversational writing, and generally low interactivity makes this something to steer clear from.
Let's cover the layout/formatting first. It's single columns and uses a faux-typewriter style. I generally don't like weirdo fonts and choices because they tend to reduce legibility, but, surprisingly, neither of these choices seems to impact legibility at all. It brings the nostalgia without the legibility issues. The Same cannot be said for the map, which uses a kind of "we pasted this together" style, and leads to thick black lines between certain areas that could be open to interpretation as to if they two areas are connected. And, level one (there are two levels) is essentially linear, the "abbey" being tunnels and rooms carved in to the side of a mountain.
The big deal, though, is the B1 style keying. Each of the rooms has five of so "blank lines in which the DM can fill out trease and creatures, with some room descriptions offering some advice to the DM on how to do this. "The referee can place several small coins at the entrance and/or top steps still visible through the murky water (by way of enticement." One of the appendices has a second set of minimal room keys that detail the treasure and monsters for the Pits & peril game, such as "The shambling zombie that initially greets the party here has a silver
dagger worth 3 GP in its belt. This will never attack." So, if you want to run the game you need to key the place yourself or consult the two keys at the same time, the descriptions and contents, and put it together. I have absolutely no idea why someone would choose to do this. I mean, I understand why b1 would no this. Literally no one knew how to play D&D. It had tables to roll on and taught you how to stock a dungeon. But this? Why would you not just stock the thing in the main room key? So you can have a generic/universal adventure for other systems? It's far FAR better to create a fully formed and cohesive environment, that a DM can then convert, then to just write room descriptions and tell the DM to go do work. If I wanted to work I'd write my own adventure.
The room descriptions, such that they are without the encounters/treasure, are written conversationally, with lot of used to be's and so on. This bads them out, filling the descriptions with anthropology information that's not relevant to running a game. "Observant players may notice …" the dwriting likes to tell us. Or this statement "Prior to formal consecration, this sacred place might be inhabited by nearly anything, as determined by the referee." Great. "Prior to consecration …" "might be anything." I feel empowered knowing these things. The prior to consecration thing, which is something that the party MIGHT do, at some point in the future, if they take the place over, is really a great example of these sorts of filler phrases.
"This somber place was once a well-tended garden, a lovely portion of the creator's paradise on earth." This is how the very first room description starts, and exemplifies poor adventure description writing. Don't tell us what USED to be here. Tell us what the place looks like NOW. That famous Dungeon Magazine trophy room has a very long reach, it seems. "Observant players, meaning those who ask, may notice small (goblins) footprints in the loose dirt leading to the abbey proper." Note the extensive padding. Rewritten this could be something like "Withered Garden: Dry & dead shrubs in loose dirt, but for tangled ivy overtaking the walls and weathered stone benches. Barely noticeable goblin footprints leading in." Dishes done! The adventure writing engages in these sorts of descriptions over and over and over again.
Interactivity is … poor. For a fantasy game. There's the nudist pool you can walk through and maybe set it on fire cause there's oil in top of the water. And, maybe, a secret panel or two to find and open. You can do some praying, etc to get some blessings/bonuses. A few natural hazards, mostly in the "water to a depth of 4 foot" variety. I guess for a low./no fantasy game it could be cool, with bandits in the place. I mean, the undead would be a problem. Maybe they could lepers, or mutilated people instead? I don't know. I guess what I'm saying it that it seems a little staid. No much to do except stab people.
Well, except for that room that you can use weekly that has a 33% chance of healing you and/or curing disease. If _I_ were playing this, I'd clear this place out, retire, set up shop, charge, and become king from the income, funding my next PC to go, I don't know, find the Hand & Eye or something like that. Fuck me, 33% each week, per person?I wonder if I should charge more for syphilis?
There's like six kitchens & dining rooms & pantries in the 27 rooms. The thing needs more cross-references for the big bads, to more easily locate information.
Someone spent some time writing this. And editing it. And locating/creating art. And doing the layout and getting that typewriter look right. And doing the maps and fidgeting with them. And dreaming about it. And making it their baby. And what it's competing with are the other 10,000 adventures on DriveThru that were released today, as well as every other adventure that has ever existed ever. Journeyman products CAN be produced, and are worth supporting. But, you have to put worthwhile effort in to creating them. You have to understand the craft and the purpose behind the decisions being made. And this doesn't.
This is $3 at DriveThru. The preview is six pages and shows you nothing of the adventure, so you can't make an informed buying decision.Six reviews with 4.5 stars as a rating. We are DEVO, D.E.V.O.
https://www.drivethrurpg.com/product/135316/The-Ruined-Abbey-of-Saint-Tabitha?1892600