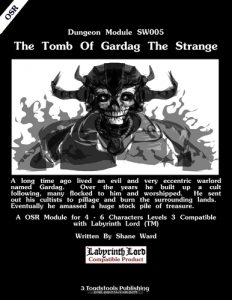 By Shane Ward
3 Toadstools Publishing
Labyrinth Lord
Level 3
A long time ago lived an evil and very eccentric warlord named Gardag. Over the years he built up a cult following, many flocked to him and worshipped. He sent out his cultists to pillage and burn the surronding lands. Eventually he amased a huge stock pile of treasure.
There is no real indication that Gardag was strange, at all.
This twenty page adventure describes a 24 room tomb. It has a simple branching map and only uses about six pages for the room keys, the rest being pregens and hirelings type info. I find the writing bland, padded, and the formatting choices hard to read.
Issue 1: The DM text is all in italics. I know, I know; it makes me seem like a petty little bitch. But it's hard to read. I don't like feeling like I have to fight the adventure in order to run it. Adventures with big blocks of italics or cursive or other hard to read fonts drive me nuts.
Issue 2: The writing is flat. "Large paintings depicting various historical scenes from Gardag's reign." That's boring writing. It doesn't inspire the DM to want to describe the room well. "The room is ornately decorated with murals depicting Gardag on the walls." There's always this element in published adventures that the DM running must bring a part of themselves to it in order to breathe life in to the adventure. We'll accept that as given. But the role of the adventure designer is to make it easier on the DM. Specificity can help cement an idea in to the DM's head, where their own imagination can take hold and add and expand it. "Murals of Gardags life" is abstracted. "Murals showing Gardag's atrocities in the looting of the city of Fazool" is specific. It gives the DM something to work with. And that's really the point of a good adventure. You can create a minimally keyed thing (and/or maximally describe it) that is easy to use, but the value beyond that comes giving the DM that extra little bit of a helping imagery (without getting long winded.) And in a market overflowing with shit I expect that extra bit. Don't. Settle.
Beyond that, I think the writing is weak overall. It pads out the text using the usual methods. "This room is 40×40/" Yes. In fact that the map shows that. What's the point of putting it in the text? "If there are any PC's that can read elvish then they will read that …" This sort of if/then stuff drives me crazy. The writing is in elvish. Stating its in elvish states a fact. "When the party walks in to the room" is a kind of conversation writing style. It pads out the text and makes it harder to find the information you need.
The rooms are pretty standard. Pit trap. Poison gas trap when you remove a painting from the walls. Skeletons, zombies, more moorlocks. Branching map. Treasure is light, except for a room with ten tapestries each worth 1000gp.
It's hard to use and it's not very evocative. It doesn't make you excited to run it. That doesn't mean explosions and transformers set pieces. That mean good writing that inspires the DM.
Gardag is Pay What You Want at DriveThru, with a suggested price of $0. The preview shows you the entire adventure. Yeah Shane! https://www.drivethrurpg.com/product/148044/The-Tomb-Of-Gardag-The-Strange?affiliate_id=1892600