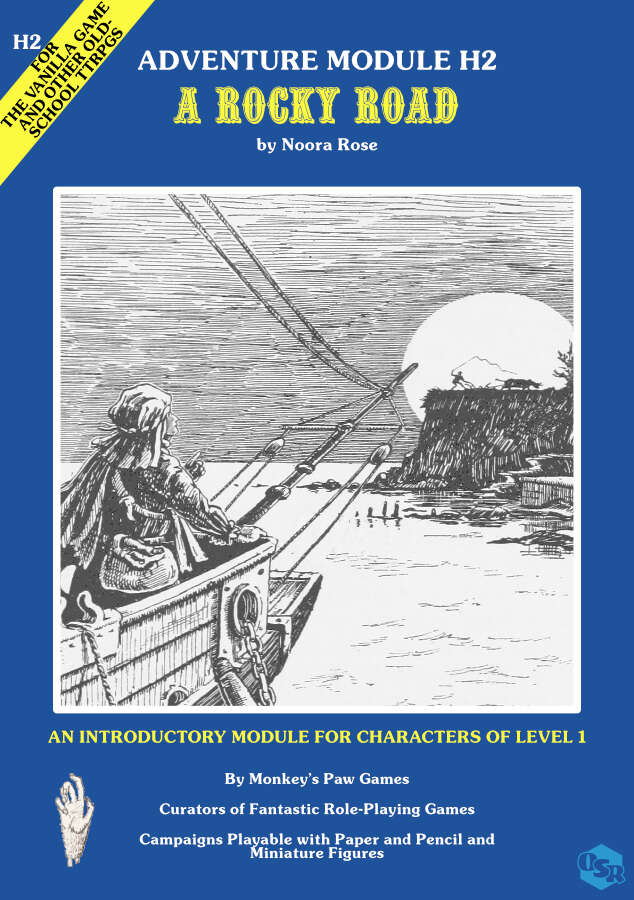 By Noora Rose
Monkey's Paw Games
OSR
Level 1
The Rocky Road is a wind-swept taiga sixteen days north from the alkali scrublands of the southern Golden Empire of Enen and a fortnight west of the topless towers of the snow elfs. This is a vast, sprawling wilderness of rolling hills, of snow-capped peaks, of lush, verdant forests of larchwood and stately pine, and of cool, dark streams. This is not a land people travel willingly, and you are likely no exception; said to contain treasures mysterious and magical from before the Great Thaw, when the snow elfs ruled everything north of the Great Swamp, it has become a haunt of dwimmer and worse things. Few caravans travel this far north; those that do are rare and expensive to secure passage. To find the treasures of the Rocky Road, you must travel where the caravans do not.
This eighteen page adventure professes to be a hexcrawl but is actually just a series of, essentially, wandering monster tables. Evocative writing elevates what content that IS present, but it lacks anything beyond just being a place to travel through.
Something strikes me as WRONG about this thing, but, in thinking deeper about it, I'm not so sure. It has to do with the nature of a hex crawl. You traveling through hexes, perhaps with some purpose, and having adventures/encounters over and above the wanderers you meet along the way. But … what if we tweaked that formula a little? What if the hexes had no fixed encounters? What if EVERY hex was just was simply governed by randomness, the randomness generated by rolling on a table. DM rolls for wanderers, gets a 1, and rolls on a table. "Ok, this event/thing is taking place" and runs it. It is, essentially, a hex crawl with nothing in the hexes but with above average wandering monster encounters. Is that a hex crawl? It is the lack of fixed encounters that is bugging me here. Can it be an adventure if all there is contains a wandering monster table? What if it's a GOOD wandering table? It seems WRONG to me. Like, I took one of those "1001 adventure hooks" books and included a map and said "Ok, this is a hex crawl." Yeah …. Ok …. Sure. But, also, No?
Making things worse is the addition of landmarks on the map. The hex map has no scale … so I'm not even sure we can call it a map. There's a great "West to the great swamp" and "east to the topless towers of the snow elfs" sort of compass on it. And, also, some other features. A cabin. Some ruins. Some megaliths. The megaliths span five hexes! But, wha scale? What adventure do they hold? Better hope the DM rolls a 1. I guess it's just a source of inspiration for the DM to riff off of? And did I mention the DM is rolling every turn for wanderers/events?
But, also, the content is pretty good! On the job board (six entries offered) we get things like "Church of the Brass Sun: The Hierarch has commanded you to recover a fallen crusader's body, so they might be offered properly to the pyre. Last seen investigating a barrow-downs." Or "Thieves' Guild: You have debts, and they have come to collect. Naught will spare your flesh from their hungry knives but an equal offering – a foreigner, hidden among the Hill-Folk, wanted for crimes greater than yours."Great little things! The local hill folk are described as "Thick of neck, broad of shoulder; hard lands produce hard folk. They stink of elk-milk and campfire-smoke and wear their wealth in their ears and noses, on their beards and braids, about their ankles and wrists. There are no villages – it is unsafe to dwell in one place for long." Rock on, I can run that! When the fey come to you in your dreams you get "white face, black eyes, fixed porcelain smile" Freaky deaky!
And then there are the wanderers. Twenty for each terrain type. "9. Smoke on the horizon. A solemn pyre, and hill-folk funerary hymns." or "Cassocked pilgrims, roped together, intoning a prayer in deep baritones as they trudge. They look badly dehydrated, but will refuse all aid." There are things to riff on here. But, all, without purpose. Even more so than the usual hex crawls.
It strikes me not as a hex crawl but rather just a wandering monster table of unusually large size. There's nothing of a larger context really going on in the tables. There are no fixed sites. With a few fixed locations, nothing more than perhaps whats on the tables but tailored to a single site, along with perhaps some kind of over-arching met, then I can see this being an actual hex crawl. As is, though, it's really just a wandering monster table. Too bad; the entries are good.
This is Pay What You Want at DriveThru with a suggested price of $3. The preview is six pages. You can see the job board and the caravan generator, which gives you an idea of the evocative nature, but the actual nature of the product is not revealed.
https://www.drivethrurpg.com/product/397490/A-Rocky-Road?1892600