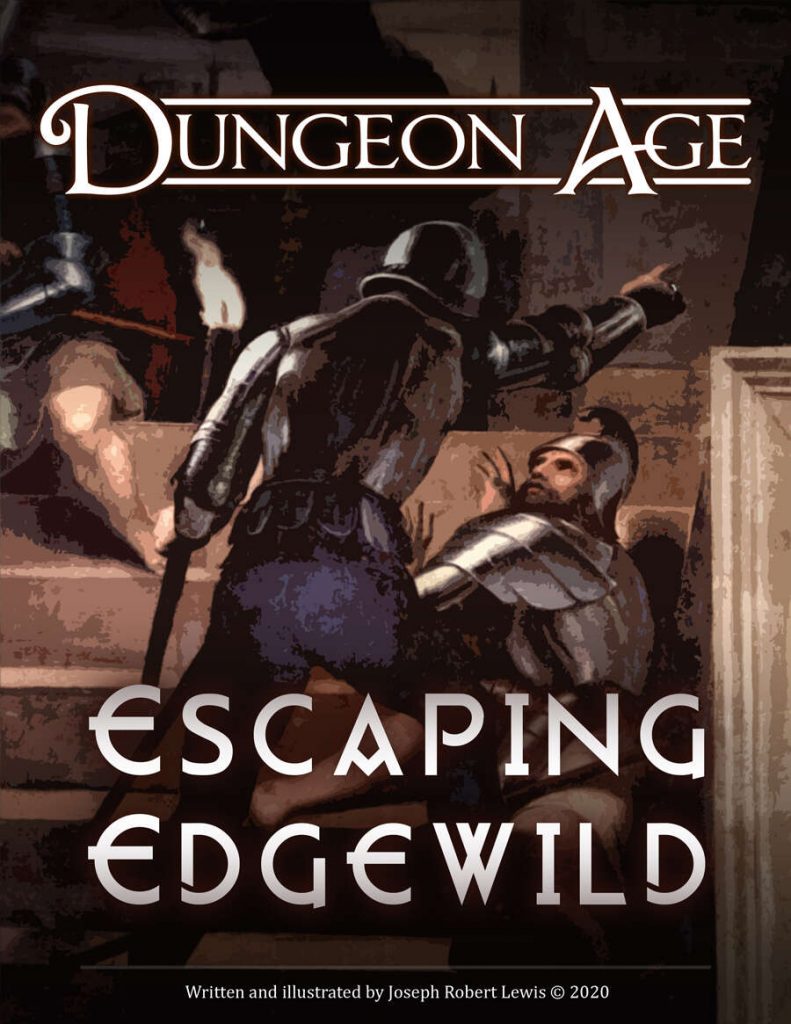 By Joseph Robert Lewis
Dungeon Age Adventures
5e/OSR
Level 1
Last night you went out to do your chores, or run your errands. Maybe you went out for a drink? Or maybe you went out to slit a purse string, or a throat? But this morning, you wake up shackled in a dark, filthy prison cell surrounded by strangers. A man outside says you'll be sold to a slaver in a few hours. And slaves don't live long… So you'd better start making some friends, coming up with a plan, and trying to escape from Fort Edgewild!
This eighteen page adventure describes a jail break scenario with the party trying to break out. It has about seventeen locations, with good NPC's, descriptions, and set ups, but lacks a little in the SOMETHING department. If I knew what SOMETHING was I'd have used that word instead. Otherwise, it's good. I mean, except for the ennui I feel. Can you write a good adventure and I still be full of ennui? Sure. why not, it's 2020 and goes with the murder hornets.
You wake up shackled in a cell with six other people. Slavers will be here in four hours to buy you. Good luck! It's a decent enough way to get a new group together, and as an alternative to a bar fight I'm ok with it. I'm usually quite negative about DM fiat types of things, like an adventure starting with you captured, etc, but at level one, to start a new game it's a decent enough tohing to do. You gotta start with some pretext and putting the party together this way is fine.
Zo, task 1, get out of your shackles and out of the cell. There are some little tables to determine what you have in pockets (I got fingernail clippings!) and some notes about things you might find on the floor … only one of your hands being shackled to the wall. There's also some extra NPC's for the DM to scatter amongst the party to liven things up. Job one, use whats in your pockets and on the floor to think of as way to get out of your bonds and the cell.
As an aside, designer dude knows how to write a fucking NPC. Terse. Iconic. On the shit that matters. Emily is 25, curly brown hair, wild-eyed intense look. Cerlic of Gideon. PRO: Healing Magic. CON: Violent Zealot. Forcibly heals anyone/everyone. Nell, 30, red-hair, freckles, pale, depressed, hungover. Local addict. PRO: Medicine & Chemistry. CON: Severe depression. Same with the guards and all of the NPC's in the adventure. You get these little snippets that make it easy for the DM grab on to them, remember them, and, better yet, add color to the adventure. WHich is what a fucking NPC should do. Otherwise, why do they exist? It's not paragraph after paragraph. We don't need to know Nells fucking life story. Just fucking addict part and the quirks she has. The rest comes to mind and we can make it up. Perfect.
Ok, so, you'r eout of the cell and now you're down in some "dungeon"/jail. Eight rooms. Full of loud things that might summon the guards, who come by every hour anyway to check on the prisoners. Some more makeshift stuff, a few weapons, and the parties gear, ultimately. And those other prisoners. Loudmoths … so I hoped you freed them too. But, they are a pain also. What to do, what to do?
Then it's out of the jail and in to a palisade compound, the other guards and other buildings, trying to escape from the inside, not be seen and have the wrath of the guards fall on you.
Descriptions are short and evocative. It's well organized and easy to locate information.
But there's something wrong in Muddville.
I don't know what. This is an open-ended sandbox. The tools are there to run it as such. But, still, something is wrong. Too straight forward, maybe? That wouldn't normally be an issue with me. Usually all you need to do is set up a decent situation (Which this is) and provide a decent environment (which this does) and then let the party fuck thing sup with their plans. I don't know, maybe it's the scope? The Fall of Whitechapel(?) did something similar, but that seemed more dynamic and interesting than this does. I think, maybe I'm feeling the constraints of size/length? It's written for a single session, but … that can't be it, can it? Maybe I wanted more? Well, yes, I feel like I'm wanting more, but … not in that way. I don't know in what way. I'm left confused, something that rarely happens.
So, hey, this is a decent adventure. For some reason it feels like something is missing. All I can point my finger at is interactivity; its what the party makes of it. Do they cause trouble, come up with a wacky plan, etc.
I'm going to Regert this. But I feel wrong. I'm open to second opinions here. Buy it and tell me what I'm missing? Or, just check out the preview and do the same thing, the preview is long enough to get a sense, I think. But, you could also do worse things in life than throwing $2 at the Dungeon Age dude; he generally writes stellar shit.
This is $2 at DriveThru. The preview is ten pages and shows you more than enough to make a good purchasing decision.

https://www.drivethrurpg.com/product/310516/Escaping-Edgewild-A-Dungeon-Age-Adventure-5e-and-OSR-versions?term=escaping+edgew?1892600