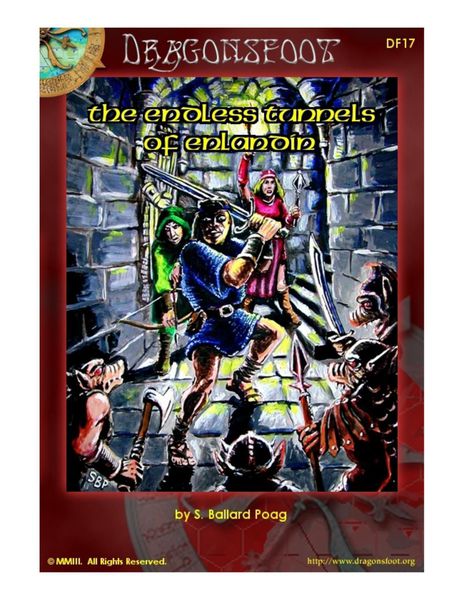 By S. Ballard Poag
B/X
Dragonsfoot
Low Levels
Does your group have the nerve to explore the endless tunnels of the mage Enlandin? Many have tried and all have failed.
This 21 page adventure contains a three level dungeon with about ninety rooms, using about sixteen pages to do so. A classic basic dungeon with a decent map, Poag has an ability to write a little vignette scene without verbally running over. When it does that, it's good. When the monsters wait in the darkness to attack the person who opens the door … well, it's not so good. I'd say it's on the higher-end of being a typical B/X dungeon.
Let's talk The Art of the Vignette. If we take the unhold Bryce trinity of Ease of Use, Evocative, and Interactivity then when their powers combine we get this little burst of energy jabbed in to the DM's brain in a flash that reeks of potential energy. A kind of sparkle in the DMs eye, a gleeful internal cackling, all obtained in just the split second the DM glances down on the page. Is this good D&D? No, but it FACILITATES good D&D. The DM is now as ready as they can be, running a prepared adventure, to lead their players in to Good Times(™.) One sort of room/encounter type is the little room vignette. When Poag is ON IT he is writing good room vignettes. "The very pale body of a dead elf is in the middle of the room, dressed in chain mail with a sword and longbow. Only two arrows are left in the quiver. Two giant ticks are clinging to the ceiling above and will drop for a surprise attack." Oh snap! Look at what Poag did! He creates little vignettes in just a few words that describe a situation. I wouldn't call this a masterpiece by any means, but it does deliver in an above average way. A pale elf corpse in the middle of the room. The party investigate … down come the ticks! Oh! The DM is cackling gleefully and the party all say "Oh shit! Obviously!" That's a good encounter. When the surprise hits and the party says "Of course!" then you know it's good. Another room has a grim reaper statue, with scythe, in the middle of a room along with a headless corpse. We all know the deal and we all know that we all know the deal. It's glee! Unadulterated glee! Poag can do this. Even in a shitty "they attack!" room he can do this. Zombies come out of the darkness in a room to attack. That's not exactly perfect, but even this shitty "they attack!" moment brings a little extra, with them coming out of the darkness. Your mind should fill in that picture and even with it being simple I'm excited to run it. Another room has a halfling with a crowbar in the middle of opening a chest … paralyzed, while three giant centipedes are about to/are eating him. Oh man! Stick that in your fucking hat! These are not rockstar descriptions but they are significantly above average. They describe a scene with energy waiting to happen. They have a few extra words that add description to the scene, flavour. And they do it without taking a fucking column of text to fucking do so. Combined with the decent maps, I'd give this adventure a solid C+/B- and a No Regerts.
Well, I mean, I WOULD, if it were consistent. But, for every room that's a little vignette there is another that is a straight out They Attack! Worse, they are waiting in ambush. The eternal ambush room. Orcs with bows wait in the darkness at the other of the room, eternally, for you to open the door. There are multiple, multiple examples of this. Yeah, D&D has combat. And there's a place for ambushes. The tick room is good and is, essentially, a They Attack room. But creatures on guard waiting to attack when the door is opened? No, not so much. There's a good way and bad way to handle it and this adventure does both, in about equal amounts, I'd say.
Combined with the book treasure (which may, also, be a little light … IDK, feels like it, I would have to add it up) and an interactivity that TENDS to combat, then I would give this one a pass, but it's close. Pits lead to the second level. Rooms rotate and there are simple puzzles. But it doesn't feel like it happens all that often. It feels more like a heavy They Attack dungeon with a mixture of better stuff thrown in. Or maybe a heavy Room Vignette dungeon with a whole lot of boring/typical thrown in? If/then statements abound, and the standard room format is the simple paragraph. A well written one, organized, and, by keeping it short it remains functional. It's right on the edge.
This is an early dungeon, from the 70's, rewritten, I assume, in the modern day. As such, it shows both the good and bad. WHen its good then its short and terse and evocative and exciting all at the same time. And when its bad it looks like a bad minimal key expanded. I suspect that the interactivity lack is from the 70's. What WAS interactivity in the 70's? It was this.
I'm a fan of this, as an artifact. I'm a fan of where this adventure was going and the potential it showed. But, in a world full of billions and billions of adventures, I would probably pass this up for that hits more regularly. Compared to most of the dreck that comes out, though, it's great!
This is free over at Dragonsfoot.
https://www.dragonsfoot.org/php4/archive.php?sectioninit=CD&fileid=163