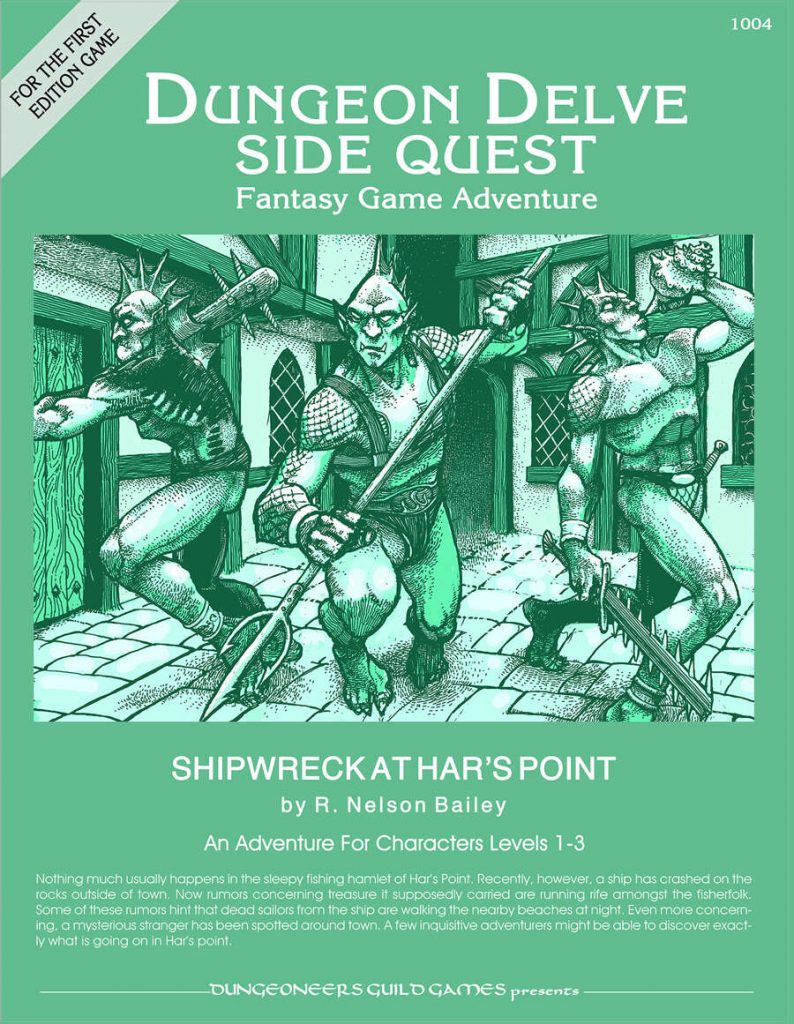 By R. Nelson Bailey
Dungeoneers Guild Games
OSR
Levels 1-3
Nothing much usually happens in the sleepy fishing hamlet of Har's Point. Recently, however, a ship has crashed on the rocks outside of town. Now rumors concerning treasure it supposedly carried are running rife amongst the fisherfolk. Some of these rumors hint that dead sailors from the ship are now walking the nearby beaches at night. Even more concerning, a mysterious stranger has been spotted around town. A few inquisitive adventurers might be able to discover what exactly is going on in Har's Point.
This sixteen page adventure details a couple of locations in and near a seaside village and a few events related to a … sahuagin attack. It's more a "sixteen page overly wordy outline" then it is an adventure. And it's pretty brutal as well for the level range given. What was U3? Something like 3-5?
Well, the little sahuagin bastards have, once again, lost a religious artifact and need to find it so they go a raiding. You'd think their gods would punish them more, given how much they seem fuck things up. But no, they keep hanging around, showing up in every sea adventure EVAR.
There's a shipwreck which, ostensibly, occupies the party. While messing about with it and staying in the village to do that, some people go missing That you probably never hear about. And then eventually a weird woman shows up. And then eventually the sahuagin show up and try to kill everyone. I know, right? So, the party is in town. They want to go out to the shipwreck, that has lots of rumors of gold on it, and of dead sailors wandering the beach at night. To get there they have to take a little boat. Which costs 400gp to buy, ten times the going rate. Or, I guess they can steal one. But then, for the last two hundred yards to the shipwreck (its on a reef) there's a 50% chance each turn it capsizes, likely killing everyone because you take 2hp of damage each turn you're in the water. AND there's a 5 HD giant eel that prowls the place and attacks anyone in the water. Don't worry, if you're a seaman background then it's only a 30% chance per turn of capsizing! What the fuck man! 200 yards of this? Once there you find no gold, but trade goods. "Ah ha!" sez me "Even better! Goods from foreign lands!" Alas, there are no details given. Just "trade good" with no value.
The sahuagin are searching the shore/land around the wreck, looking for their lost artifact. They search three hundred yards a night. The text explicitly says they search an area that is six miles from the south of the little village to four miles to the north of the little village. Ten miles. At three hundred yards a night. That's like, what, two months? But wait! They end up attacking the village on like the third night. So … I don't know what the fuck is going on.
The idea of events is a good one, for a general outline of an adventure like this, but it seems ass screwy in this. The events take place over three or four days … and yet the party is likely to hit the shipwreck quickly and probably move on. It's like it wasn't thought through, with the capsizing thing. I like the sort of a "locale and general outline with events", almost like a little sandbox, but …
The first event is the disappearance of two beachcombers, at night. Who are killed and eaten in an isolated location. Which means no one knows they are dead. WHich means the event doesn't really impact the party. It's the same as listing "Bob & Martha thought about having sex but decided not to." How the fuck does this impact the adventure? Leaving a bloody mess, near the boats, or on the way to them, or somewhere else … THAT would serve as some sort of inciting event to get the parties ass in gear. As written, though, it's a non-event. "But Bryce", the whiners say "you can change it." You're damn right I can. And I would, too. You know what else? I'd also write my own adventure instead of using some poor quality thing like this. It's the designers job to do this shit, to inspire the DM, to give them the ability to run a good game … if not then what the hell are we paying for? SOme stats out of the DMG?
The church is the center of social activity in the town, we're told. That's it. That doesn't play in to the events. That doesn't play in to the townfolk. It adds no local color. No local color is provided. It's a good fucking idea, but you have to then anchor that with specifics. When the party come in they are having a wedding, or a town meeting, or something else, going on all the time. WHile the baddies attack there's a sewing bee at the church. WOrk it the fuck in for vecna's sake!
There is, essentially, no treasure to speak of. Instead we are provided with milestone/goal XP. Which means that the party has to read the DM's mind to figure out what they are supposed to do. "Ha! You didn't figure out that the crown was what the baddies were looking for! No 200xp for you!" or "No, the chick dies, you don't get your 200xp for that." There's multiple problems here. First, the fucking system is gold=xp, so that's how the party is going to play unless the DM is up front with them that there is no gold here. Second, the party can't succeed unless they know what they are supposed to do. Are we do read the goals out to the up front? I' don't have a problem with that, if we're goal based, but it also kind of kills the game flow, IMO, given the SPECIFIC milestones mentioned. Compare to more modern systems, like 5e, where the milestone system is used and it's more "complete chapter 1." Finally, it implies there's a right way and a wrong way to play the adventure. I hope you're goody good who help fishermen for no reason, because anything else and you're not getting XP from this adventure. It's bullshit. It's like saying "Ha! You were supposed to roll low on all of those to hit rolls instead of high! Suckers!"
And since I'm on a tear, let's talk about rumors. The rumor table is laid out traditionally, with fifteen or so numbered rumors. But not all rumors are known by everyone. Only the fishermen know some of them, for example. But, you have to sig through every rumor to find who knows what, it's not organized at all. Organizing it by "Everyone" "FIshermen" and so on would have made much more send.
In the end this is just another poorly organized adventure with too many words laid out in a long text paragraph format with little to no though made to usability. IE: the usual.
This is $6 at DriveThru. The preview is four pages. The only worthwhile page is the last one, showing you part of the village description. It would have been better to show the actual encounter areas so people would know what they are getting for their sixteen page $6 adventure.

https://www.drivethrurpg.com/product/289789/Shipwreck-at-Hars-Point-DUNGEON-DELVE-SIDE-QUEST-1?1892600