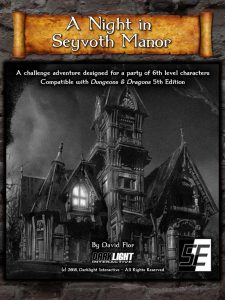 By David Flor
By Darklight Interactive
5e
Level 6
…Throughout the years, the village has had its share of disappearances; most of them had been blamed on the harsh environment of the surrounding forest and the natural dangers of the world we live in, but recent evidence leads to the doorstep of the Seyvoth estate. And when the two young daughters of a prominent noble go missing and the village sends out search parties to the surrounding area, two separate search parties passed through the iron gate at the entrance to the estate and have yet to return….
This 44 page adventure describes a an evil/vampire manor with about eighteen rooms. Realizing the promise of the 4e adventure… but written in 5e, this thing is essentially eighteen set pieces strung together. It attempts to marry the more open ended styles of play with the rich room encounters that were a hallmark of the 4e style. If you can accept that, and its implications, then the amount of odiousness it engages in is minimal. Maybe. I can't decide if its arbitrary. Or, rather, if the arbitrariness it engages in is any different than normal D&D arbitrariness.
There's a tournament component of this that is … strange. The party is given four hours to complete the mission to find the girls in the manor. You can keep playing, but after that they turn in to a werewolf and vampire. There's also a scoring system. Fifty points for this and ten points for this other thing. And if you die you start back at the front doors with scoring penalty. It just comes out of nowhere, with no explanation. "If you die you start back at the front door with a scoring penalty." Huh? Like I said, out of nowhere. It's more than a little disconcerting, as if you've missed something. If I digress here, to talk about this adventure as a tournament adventure, I'd say it's one of the best. Most tourney adventures tend to be rather linear, in fact, the most linear. This isn't that. It's a real deal "explore the house as you will" adventure, up to and including reasons to revists certain areas. And it's completely usable as a non-tournament adventure also. David has done a good job at duel use.
It can be a more traditional "explore" adventure and a tournament adventure because, more than almost any other adventure I've seen, this thing is CONSTRUCTED. Getting to the secret room requires you place a necklace on a statue. But first it has to be "blessed" by the ghost it belonged to. And you have to find it first. And if you give the WRONG thing to the ghost lady, like the jewelry of the maid her husband has been fooling around with, well .. you can imagine. And that's but one of the interconnected things. A ghost girl wants her dolly. There are a lot of dolls around the house … and she's not going to be happy if you give her the wrong one. But there are pictures, etc around the house that provide clues. And there's a ghost composer who's like his sheet music back … getting him all of it distracts some of the ghosts as he plays, providing some assistance later on. This doesn't FEEL like a fetch quest. It feels more like "Oh! This is related to that other thing we saw!" That's the sort of discovery that always good for a D&D adventure.
The rooms, proper, are RICH. They are LONG, with multiple elements in each room. We're talking at least a page per room. It manages to put multiple elements in the room, some of which have no relation to each other, and make each room a place where the players can explore quite a bit. I note that this can be difficult to achieve and still be scannable … but this adventure manages to mainly accomplish that. It starts with bullets that give an overview, and then sections that are, essentially, tied to each bullet. These have good use of bolding and whitespace to make finding those sections easier. The individual sections DO get a bit long, but I think it's manageable. The Graveyard, for example, has a cliff edge, graves, a fountain, sarcophagi, a gazebo (with ghost), and statues. Then there's a long multi-paragraph section on the main event, the ghost, and another long section on "Encounter" which means potential combat with some of the previous room elements. THEN column long stat blocks. It's a lot, but manageable. The formatting, as well as the emphasis on playable content, rather than mentioning trivia. Keeps it on track. The long text in the individual elements is related to the EXPANSIVE hand holding. Lots of text on opening doors, disarming traps, and so on. Almost a defined template/schema that is being followed, that is closer to the SPI end of the spectrum than I can comfortable with,
There is definitely some abstracted D&D here, from the 3e/4e era, that shows and stands out as being crappy. There's an emphasis on skill checks to discover things. If you have a DC13 per check you can see that the statues arm is hinged at the elbow. This is SUBSTANTIALLY different than telling the party that the elbow is hinged in response to them saying they are examining the statue, or looking closely, or something. That's shitty D&D. I know people like skill checks these dys to tie your shoes, but they are overused. Unless it's really hard/hidden, and even then, if they ask you should be telling them. The answer is not in the build on your character sheet. The adventure relies on this shit over and over again. It's easy enough to ignore and play the right way. (That's right, I said THE RIGHT WAY.)
It can also be arbitrary at times. All D&D is arbitrary, to a certain extent. It's a part of the game. You don't know what's behind the door. There are parts of this though that seem a little more than that. If you give the ghost the wrong thing she freaks the fuck out. She doesn't actually tell you that she's looking for a necklace … and I'm not real sure that the maid/infidelity thing is related very strongly. This allows the party to engage in what they think is the right thing, but are then punished for. It's important to not set up a situation in which the party just never tries because it's not worth it, based on past experiences. Sometimes warnings about what will happen this is done with foreshadowing, or warnings from others. A pile of dead bodies holding shitty jewelry, around the ghost, for example. From that we can learn of the horrible consequences. There's another part, in this same thread, where another ghost tries to trick the party in to taking the wrong necklace, it pretends to look like the ghost in question. (In a mirror, ghostly pointing. Really well done.) But at this point it's hard to tell that you are doing the wrong thing. In fact, you're being told it IS the right thing … and it's not clear to me that there are cues you are on the wrong path to success. Wizards and Clerics have "are we doing the right thing" spells, but without a strong history of the party using them that's not really the way a lot of modern D&D is played. (Shame!)
You know, there's also not an actual map. Oh, there are lots of tactical battle maps, one for each room in fact, in order to solve the "I see a map! That means combat!" metagaming from the party. But there's not an overall map. That's bullshit, and by far the most impactful issue when trying to play this.
There's also this weird emphasis on handing out cards that represent treasure. Everything together (that long text, remember?) gives this a very boardgamey vibe. There's a clear lineage to 4e … but lets say 4e done right … but written for 5e.
I'm a fan of this. I'm surprised myself to say this. I think it's an interesting approach to writing an adventure. I find it interesting for that reason alone, but I also think you can actually run it easily. Is it The Best? Sure, why not, if we're grading on the 5e curve.
This is $10 at DriveThru. There's no preview? Really? That's kind of toolish.
https://www.drivethrurpg.com/product/253742/A-Night-in-Seyvoth-Manor-DnD-5E?affiliate_id=1892600