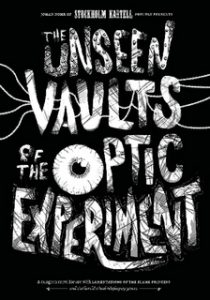 By Johan Noor
Stockholm Kartel
LotFP
Level 3
Gruzx the Ever Watching – the infamous villain of the lands – has vanished. Howls and cries seem to come from the old tomb. And now everyone is complaining about bad eyesight? Best tie your shoes and grab your sword, for things are about to get messy!
This twenty page adventure features an eleven room dungeon straight out of the Weird Fantasy genre. More DCC-ish than LotFP torture, it has shapeless monsters, interdimensional beings, and spooky ghosts. Terse and evocative, it only sometimes engages in text padding. It's a nice little dungeon.
The conceit here is that the baddies are researching true vision, so everything is a little off, visually. Blurry and so on, which allows for your other senses to kick in. This allows for a very read-aloud that is just an impression. Here's one: "Cold metal, dust and sound of chains, stench of a sweaty fat man. Mad howls." That, my friends, is the room with The Evil One in it. You know, He Must Not Be Named, etc? It's a cute twist and a way to reference a former baddie in the campaign/world.
Further, he'd really like to be freed and could reward you. Also, the baddies need help with their True Sight and would be happy to reward you for that. Also, there's a vampire ghost who could probably set up up with a nice keep in the ghoul lands. Also the spirits of the people in the tomb (this is a former tomb complex) are pissed at all the intrusions and may team up with you. It's not exactly factions, and it would be hard to call any of them "good" or "not hostile", but there are certainly opportunities to talk to just about everything in the adventure that has a brain. I SO get off on this shit. Adventures are SO much more interesting when you can talk to a creature. Sure, go ahead and stab it because its evil or you want the treasure, but talking adds delicious temptation and if that's not the soul of DM pleasure then I don't know what is.
The map is ok. Simple, but with notations on it. There are two versions and, IMO, the art heavy one is better than the computer generated one. Both have quite clear text and notations on them to give the DM hints of what's to come . I really appreciate this, it helps with look-ahead environmental stuff, like sounds, light, etc.
The writing is pretty short and easy to read and scan. It DOES engage in fapping about though. Histories and purposes that get in the way. Here's the intro to room one: "When the Freak Freaks turned the old tomb into their laboratory, the dead spirits were enraged and confused.
All their frustration and despair merged to form a shapeless, ghastly being – an emotion brought to unlife: Despair in ghostly form." Or a section describing what the freaks do with their barrels full of vampire ashes. We don't really need that shit.
It also engages in a secret door description fetish. I usually see this sort of thing with traps. Someone thinks they need to exhaustively describe how the trap works, and goes on for paragraphs doing so. Secret Door Fetish is a related DSM, but focuses on how to open the secret door. I don't mind a little detail, a curtain, a paper-mache wall, etc. But let's not go overboard. Hearing a click in another room, or down the hall, is a nice effect but … "Push one of the many stones in the northern wall, followed by pressing another stone only a meter away. An audible Click! is heard. You can now push the secret door on the southern wall – a heavy, cumber­some slab of stone …" goes a little too far for my tastes.
The treasure can bring the freaky, like a skull that can scout ahead for you, but lies frequently. (Mort?)
It's a decent little adventure. A little short for my tastes.
This is $5 at Lulu. It being Lulu, there is. Of course, no preview.
http://www.lulu.com/shop/johan-nohr/the-unseen-vaults-of-the-optic-experiment/paperback/product-23633723.html