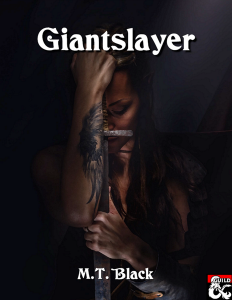 By M. T. Black & Richard Jansen-Parkes
Self Published
5e
Levels 1-2
Yegor Bonecruncher is the most ferocious hill giant in the land. When he begins terrorising the small village of Frickley, the inhabitants have only one hope – the legendary warrior, Jahia Giantslayer. The PCs undertake a dangerous trek through the High Forest to find her, battling wild fey magic all the way. But can Jahia live up to her own legend?
This fourteen page adventure features the party taking a (very short) wilderness journey to find a retired adventurer, in order to fight a hill giant.You get two or three fights, plus the hill giant fight, in addition to a couple of persuade rolls. It's (generally) not offensive. The publishers blurb notes that the designer is critically acclaimed. That's one strike against it out of the gate.
Rather than focusing on the absurd power creep in 5e, I will instead note that a portion of this adventure focuses on getting the villagers to stay and fight instead of running away. Abstracted, the giant will start down 36HP if they do, and then their arrows will do 15 points a round to him. (I guess no firing in to melee penalties in 5e?) Getting the farmers to stay knocks the giant down 30 hp and getting the hunters to stay knocks him down by about 15 points a round. Best case, that leaves him about 30 hp to go. No unreasonable for a party of 1's, especially if the retired adventurer is recruited, since she absorbs one giant attack a round for four rounds and does a further 15 points a round to him. This reveals two things. First, this is really a social adventure. Recruiting the farmers and hunters, as well as the adventurer, is critical to the success of the adventure. There are some throw-away words to getting the villagers to help, but I felt that the text could have been clearer on this point … the party needs to understand the importance of getting them to help, otherwise they can't make meaningful decisions about it. Yes, it IS mentioned, but it feels abstracted when first brought up. Second, it harkens back to the time when you bought hirelings and henchmen with you to the dungeon. Getting a big ass group together to fight the monsters does more damage to them and makes it less likely YOU will be targeted. No one ever brings enough people with them, and abstracted hirelinelig/henchmen in combat rules should be a thing.
Suggested hooks are: your father dies and you go back home to your village. Ug. All adventurers are orphans for a reason, so the DM can't fuck with their families. This is a perfect example of bad hook writing. Multiple half-column read-alouds make me grown out loud on the quality of the writing. Overwrought. "… where farmers and hunters share gossip over a flagon or two or ale and the odd bowl of mutton stew." It's a fucking generic fantasy inn. You've done nothing to it to make it interesting. Just say its a fucking inn and don't make us wade through the failed novelist text. And you know, there's nothing like intro read-aloud text that has the words "Suddenly you hear shouts up ahead …" Every. Fucking. Time. It's like there's a template these people use called "Bad 5e Adventure Writing."
Beyond all of this garbage is some dubious advice out roleplaying. Yes, it does mention that you should have the players roleplay their persuade attempts instead of just rolling the die. I fondly recall DM's a 4e con game once where, when I asked this, one of the players said 'Ug, your one of THOSE dm's …" Yes, I am; we're playing D&D and not Warhammer minis. In spite of this advice, though, the designer then goes about fucking things up. You MUST persuade. You can't bribe, or intimidate, or do other things. Those are all auto-fails. Bull. Shit. First, I'm not sure its ever ok to have hidden rules. "Haha! Jokes on you! I had hidden rules and you fail now because you didn't read my mind!" But, more than that, Fuck you for deciding in advance how the party has to play this out. Let me intimidate or bribe people. What fucking difference does it make? It's not your fucking story, it's the players. If they want to bribe people then who cares? Just tell them the farmer is very proud, give them disadvantage maybe, or adjust the combat potential at the end with some morale pretext.
But, all is not bleak. The main NPC"s have some summary boxes that are easy to find. WAY too long, but still, I appreciate the effort. Less text than a half-column each would have made it easier to roleplay the major players all at once and keep track of them. So, hearts in the right place, just totally fucked by implementation. There are nice notes though, like a farmer embellishing a story and his brother vouching for him that give the DM good cues on adding flavor to the otherwise boring overwrought text. Likewise an encounter or two have some interesting things going on, like a harpy luring the party up a boulder to fall to their deaths.
The hook doesn't really finish till page six (unless you count the village asd the adventure, which you could, given the persuade rolls.) There's only a couple of wilderness encounters, since the hermits hut for the adventurer is only a couple of hours away. Those tend to be half page affairs, for simple things like "a fallen log" or "crossing a river on slippery stones."
This is, essentially, an adventure written for ten years olds. It's not meant to be, but its so simplistic to give that effect. I don't mind basic, and its short and simple enough that you can almost keep the entire thing in your head … for better or worse.
This isn't a terrible adventure. Most of the bullshit can be ignored. Some additional text to liven up the final fight would have been a good addition, but, whatever. It's $2 and its not the great steaming pile of shit most 5e adventures seem to be.
This is $2 at DMsguild. The preview is only two pages long. You get to see the long read-aloud as well as the "start the adventurers off immediately with a fight!" bullshit and how its implemented THIS time.
http://www.dmsguild.com/product/195471/Giantslayer–Adventure