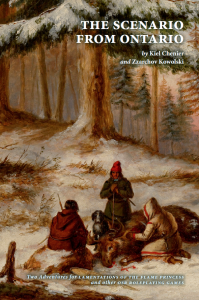 By Kiel Chenier & Zzarchov Kowloski
Self published
NGR/LotFP
Low levels
(These are the results from a writing contest, with little extra polish.)
This 49 page canadian-themed adventure has two scenarios: Sugar Shack Slaughter and Maple Witch of the Beaver Wars. They each take up about half the book. Both are set in the pseudohistory of the 17th century of LotFP. They both ooze a lot of flavor, local and otherwise, with quite good encounters. And they both could have used more editing/layout, with the first being better than the second, but not great either. The first is essentially a monster hunt while the second has just a bit more roleplay, although I would say both are very roleplay heavy.
The first scenario is more developed than the second, with the second being more in the line of free form ideas in paragraph form with some general large section headings. The first dows more with whitespace, indents, bullets, and so on to make the information more readily available to find during play. The second has long paragraph that has three NPC's in it, describing all three of them. Bullet points or paragraph breaks, perhaps with bolding, would have done wonder to make it more accessible and less like a wall of text … which major sections of it are.
Nitpicking at the first, the hex map is a little light to read hex boundaries, and the wandering and movement stuff really should have been included on the hex page also, to put everything together instead of spread out over multiple pages. It does this in multiple places, and could have been formatted better to keep important things, like what the syrup farm owner knows, all on one page. But …
It DOES have a nice little section NPC's. The core concepts of both are great and there are PACKED with flavor. Furt traders, one sick, will trade some beaver pelt for a cure … but not all of them! That's a great roleplay scene, between the party and them and between the two of them. "Jaque! Give them more so I will be healed! No! We need that money!"
The monster hunt has a 50hd 600hp blob monster that, if killed, reforms, That's pretty nice! Finding your way to a cursed tree and a trapped spirit to be banished finishes things up. Along the way are complications from the natives, and government/business conflicts with bribes. Maple syrup, beaver pelts, witches, native tribes, fur traders … all its missing are some mounties and hockey players for the most canadian thing ever written.
(Speaking of, Canada needs some more tourist traps. Mounties, first peoples, hockey players, fur traders, all walking around in the same fake forts.)
The hooks present are pretty blah … except for one. It's mostly just hired jobs and missing relatives. But, a central point of the first adventure is a missing maple syrup mogul. One hook has you searching for her … but for revenge! She has wronged you and by god you'll not let her get off so easy as to have a monster take her! I love the logic of it! Great hook!
My, what a worthless review I've written. If you've ever wondered why I usually just reviewone adventure in multi-paks, this is it. I do a terrible job.
Anyway, they are both very flavorful and evocative. The encounters in each are top notch, memorable without trying to be over the top. And they both FEEL like Canadian adventures. And they both have serious usability issues. Whil the first, the monster hunt, has better formatting, it's still quite lengthy, the sort that digest with large margins gives you, and the second is just free form text, IMO.
This is $4.50 at DriveThru. The preview is worthless, giving you no idea of the writing in each section.https://www.drivethrurpg.com/product/239661/The-Scenario-from-Ontario?affiliate_id=1892600