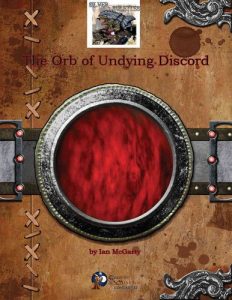 By Ian McGarty
Silver Bulettes
Swords & Wizardry
Level 2-3
Can you brave the dangers and outsmart the puzzles to obtain the Orb of Undying Discord?
This eleven page adventure in a small seven room dungeon answers the question put forth above with a resounding "No." Simple puzzles combine with IMPOSSIBLE combats and drab read aloud.
See that level range? 2-3? Uh huh. How does a 6HD iron golem with AC18 strike you? No? How about a 9HD chimera? Or a 7HD priest with twelve 2HD acolytes? All in the same seven rooms. I don't want to come across as some kind balance freak, but there's a limit. There's no fucking way this was playested. I like unbalanced encounters, but usually you make them a little social, or put allies nearby, or there are some things in the dungeon to take advantage of to give you a leg up. A simple "challenge dungeon" is enemies this tough for a level 2 S&W party is just WAY too much.
And that's what this is, a simple challenge dungeon. A dyrad has you do some tasks (fighting, of course) for her so she will make the door magically appear. Inside you solve some simple puzzles and face monsters you have to kill in order to move on. This is, by far, not my favorite style of adventure. I find the style seems to tend toward linear and limiting.
The writing is uninspired. A "large room" has a "large stone" in it. Large is a boring word. The goal of this part of the writing is to be inspiring and evocative and 'large' don't cut it. Room descriptions are full of "this 20' square room" and things like that … facts conveyed by the map that distract from what should be evocative descriptions.
There's almost no background. I know I bitch about too much background, but there's too little in this adventure. It's the third in a series that can be 'run in any order', which I suspect is the issue. While you are walking down the road a monk runs out with a scroll case to tell you where the orb of undying is. That's your background. Why you want it, what it does, etc is not covered at all … I guess it's in one of the other adventures. This weirdness in the basics of the design continues with one of the room descriptions appearing ABOVE the room number. There's a basic inattention to some core items.
A half page is devoted to a nearby city. It's useless. Just generic detail. It has a temple that sometimes sells potions and a mercantile. I have now provided as much detail as the adventure does, with as much evocativeness.
This fails on several basic points, from the descriptions to the challenges to the basics of putting an adventure together.
This is $4 on DriveThru. The preview shows you the town text and some wandering monster tables. "They attack!"https://www.drivethrurpg.com/product/227564/The-Orb-of-Undying-Discord?affiliate_id=1892600