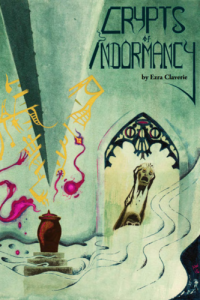 By Ezra Claverie
Melsonian Arts Council
1e
Low-levels?
The tomb of Thuuz, Lord Nanifer, Elven General of the Western Isle, has been found. The Islanders he once exploited and terrorised would gladly hurl his bitter carcass back into the ocean. Others, hearing of an untouched crypt in the mountains, no doubt filled with all the pomp and pride of an aristocratic burial, arrive with less ideological motives for defilement.
This is an unconventional seventy digest-page adventure in an old elf tomb, about forty pages being devoted to the encounters … all ten of them. Kuntz is born again. Hidden depth abounds adding flavor at every turn, all seventy of them. But I don't remember the hidden depth. I remember the weariness of page turning and trying to figure out what it going on.
There are ten encounters here, and they are essentially linear. The encounters run to the long side, with wide margins and large fonts helping some of the encounters to spread to four or more pages. The pages are organized well, generally one per topic, so if there's a table in a room then one page will be devoted to the table and maybe another page devoted to the sword on the table, and so on. This gives almost a page worth of detail and background and history and Kuntz hidden depths to these objects. There's a lot to explore and discover, with very little of it being more than window dressing.
But first, how about a couple of sentences from the first encounter, as the characters reach the top of a snowy couloir at the top of a mountain and see a state on a slab … "Passing this figure activates a phantasm: snow from the couloir above swirls down into a figure resembling the skeleton of a human infant some four meters long. It will crawl head first down the couloir, snapping toothless jaws." Well, there's something you don't see every day! This is typical of the content and originality in the adventure. The rooms and objects are well detailed and slightly off the beaten D&D path, all of which I applaud. It's not so alien or dark to be gonzo or a turn off to the mainstream crowd.
This adventure is crafted. It doesn't engage in long-winded unfocused writing as most high page/low encounter adventures do. It is layered with depth, built up layer on layer. A singular vision of the designers making it the page. Can I admire and praise something while still not recommending it?
So, yeah, 40 pages describing ten encounters. The first fourteen or so pages describe some background and perfunctory islander civilization. "High level overview" would be an understatement. It's just the vibe of an islander civilization. Part of what makes the adventure … compelling? is the setting. Almost-evil elves, no dwarves, little tips like "elfs are secretive, when PC elves retain secrets they get 250xp." Specificity is the soul of narrative, and Ezra has that shit DOWN. It's also so setting-specific that it's probably impossible to integrate in to your game. Could you drop a Dark Sun adventure in, with their elves and dwarves? No? The content is excellent and I'd love to see a full on setting, but it's fuck-all hard to deal with in an adventure. It reminds me of those historical D&D adventures in Dungeon. "A level 7 Holy Lands D&D adventure? How the fuck do I use that?"
The first real room has fresco's on the walls. Interesting ones, with a history, that mean something culturally. And as far as I can tell have no impact on the adventure. After a couple of pages the last sentence is "On the floor on the north side of this archway sits the stub of a candle in a pool of congealed wax." Yeah, it tells us someone was here. It's a creepy detail. It helps it feel like a real place. All of it helps it feel like a real place. The two pages it takes to describe two dead bodies and their possessions (oilskin cloak, flint & steel) make it feel real. But Jesus fucking christ man …
Look, I want to emphasize that there's a lot for a party to figure out. That's VERY good. Players love figuring things out, even if it's as simple as "oh, a candle, someone was here!" It's also generally well organized (one thing per page, or so) and the shit is flavorful as all fuck. Those large margins and big fonts contribute to an easy to read zine-like vibe.
But fuck me, the length. I think the cracks really start to show in room 4, the Parlour. There's more description here, especially around a wargaming table, than can be easily digested. And while most of the pages CAN be easily digested and related to the players on the fly, at least up until this point … well … the highlighting and note-taking increases a lot after this.
This thing screams ONE SHOT to me. Great for a convention game, once you digest the second half of the encounters. And digest and highlight you will, as things get more and more involved as you progress. It's that … complexity of depth? in the second half that I think drags the entire work down. More effort in writing, editing, and presentation would have helped.
I'm keeping this to run at a con. Look, you can use this, but its unconventional format sometimes fights you and leaves you lost.
It's $11 at DriveThru. The four page preview doesn't show you anything. Bad Melsonian's! No Boxing Day for you!https://www.drivethrurpg.com/product/208756/Crypts-of-Indormancy?affiliate_id=1892600