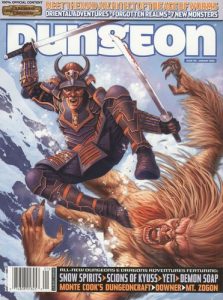 Within the Circle
By Sam Brown
Level 1
This short little adventure has a nice introduction and wilderness section combined with a rather disappointing little twelve room dungeon at the end. It's meant to kick off a Yuan-ti themed campaign, I believe. The party, retainers of a Baron, have dinner with a man from a remote village. He tells of the village being poisoned, livestock killed, crops in disrepair, all from a goblin demanding tribute. Later, in private, the Baron tells the party the real mission: that he wants them to check out a depot nearby that he was tasked with burning down when young. He questions now, that he is wiser, how he has risen in power, and why. The villagers act like villagers, the goblin is dealt with, briefly, and information on his lair is the same as the depot, which can be learned from him or fro some ambushing lizardmen, who retreat in deference when they learn they made a mistake ambushing the party.
Up until this point the adventure is pretty good by Dungeon standards. Lots of words, and read-aloud, but the motivations make sense and nothing is really forced. Parts of what going on could have been emphasized more, with trivia deemphasized, but it's there, somewhere in the text … and its not as bad as the usual Dungeon fair in terms of wordiness. It's a nice little thing that doesn't really force the players in to anything, after the initial hook .. and I can even forgive that seeing as this is meant to be a campaign kickoff.
The goblin lair has bad read-aloud and is more confusing than normal. It's mostly linear, with a lot of background and history clogging up the text. In one room, the main entrance, there's a trap with a bag of giant centipedes. I still have no idea which door, or side of the door, that trap is on. Most of the rooms FEEL boring, even though there are one or two goblins with some motivations other than "KILL!" A matron protects the young with a spear, warding the party away but not attacking until she is. Another goblin spies behind a table and then tries to run away. Again, very relatable motivations. The rooms, beyond the goblins, are just not very interesting. There IS a nicely integrated trap that is not meant to be a trap, and several clues as to what is going on.
Its' decent, especially by Dungeon standards. It reminds me of something out of those more realistic settings, like Harn or the like, but with more monsters.
The Palace of Plenty
By Tito Leati
Level 10
This is an Oriental Adventures themed adventure, that seems to be derived from watching too many 1940's and 50's Japanese ghost story movies. Vague hooks and no wilderness journey has you in a legendary ruined paradise city. Which takes a DC 10 roll to know where it is. If you fail, there's a map in a library. The icy ruined city is large and ruined and very sparsely keyed. After wandering about and finally figuring out where you go you get to a non-ruined place, through white fluttering butterflies, which has mostly empty rooms. This place has such exciting encounters as "Sentry Box: The entry box is unremarkable." The whole thing is "icy ruined village theme and then ghost village theme" all with that sort haunting quietness that comes from older Japanese horror movies. It gives it a very "story game" feel. It's also nigh incomprehensible as an adventure. Props for taking a chance. It was your editor's job to tell you it didn't work so well. A STRONG edit may give you a Mountain Witch-like adventure. It's just trying too hard with too many words to be as effective as, say, Inn of Forgotten Heroes … hence the need for an edit.
The Spire of Long Shadows
By Jesse Decker
Level 13
Another in the Age of Worms adventure path. Get out your lozenges, this one is the exposition entry! Miles upon miles of read-aloud in order to relate reams of backstory to the party, either through a sage they meet or through visions they have. It starts with a meaningless combat right out of the bullshit "have a quick first encounter so the party can get some dice rolling" advice column. It then passes to a small city where the party cool their heels a bit, and then a visit to the sage who talks at them for hours (Real time.) teleport to a far away land has the party at the site of where Kyuss ascended to godhood, and a pyramid temple full of kyuss worms and room after room of guardians. These are spaced out with visions the party has about Kyuss and the prophecy of his return. There are about A MILLION of pages before you get to the temple. The rooms embed history … in a bad way. "This room represented Kyuss' master over death …", or "the stairs were destroyed in year blah blah blah by blah blah blah." Meaningless trivia that does not contribute to the adventure. This "adventure" is just an excuse to talk at the party with monologues and put in some combats with worm-themed NPC's. Boring.