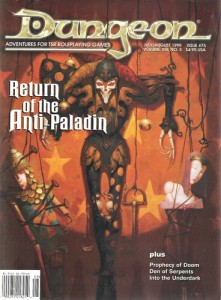 Non-Prophet Organization
By Charles C. Reed
AD&D
Levels 4-7
A decent enough little adventure marred by the organization. A village has portents of doom. Some believe and some don't. A little investigation and/or a timeline can lead to some caves and the hags behind it all. It's all described in number/dungeon format and that's too bad. Instead of including all of the information about the people in the description for the locale it should have been broken out to a short description of the "mundane" village locations and another section on the people, personalities, and politics of the situation. There's an element of the hags using Wands of Frost and plotting in a, what I consider, an un-hag-like manner. Once again, just do the effect, you don't need a justification from the book. Still, minor points. Some note taking would shorten this to a page or so and make a decent little adventure.
The Amulet and the Underdark
By WDB Kenower
AD&D
Levels 5-7
The party is hired to find an amulet. Bandits stole it and sold it to someone who sold it to someone (evil dwarf stronghold!) in the underdark. "The party should not be allowed to kill the bandits if they are of good alignment, after they question them." Uh huh. It's also not clear at all how the party is supposed to find out where the amulet actually is in the dwarf town,and the underdark portion is really just glossed over without much detail except for a wandering table. This adventure is super-long for no real reason.
The Forgotten Man
By Steve Devaney
AD&D
Levels 6-8
Meh. A story of redemption. You meet a dude in a village who has lost his memory. There's a big build up with someone coming to find him and a stupid stupid play (plays and carnivals, I just don't get the fascination with them in adventures.) Dude learns he's The Evil One and goes back to his castle with his lich pal. Lich pal and his 100 jerlamaine torment the party on and off as they explore. Meet the evil dude again and hope to turn him back again to good. As a story of redemption is sucks. As a dungeon is sucks and is boring & lifeless. As a DM aid it does not help run the adventure in any way other than "here's a whole lot of words to look at." IE: it sucks. The set up is fine, if very long and transparent. The entire middle is lame and the end/dungeon is just not interesting.
Into the Nest of Vipers
By Matthew G. Adkins
AD&D
Levels 1-3
Oh, I don't know. Six pages of hook/backstory is a bit much. The 10th level druid who cares a little but not enough to do anything, and the bulk of the dungeon adventure in a "dead magic" zone, along with the length but boring description, make one hard to find something good to say. Six page hook to go find a ranger, find the ranger dead with a note referring to the druid. Druid sends you to dungeon in a dead magic zone where you fight a bunch of bandits. This should be one page, at most, instead of the 16-18 pages it is. There's just nothing interesting in those pages of detail.