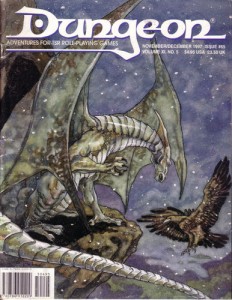 Knight of the Scarlet Sword
by Jeff Crook
AD&D
Levels 4-6
Quite verbose, but full of stuff to get into trouble with. A misguided knight in a small village. A polymorphed imp misguiding the knight. A doppleganger impersonating the blacksmith working with the imp who is acting mayor, a thuggish/brutal group of constables, falsely accused villagers, a homunculus, a cave that's the source of a local myth, an old wizard's lair, and an "evil" wizard who is turning himself into a lich. Decent rumor table. The thing is laid out in a sandbox form, with a suggested timeline. Could use a little more "Village Life" stuff, but not bad for Dungeon.
Flotsam
by John Baichtal
AD&D
Levels 6-8
A side-trek. You pick up two shipwreck survivors. One is a disguised goofy pirate and one a poly'd rakshasa. They do not necessarily mean the party harm, and there's nothing more. IE: this is two NPC's disguised as an adventure.
The Ice Tyrant
by Christopher Perkins
Dragonlance Fifth Age
DL5 is an act/scene based game, and so this is an act/scene based adventure. It has the usual problems: it assumes you did what you were supposed to do in the previous scene. Scene two has you allied with some elves from scene one. It you killed the elves (I would, they act like assholes) then the DM has problems in scene two. And three. And so on. It's a juvenile attempt using a broken format, and the format is badly done at that.
Reflections
by Lisa Doyle
AD&D
Levels 3-5
Another side-trek. Some people in town have gone missing. There's a cave, with a will-o-the-wisp that lures people to a gibbering mouther. This has a very nice rumor table ("I think the ran off with that Jones girl without her parents permission!") but that's otherwise the only highlight.
The Unkindness of Ravens
by Jason Kuhl
AD&D
Levels 3-5
I'm fond of this and I'm completely sure why. It's a murder party in a small castle/manor. During dinner a servant is murdered. The party looks into it. The host is not a dick, and the servants are not either … both quite unusual. There's a brief timeline and a lot going on. It's got a "fantasy but not D&D" vibe going on that I like a lot. The prevalence of ravens and other blackbirds, an orangutan demon (yes, it's a barluga. Piss off, it's a monkey demon.) Ghostly dwarfs who talk to you in their tomb. It's got a great vibe. The rooms are not overly described (which alone should win this adventure "Dungeon Adventure of the Year" award) and the NPC's are brief enough to enjoy and expand upon. The magic items are nothing to write home about. There's a brief timeline that could use a little work and I'd prefer to have the NPC's written up outside of their rooms, but otherwise this feels more like a good Nancy Drew fantasy than bog-standard boring-fuck Realms D&D. That's a compliment.
The Beast Within
by Paul Beattie Jr.
AD&D
Levels 1-3
This is really just a side-trek, and in that it's really just an NPC. There's a guy (a cleric) barricaded in a hut with a bunch of lambs tethered outside. He's been bit by a werewolf and is trying to contain himself. The "adventure" here is non-existent, but the concept of a NPC cleric for the party to use is a good one. Lots of fun things to do with a friendly high level cleric who has a problem. As written this has a bunch of the bullshit implied morality that I hate. Kill the guy? Oh No! That's murder! His god doesn't like you and curses you! Loot the hut after killing him? Oh no! You're a thief and the law comes after you! There's no excuse for a dick DM. Baby orcs are there to kill. If you're DM puts them there to test you, or fuck with you, then you need to go find a new DM.