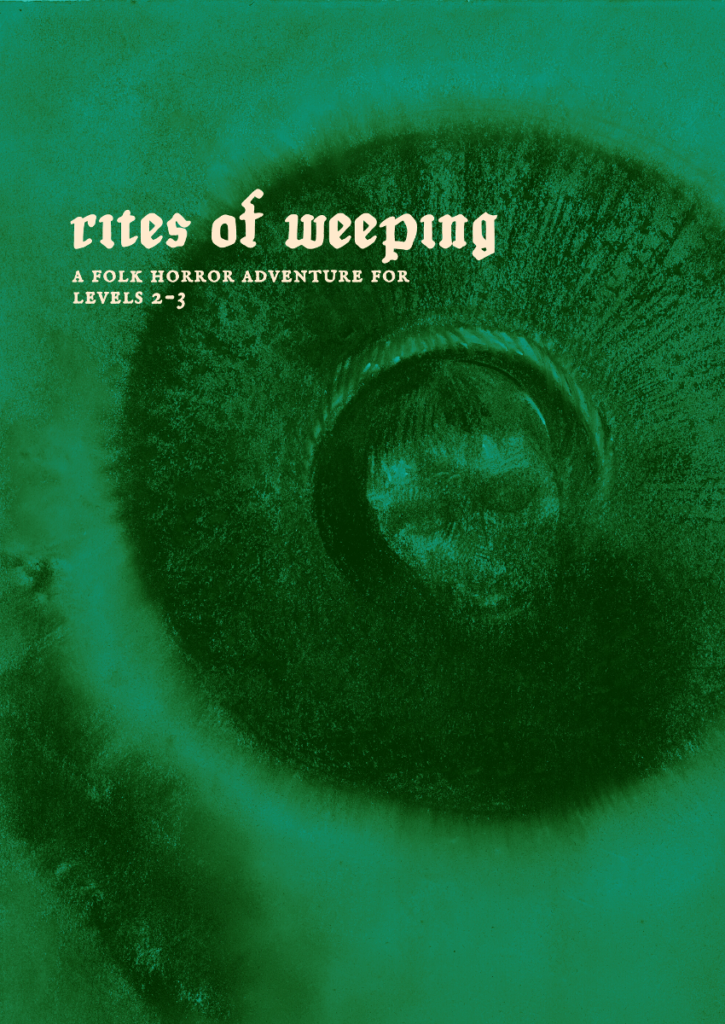 By Harry Menear
Self Published
OSE
Levels 2-3
Deep in the woods, where the pines grow tall as churches, a god-thing is dying. Her children are gone, taken by the plague, and what was once her temple is now their tomb. In desperation, she prolongs the life of her last remaining servant, transforming her into a vile instrument of grim necessity — a yellow-eyed horror that preys upon the inhabitants of the local village. The servant comes at night, dragging its victoms, screaming, to the black lake beneath the sodden earth. There — amid the rotten husks of plague-ravaged monks — they are caged, nourishment for a dying thing that dreamed she was a goddess.
This ten page adventure has a small lair dungeon with five rooms. Great room descriptions come to life while the rest of the surrounding adventure descriptions reek of a bit too Try Hard. I might run this as a lair side-trek.
As I write this I have a leg of lamb sitting in my fridge. I saw it again this morning when I grabbed a jar of olives. I bought it as a special food. Then I got sick the night I bought it for and didn't make it. It's been sitting in the fridge since then. Getting greyer. It stinks. A lot. I think about it sometimes. That little lamb was raised for just once purpose: me eating it. Everyone who worked on it. The dude who raised mom, the transport company, the farmer, the people at the slaughterhouse, the grocery people, buyers, distributors. Everyone. They all exist in a big long chain with the end result being me eating that leg. The thing that didn't happen. It stares back at me, reminding me that it has failed in its purpose.
Exactly like the fuckwits who spend too much time on layout. "I want it to be pleasing!" That's fucking great. More power to you. But you can't lose sight of goal: the adventure as an ADVENTURE. To be run. When your pretentious layout garbage takes over and contributes to me NOT running the adventure then you've failed. Don't worry fuckwit, you can still make it look nice. "Ahhhh, but it's all subjective!" wails the maddening crowds of layout idiots. Sure, in as much as absolutely everything in life is. But, also, maybe the fucking moron who buys your work and takes enough time to write up something about it could be given just a tad bit more credence than the fucking echo chamber you're in? No? Ok. We arrive at todays review.
Menear can do a couple of things right. He's got a decent overall aesthetic going on, in the adventure. The theming, as it were, of all the elements, rooms, and people and such, of the adventure all work together fairly well. The setting, and each room, all make sense together and contribute to the overall mood. That's fucking great! We get consistency throughout.
And dude knows how to write a room description. "The tracks end at a rough stone arch, doors hastily mortared shut with lyme and ash." Fucking lyme and ash man! Great specificity. Brings the entire thing alive. Or "Flickering candlelight, dripping water. Wet stonework caked in mould. Smells of sweet rot and Petrichor." Flickering candles and dripping water … with some sweet rot? Sign me up! There's some great use of adjectives and adverbs in this. Great specificity. The kind that I'm really looking for to make a room description come alive.
The first words of the actual adventure are "The boat is leaking." Perfect. The game is afoot Watson! On the river you come across thee sullen, cock-eyed fisherwomen smoking pipes and srinking coarse bramblewine, outside their huts, watching the river go by, in the rain, with goats, chickens and muck-smeared children running up and down what passes for a street. I'm not doing the thing justice. It's really good. Sets the mood. A great description.
I'm down man.
Well, until I'm not.
There is a definite talent for setting a mood. And the room descriptions, the evocative part of them, are top notch, without relying on gore and explosion sounds to make them come alive. But then, also, some of the descriptions are just REALLY try harding. The main creature of the adventure is described as "Hunched, yellow-eyed embodiment of a dying god-thing's will. Consumed by virulant plague. Stinks like a leper colony and screams with a voice like tearing paper and gushing boils. Wants to take people and cage them above the Weeping Lake as sustenance for its god." I note that there is no actual description here. I don't think I can tell the party what they see. And the tearing paper/gushing boils stuff reads nice but I don't think that translates to something I can do for the players. What the fuck does a leper colony stink like? This needs to be grounded.
The text here is two column with some fuckwit font choice. And, I swear to fucking god, half the page is green. Like, once column has a green background. And it looks like the text in that column is yellow. Who the fuck thought this was a good idea? With your fucked up font. The main text is good. The rooms have a little overview. There's good use of bullets, bolding and whitespace. I think it runs a good tight ship in terms of formatting, combining both a more traditional descriptive style with the good elements of the OSE house style. But, man, slapping down that green? With text on it? In that font? Shove it up your ass.
There are some design things in this that I kind of like .. and am maybe questioning. The main enemy has 9hd and reappears, in the main dungeon room, in 1d6 turns after you kill it. That's a little fast and a little much for levels 2-3. But, also, the main map is a loop, so we can do some avoidance stuff here. And, you don't actually need to kill it in the adventure. You don't know that, but, you can "win" by just rescuing some people. And, also, the main room is a lake underground. You take a boat from one shore to another. So, you could be stuck on the far shire when the creature reappears. It's got some interesting design choices here. I might put the monster down a little longer and maybe keep the hints it is coming back. But, if you want to go all LotFP style, then you can.
You're also rolling, every turn you're in the dungeon, to see if the creature moves to a different room. I don't know man. That's a lot of fucking rolling. Maybe you hear sounds in the darkness. Maybe it serves as pressure to keep the party moving and provides some tense situations. But, also, that's a lot of rolling. Every time I see an adventure that wants rolls every turn I ask myself if this person actually ever plays D&D.
This thing is short. A little village play to get the adventure going. That part is almost presented in a perfunctory manner … where it could be a little longer or more involved. And then a five room dungeon. This is absolutely a side-trek lair. And for that, yeah, groove on. It fits. It kind of fits that petty god/folk horror thing that I like in a lair adventure. It's not 100 Bushels of Rye, but, with with, it could be. Descent design and good room descriptions. A great vibe. Something meatier. Less head-up-the-ass on layout and controlling the nonsense descriptions. But, it's still Best quality.
This is $3.70 at DriveThru. The preview is five pages. You can get a look at the layout and such, and that great intro the village (that ultimately doesn't pay off) but no room descriptions, which is where I think the strength of the designer lies. The village intro description, though, give you can idea of what to expect.
https://www.drivethrurpg.com/product/409267/Rites-of-Weeping?1892600