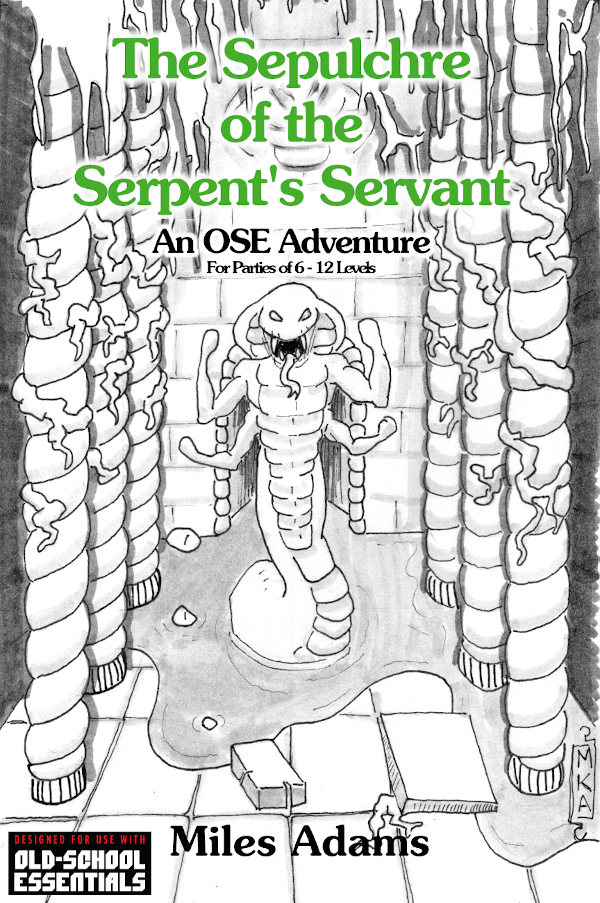 By Miles Adams
Self Published
OSE
Levels 1-2
An ancient, crumbling crypt overrun with vermin is now home to a band of goblins, but the temple beneath the crypt contains dark secrets.
This fourteen page digest adventure features a two level dungeon with thirteen room in about eight pages.It's a pretty basic goblin affair. There are hints of better things to come with the designer, based on elements of the room description
It's a humanoid lair. B2 had humanoid lairs. What's it doing that B2 doesn't do? Orcs in a Hole man. Except this time it's goblins. A bunch of rooms on the first level with goblins in them and then a couple (four?) on the second level with an old temple and mummy in one.
The format here is interesting. A room title. A short one sentence italics … overview? "The stench of death. Moans in the darkness." That don't do shit … except give a certain vibe to the DM. That's what vibe the designer is going for in this room. And …. Meh? I mean, ok. I get where you're going. But, also, why not just make that the rooms vibe? Via the descriptions?
Then we get the bullets, with some nested bullets under those for more info, like treasure carried by the bulleted monster. With some bolding to draw the attention to a word. A stat block in an offset box and maybe another section with some more information if there's a random table or something. It's basic, easy to scan and find information. And, probably, in this case, implemented incorrectly. More on that later. But, it also has some extraneous information, like "The goblins keep the toad well fed so they can pass it by." Great. Why do I care about that, when running a game? Or, where the fucking doors lead. You mean, the thing the map shows? You almost never need to include exit/door information. And, then, some of the bullets are out of order. Room one's first bullet is that there is a giant toad in the room. And bullet two is that the muddy floor conceals the toad. We dont do things this way. Obvious things first. First things first. The floor is muddy. It hides a giant toad. That's the way we order information, the the manner in which the DM is likely to need to use it.
Before we get to my main comments, let's talk first about randomness in an adventure. I feel like I've talked about this sixteen hundred million bajillion times. Randomness in an OSR adventure is not arbitrary. It's there for a reason purpose. It feels like people say "Oh, OSR has random tables in it. Here's a random table. Now my adventure is OSR also!" No. In certain situations it makes sense to have some randomness in an adventure. A giant room full of trash that you search could reveal some loot/objects in a rather arbitrary manner. If you have multiple corpses, or graves, or something. Enough tha keying each, individually, could be a pain, then randomness might make sense. But, let's say there is ONE corpse in the room. And you loot it. What's the purpose of having a random table to show you what is on the body? The table takes up more space. And, there's no reason for it. Whatever the body has is what the body has. Put put ni the fucking things you were randomizing. If you've got a scene based adventure and write four scenes as potentials on the way to the dungeon, and you roll to see which one the party encounters … why the fuck are you doing this? To waste three encounters worth of content?
But, mainly, I want to talk a bit about the room descriptions and how I find them uninteresting. This is a common complaint of the OSE format and/or bullets. The usage of these, for organizing, does not remove the need to be evocative in your descriptions.
The general, "always on" descriptions used for the dungeon rooms are found on a normal page … and not the fucking map, etc, where they should fucking be. And they are not bad. A cool, damp, dank, earthy smell. Ceilings of timber, 8' tall, falen bricks, handling root, dripping water. Floors of black flagstones, broken and uprooted by mud, roots, and slime. Sconces of coiled serpents. Sagging dark green stone block walls, collapsed by expanding roots. These are not bad at all! But they are lost by being put up front and not someplace the DM can always reference to beef up a description. How often ar eyou going to remember to go back and look at that page, while looking at the page you are running, in order to incorporate it? WHich is why you put the fucking things someplace they will always be seen. OR you put them in the room proper, in your description. Pick one or two and go with that in that room.
There are rooms here which could not be bad. "Smokey, fetid, crawling with lice", says a room. With an oil lamp hanging from a ceiling. Lean in to that fucking smoke. Hanging in the air. Hazy, Choking a bit. With debris. The floor crawling with lice. And goblins lurking in it. Instead it comes off a little busy and boring.
Or, The SInking Temple. Which is labeled Dark, Dank, Roots entwined serpent columns sinking in to a muddy mire. And a corpse floating FACE DOWN in it. (Nice!) But I'd lean in to the ankle deep water, and maybe some slime and debris, leaves, roots in the water. Go harder on the vines and columns.
So, conceptually, you can ALMOST get to a decent room.But it just never makes it there because of the choices made with te format.
In the end it's just another goblin lair with little to distinguish it.
This is Pay What You Want at DriveThru with a suggested price of $3.
https://www.drivethrurpg.com/product/422928/Sepulchre-of-the-Serpents-Servant?1892600