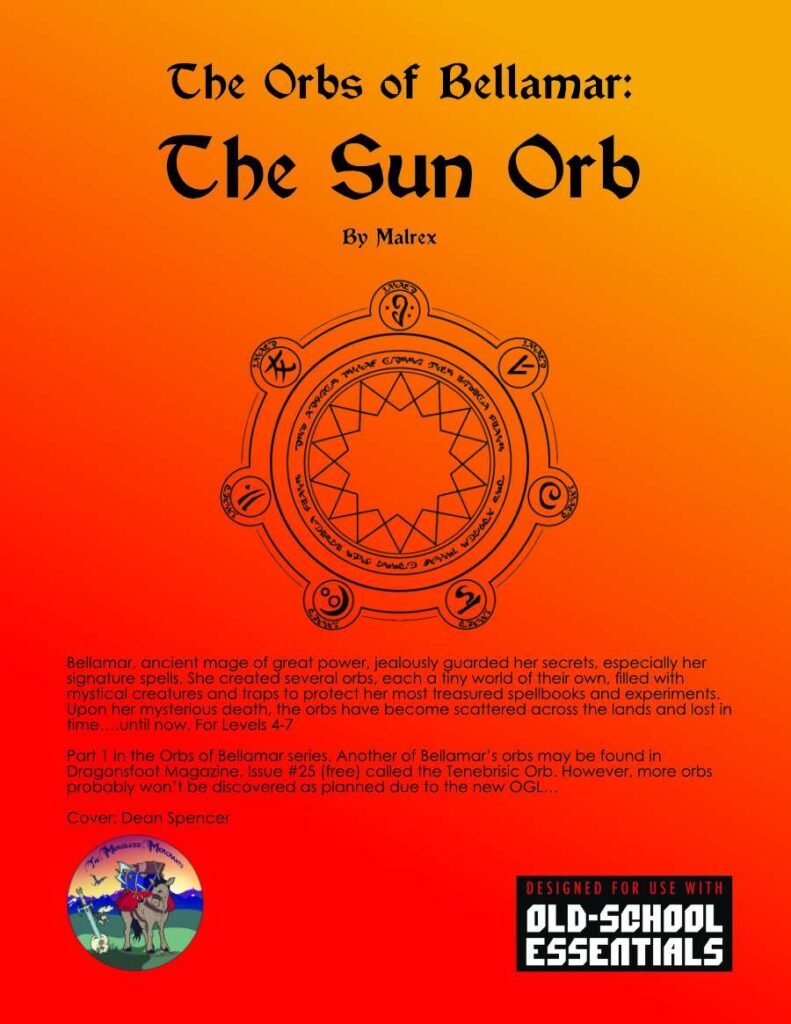 By Malrex
The Merciless Merchants
OSE
Levels 4-7
Bellamar, ancient mage of great power, jealously guarded her secrets, especially her signature spells. She created several orbs, each a tiny world of their own, filled with mystical creatures and traps to protect her most treasured spellbooks and experiments. Upon her mysterious death, the orbs have become scattered across the lands and lost in time….until now.
This 24 page dungeon features a sun temple with about 25 rooms, and an extraplanar area with about fifteen more at the end. A bit puzzle/riddle heavy. Malrex can get a bit lengthy in his DM notes for rooms, but it's a solid adventure that does nothing wrong.
You're after a spellbook full of sun spells, probably. And the way to get it is to go inside a magic orb by touching it. Inside you see a temple … with a lot of sun theming.
I always have a hard time with these sorts of reviews. Ultimately, it's ok. It's not doing anything wrong. Maybe a little lengthy in the DM notes for some rooms, with stretches of text (decently organized, if long) that stretch for a column or more for the more complex rooms. And, also, I'm not terribly excited for it. I think a lot of your own views on this are going to come down to differences in personal preference. Seeing so many adventures, my standards are impossibly high. This adventure is certainly exceeds most, even of the older stuff, and in many ways reminds me of the better old adventures. Or, maybe, is evocative of them. It's a fine journeyman effort.
I'm struggling with the room descriptions. "The doors open to a brightly lit marbled passageway that ends at a whitewashed stone door. The marble boasts swirls of gray and golds intermixed with a chalky white. Golden runes are etched on the floor." That's fine. I think you can see, maybe, the comparisons to the older adventures in that description. This is not minimalism and there was clearly an effort made to bring the environment to life. But, also, I find it a little dry … just as I do most of the earlier adventure descriptions. As always, I think this is the hardest part of writing an adventure. Bringing an environment to life in the DMs head. You have to envision something and get it down on paper in such a way that the DM reading it has their mind come to life. This is hard. For many purchasers they are not going to be worried about this. The description, above, is enough. If we ignore design/story/plot/situations, as a lofty goal almost unobtainable, in our criteria, then we're left with ease of use, my usual gripe. The single most common complaint is that adventures are hard to use, and thus my emphasis on that. If you eliminate that and write something that's not a nightmare to use (which should be allow hurdle …) then I'm left with: what makes me excited to run this adventure? And, generally, that's going to be the descriptions. That's what's going to make me excited to run it … if I leave out the situations/design criteria. And that excitement about running it is what's going to get it to the table. Sure, great situations and/or design will trump almost everything else, but that's not something I'm going to harp on. If I did there would be VERY few entries on my recommended list. For all the bitching about the standards, my criteria is rather low, and yet few things make it past. This one does.
There's a lot of theming here, which translates, in a way, in to a lot of puzzle like elements. Doors that open only at certain times of day (Sundial!) or straight up riddles. Darkness and light being used in a variety of way to elements to the adventure. A prism, in a room full of mirrors. A fresco giving hints on how to pass a room without damage. It's a decent integration of the theme of the temple. Maybe trending a bit to the "challenge dungeon" trope a bit, but, it's a temple and there are riddles. What ya gonna do?
At one point you can defeat a (godling?) in his temple (nice art there) and go through a portal to a sun god mini-dimension, fucking around a bit.
My notes for this adventure are almost nonexistent. I don't have much to complain about. And, also, not a lot to gush over. That puts us solidly in the category of a fine adventure that just isn't hitting the highest of highs for me. IDK, maybe it seems a little rushed to me?
This is $5 at DriveThru. The preview is thirteen pages. More than enough to determine if this is for you or not.
https://www.drivethrurpg.com/product/422991/The-Sun-Orb?1892600