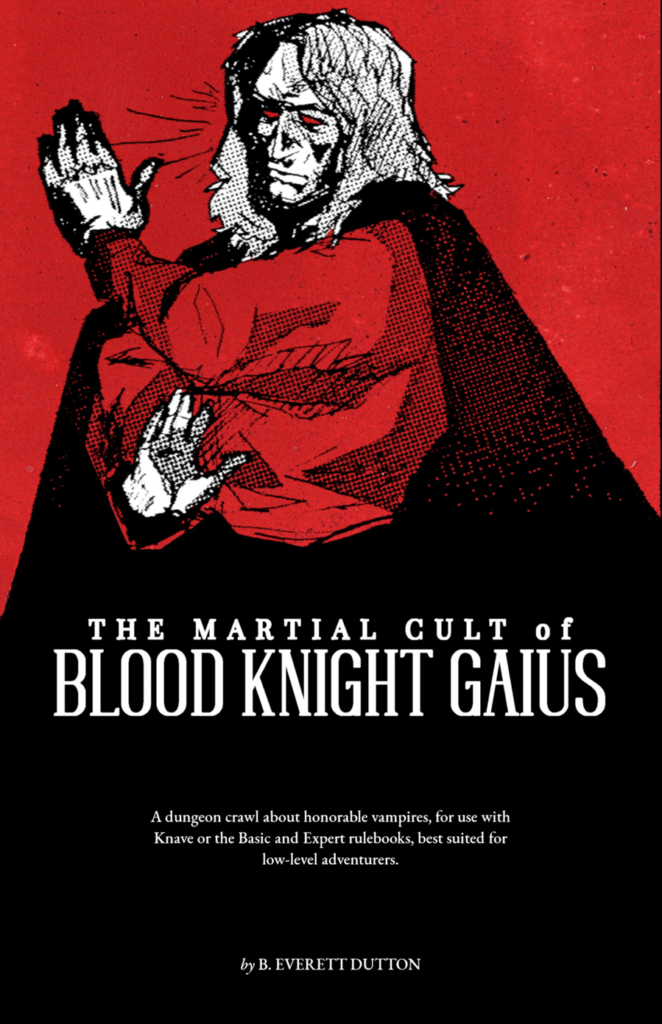 B Everett Dutton
CLAYMORE
OSE
"Low Levels"
UNITY!
THE MARTIAL CULT OF BLOOD KNIGHT GAIUS is a 20-page dungeon crawl about a religious order of vampires who deny their feeding urges, instead only drinking the blood of those whom they have given a formal chance to defend themselves.
There's a reason I have not gotten to the things on my list. Calling your adventure "The Martial
This 20 page dungeon is about a dragon that is actually good. Oh, wait no, it's about a captured princess who is actually evil. Oh, wait, no, it's about vampires that don't drink blood. Unless they defeat you in honorable combat. Which means they cheat. It's one encounter and not an adventure.
Cult of Blood Knight Gaius" and the marketing saying its about a cult of honorable vampires that don't drink blood … well … as much as some things turn me on and get me excited, other things, like scat, turn me off. And that marketing is one of them. I mean, I'm not a pretentious fellow. Yes, I am having a bloody mary before work this morning. But that's more to deal with the terrible ennui.
So, yeah, honorable vampires in a monastery. Their leader, Gaius, fight you one on one in an arena. There's a magic circle that heats up your metal items, so, you're gimped. And if he starts to lose then he switches from bitch slapping you to using a staff and then spells and then a blade.
This is, essentially, the only thing to do. You can wander around the nine rooms (ten if you count the arena!) and poke your fucking head in and look at shit.; But none of hte vampires fight you. There's no real interactivity. Vampire mass involves you falling asleep until someone wakes you up. They get pissed at you if you steal their candlesticks that are covered in wax, but they don't attack. Not honorable. SO, wander the fuck around and get bored and then someone in the party fights Gaius.
Oh shit! Oh shot! I forgot! They got some machinery that milks people of blood. SO, throw in some lame ass techno shit in that room only, also.
Ok, so, you've decided to fight some vampires. Good fucking luck! I mean, vampires, right? Well …. They are 2HD. Except for Gaius who is 3 HD. And really all they can do is maybe hypnotize you. This was, I think, for me the most disappointing aspect of 5e, as a system. The dumbing down of the HD of classic creatures. Look, you can't put in a 15HD orc. You can't mix him in to a bunch of 1HD orc. The players need to be able to make choices for their characters and dumping in rando HD defeats their ability to do that. The game is no longer about choices, or pushing your luck, but just about rando shit. And rando shit like that aint fun. Vampires have more HD and have more abilities. They are fearsome opponents. They are not your first level adventure and pussy ass motherfuckers, like they are portrayed here. Yes, sure, you can have a non-traditional monster. And not every adventure has to be a dungeon to explore. But, also, if you're gonna put in a twist its gonna have to be a real twist and not some hackneyed BS.
Let's see. SOmoene feeds a captive vampire a bowl of porridge. SO, there's that. The vampires standing guard outside wear heavy felt garments and veils so they can stand in the sun. And they all like to hold garlic cloves as penance. The wanderer table has some vampires who get after you if you are snooping hwre you shouldnt be, but, there's no real indication of what that means. In the entry or in the rooms. The map is a symmetrical fuckfest, the worst kind of map. Why not just make it a dwarven temple to boot? Oh, wait, it's a monastery, so, the meme continues unabated.
I don't know. The designer dumps in random text before a couple of room, so, you think you're at the end of the room descriptions but then you get another room after the long section about some NPC found in the next room. SO, yeah, I understand WHY the decision was made, even though it's a BAD decision.
SO, not an adventure. It's a side-trek, from Dungeon. Kill the vampire and win 500gp! Heh. I think the fuck not. One encounter, some nosing around. No real role-play notes to drag it out in a fun and memorable evening. Cause if you're gonna do this then you need something else also and roleplay seems to the easiest thing to dump in to something like this. SO, notes for the DM on building tension, some shit that can happen, and so on, some better NPC"s. SOme faction play. Maybe. But it's still just gonna be one fucking fight after poking your nose around. This is the kind of shit I throw in a town between games, not something to buy from Exalted.
This is $5 at DriveThru. You get a nine page preview, which is enough to show the writing style and get the vibe for the adventure, so, good job with that.
https://www.drivethrurpg.com/product/380520/The-Martial-Cult-of-Blood-Knight-Gaius?1892600