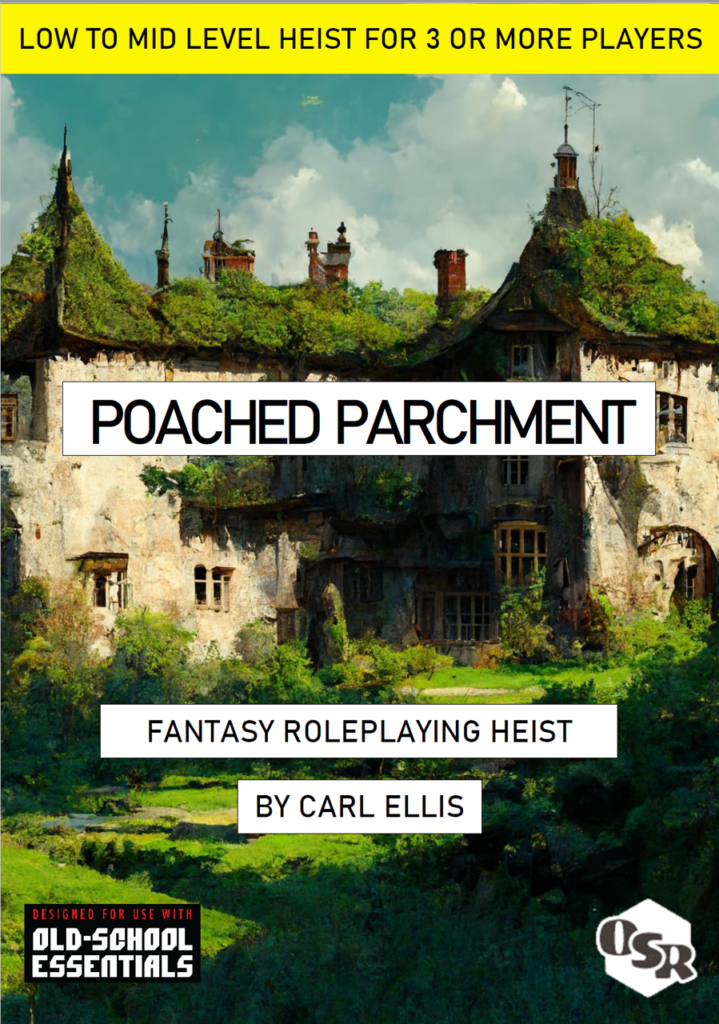 By Carl Ellis
Broken Arch Publishing
OSE
Levels 1-3
A Scriveners Guild. Seemingly a place of quiet work and contemplation, however its Guild Master is a Wizard of mighty repute and holds many treasures. Recently, they have gained possession of a rare and sought after tome. Plan, cheat, or lie your way into the organisation and, perhaps, make away with the prize.
This 24 page digest adventure uses about eleven pages to describe 38 rooms in a scriveners guild. It's not a dungeon. It's not a heist. I don't know what the fuck it is. Incomplete?
I don't know what the fuck a heist is. You're robbing some shit? Ok, I went and read the SLy Flourish article. And this thing ain't that.
Let's see here … "Heists have multiple potential entrances." This adventure has one. The front door. It's set in a manor home, according to all the art and text, but there's only one door. The front one. No root celler. No back door. The generic overview text says the rooms have long tall windows, but we never hear of that again, or see it on the map. So, no, there are not multiple potential entrances.
Hmmm … "Have multiple paths within the location' says the flourish of sly's. Nope. Just your standard corridor with doors on it. One stairway up to the second floor. One stairway down to the basement. One down to the secret basement. No balconies or shit. So, not multiple paths to be found.
Hmmm 'Has secret paths and shortcuts to discover." None of those. Well, one secret door, to the secret stairs to the secret dungeon level.
Hmmm "Inhabitants." Who are the guards, how many, what is their behaviour, etc. Nope, none of that. Well, there is a guard mentioned in room two. It says he guards room one at night at sometimes comes in to room two to tend the fire. THEN YOU PUT THAT FUCKING INFORMATION IN ROOM ONE!!!!!!!!!! Seriously, man, the number of times I see "the monsters here in room thirteen react to noises in room seven" is unreal. You put that fucking shit in room seven, the room where the DM needs the information. Fucking christ …
So, no grounds for the manor. No multiple entrances. No real NPC's to interact with. Aggressively generic content like "The Guild Master has received a secret Grimoire that outside forces desperately want." And I'm not fucking around here. Thats the extent of it. Or "Within the Secret Study is an ancient shrine to an unknown God." Or "A false bottom in a desk draw has a cipher book and coded correspondence." That's it. Nothing more. "The kitchen staff takes pride in their work" … but no other mention of them at all.
No guards, just the one in room two. Nothing mentioned about any more at all. So, non order of battle or how the scribes react to a incursion. Oh, the treasurer is a 7HD fighting man. So, there's that I guess. The guildmaster just sits in thee final room guarding his book.
It's not a fucking dungeon because there is nothing to interact with … not even creatures (ok, there are 3 … in 36 rooms: the guard, the treasurer and the guildmaster.) Walk in a room, and walk out again. It's not a heist because it's not written like one. There are no resources to take advantage of for an infiltration, sneaking in, or roleplaying in. It's aggressively generic.
THERE'S NOTHING HERE. it's just a generic description of a scribe guild.
This is $5.50 at DriveThru. There's no preview. Buy is sight unseen, sucker.

https://www.drivethrurpg.com/product/407008/Poached-Parchment?1892600