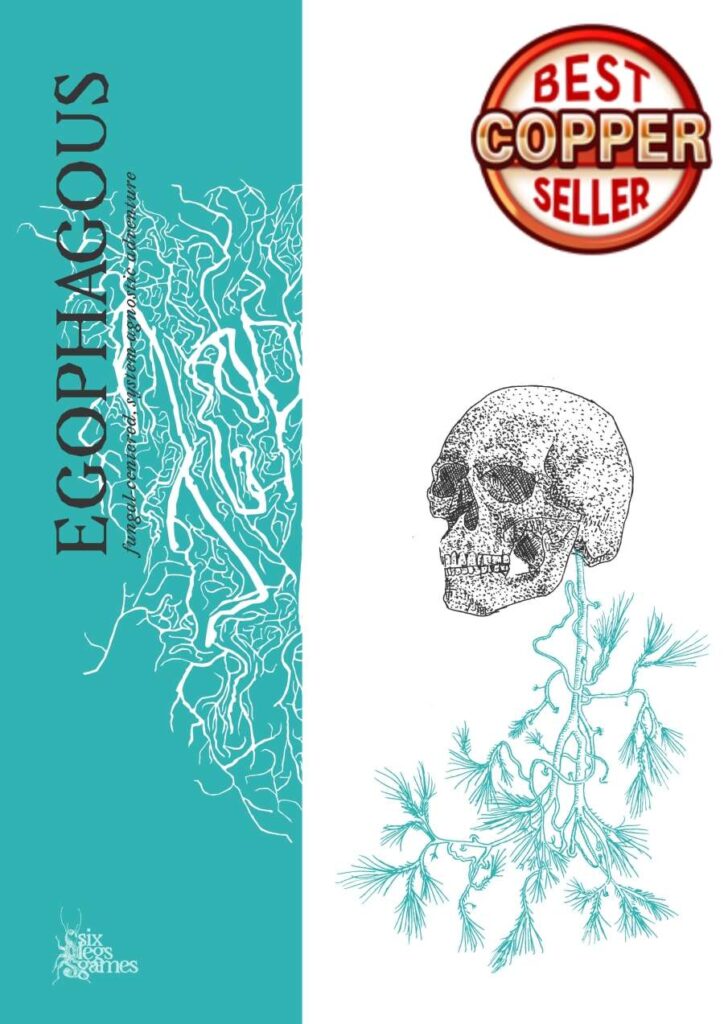 By Maciej Krzyzynski
Sex Legs Games
Generic/Universal
Level 1
People are missing, people change. Some of them are coming back decades after their last contact with their friends, while others dream about being a slimey slug. One can blame the aliens, one can blame the goverment. One can even blame the shrooms, but are they really what they seem?
This 28 page adventure features a linear cave with ten rooms and some fungus skeletons/theme. Not evocative. Not interactive. Linear.
Email, email, what what the email! Email, email, what what the email! Email, email, what what the email! We're on to email requests! And more of the same. The Manifestus Omnivorous, which seems inspiring and like a good idea but turns out crap. And the Generic/Universal adventure … which seems like a good idea but turns out crap. And, really, all D&D adventures, which seem like a good idea but turn out crap. Is it, really, the case that generic/universal, or art punk, or [Punching bag system THIS week] is really that much worse than everything else? Or is it simply the case that everything sucks? And, what is suck? Is 80% from a bygone age now 50% today, because of the middle-class's competitive nature, trying to desperately hold on to the gains that they've made? Whatever, my fucking blog and therefore my meaningless screaming against the encroaching void. Sisyphus is happy.
L'dungeon is a cave. It's got that freaky deaky "hanging fungus' thing going on, much more Stranger Things in vibe than muchroomy from 1e/BX. It's also fucking linear. So, no real exploration, just walking down the corridor from one cave to another and poking at something and going to the next room. I'm guessing you don't even need a map. Linear adventures don't need a map, at all? Or, could be pointcrawl. Or, a simple line with dots on it, all modern arty? GO TO THE NEXT ROOM.
The text is padded in a conversational way. "When they ask the inhabitants about it, they will answer that …" Fun. You don't need to do this. The world is not full of if/then statements. Don't do this. It pads out your writing. It makes it hard to follow. Write sentences with the important parts at the start of the sentence, to make information easier to locate. Blah blah blah blah. Same old Bryce.
I guess I should actually talk about the adventure. It's strange things. It's set in the 80's. But, yeah, you could set it in any time period or genre pretty easy. There's a long backstory that means there's a cave full of fungus/mushrooms. And the fungus shit kills people in the cave. And then it kind of pod persons them sometimes, and sometimes they return to the real world and think they are a real person. What's that movie called? Anyway it's that movie. No biggie its an "inspired by", everything is, after all. So, sme vague "time travel" elements when people return to town after a hundred years or so, except, not really time travel.
"The cavern seems to be really small." We don't use seems or appears in room descriptions. We dont use "Really" or "small", we select more evocative word choices.
In one room, you get to it through a small hallway (the only room that is NOT linear on the map) and we're told "It will most likely turn out that the PCs will not profit from returning to the previous room, because of the narrow corridor covered with the rhizomorphs." and thus they will tunnel out through the ceiling. I don't understand that sentence? Yes, it's an EASL adventure, but, I really don't understand that sentence? Why are they not returning the way they came and instead tunneling out through the ceiling?
In town, before you search the caves, you can talk to some people, while looking for the "missing kid" that serves as the hook. If you talk to Miss Crowley then "In the cave, the Heroes will be able to stumble upon the skeletons of a fox [chamber 5] and a bird [chamber 8]. They are already in a very bad condition and do not come to life at night." AGain, I have no fucking idea what this means. She's a vegetarian and serves them mushroom meatball sandwiches. And then we learn about the fox and bat. Huh?
So, it's a mess, right? Did I mention the ship that you can find in one of the cave rooms? I don't know either.
Long paragraphs, making information hard to find. Writing that is all added aout and uses boring word choices. Interactivity that mainly consists of "find the next exit door" and an overall "point" of the adventure that … doesn't appear to have one? You just wander around? Where "wander" means "go in a straight line until the last chamber explains everything to you in a letter." We don't explain things in letters and journals. We explain things in the play of the game. 
This was clearly a labour of love by the designer. Just like the ashtray my kid made when they were two.
This is $3 at DriveThru. The preview is one page, showing just the map. So…. not realy a preview of the adventure then? And not showing us the writing so we can make an informed decision before purchasing … which is the point of a preview?
https://www.drivethrurpg.com/product/407935/Egophagous–systemagnostic-adventure-designed-according-to-the-rules-of-the-Manifestus-Omnivorous?1892600