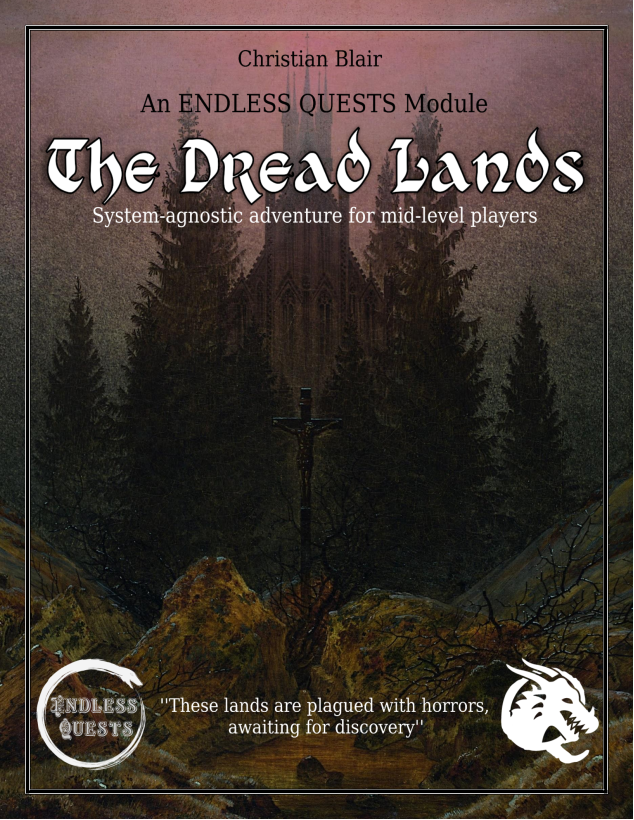 By Christian Blair
Self Published
Generic/Universal
Mid-Levels
These lands are plagues with horrors, awaiting for discovery.
This 54 page adventure describes a frozen northland full of zombies and the last few settlements. Numerous small quests and a handful of tenish rooms dungeons have a spark of interesting in them, but, it has a fatal flaw. And this, seriously, breaks my heart.
This is a hard review to write. I'm going to have to pass on this because of something I'm unhappy about complaining about. I wish it weren't so. Because, at its heart, there are some decent ideas here, combined with a tone that I think could work quite well. But not in its present form.
What we've got here is some frozen tundra. Forest. Snow. hard land. Got it? A kind of bleak and snowy landscape, but with a thing pine forest almost every. Great! We're creeping it up already! And to this we're going to add about a bajillion zombies. There're everywhere. It is, essentially, the zombie apocalypse, with just a few locations left that have not fallen. A Game of Thrones Beyond the Wall analogy here would not be far off. Also, we'll throw in some specters, wights, and wraiths here and there, whenever there is a decent sized horde of twelve or so. To this we add some locations. The Last Guard Tower, on the northern trail in, with their embittered and low morale soldiers. An old farming estate complete with one holdout left, and all of his traps. The Keep, on the verge of ruin from the attacks, with a twentish people golding out inside. And the last town, with about two hundred people left. And to ALL of this a silence … for sounds attracts the zombie hordes!
And, sometimes, the writing can be quite good! Let's take a look at the fate of the North Party, a group of people who disappeared: "Before entering, players are welcomed by a series of crucified travelers. They are tied to wooden posts. Their bodies are upside down, their hands pointing skyward. They are in an advanced state of decomposition, covered in maggots and flies, feeding. The closer they approach the post, the louder the buzzing sound becomes. Strident and eerie. Inside lies the fate of the North Party. Their bodies are piled in a mass of putrefaction in the middle of the structure. A black cloud of flies circles around. On top of all the bodies, lies a naked man. His body is full of scars in the form of occult patterns." Not too shabby! Maybe a bit long, but good energy there!
And this is the end of my compliments.
That example of the writing is a rare one. If the adventure had A LOT more like that then I would be ok with it, and my main gripe would be undercut. (I'm working on my click bair, how's it going?) But, before we get there …
This is for D&D. I know it says Generic, but it's D&D. It's stat'd for D&D. Which is great. That's what generic adventure should do. Everyone can convert easily enough; mechanics is just mechanics. But, also, it's not for D&D. It's essentially HP, AC, and XP. Dude, just stat the fucking thing out for 5e, or 1e, or whatever. It's chill. I really don't think there's a palace for generic/universal adventures in the hobby … because I think nearly every adventure should be written in such a way that it's generic/universal.
But, also, the Table of COntents has section headings but no page number. Hmmmm …. The wandering table only has ten entries, for a LOOOOONG adventure, and yet the yeti entry says it's "very very rare." Hmmmm … Oh, here's a section, let's see … "Blizzards are powerful snowstorms." … Hmmmm, I think I see where this is going. How about the moose entry onthe wandering table "A white moose is spotted in front of the players. If they follow the creature, it will lead them into a hidden spot where useful treasure can be found." *sigh*
We got two main problems here. First, it's a simplistic adventure. By this I mean … there are quest boards in places. Almost like … a CRPG. And in fact that carries over The very first one, at the guard tower, is to go kill the remaining 2d6 zombies outside and light six torches. Whait. What. For serious? Light six torches? Did I mention the fetch quests? Collect 600kg of wood and 100kg of ore. Uh … Or, how about in the town of 200 people, "Rebuild the Sanitorium" … where you collect 40,550kg of concrete. (That's weirdly specific …) Oh, and the townfolk can sell you 100kg a day. That's over a year! The scale, here, in time, seems a bit off. There's no mention of long term play, but there is certainly a lot to imply it! Hey, man, but, if you rebuild the guard tower then your reward is two martial weapons. ?!?!?!?!?!?!
It's all very frustrating. It's like it's ALMOST a regional setting, but, not quite. The quests are short. Or, rather, they take about ? of a page or so to describe, from start to finish. So, you don't a plot based quest. It's more of a description of a situation. Which, I can rock. I love that. Except, it's NOT that. It's full of padding and other garbage. But, also, it's weirdly generic, or abstracted. Zoomed out. As if the designer is afraid to get in to the specifics that help bring something alive.
That crucifixion description proves, I think (?), that the designer can do it. But we don't get that. We get that "involved in local politics" generalization. Or, "The soldiers advise against following the trails due to undead patrols". No. Nope. Absolutely the fuck not. That is not what the soldier says. The soldier is haunted and says "The dude roam heavy, still your tongues and avoid the trails!", before wheeling his horse and riding off. Jesus man, be specific. Give some detail. SHOW, don't TELL.
Here's the castle intro "When the players approach the castle, they are met by a party of 4 soldiers on horseback. They introduce themselves as Royal Guards, and offer escort to the castle. They explain they spotted them from afar, and that staying outside is highly dangerous." That's boring as fuck! They should be unkept, expect a weirdly kept lieutenant, clearly insane. In a rush, glancing about manically, rushing the players. Calling them fools. Wanting to save them by ushering them inside. Paint the picture man. And, for the castle proper we get "There's a total of 20 people living inside the castle. Half of them are knights, the few that remain, acting as a guards. The other 5 are workers, and the last 5 are the few leaders of the region that are still alive, among those, Eweil the Regent." B O R I N G.But, also, on the right track, right? I mean, maybe they are getting a little handy, all 28 Days Later style. Or those cops in the hospital in The Walking Dead. Give me something to actually work with!
"An undead giant lies on the floor, chewing on the bones. The monster is accompanied by 4d4 ghouls." It's sooooo fucking close, right? But then, also, "This used to be another room of the catacombs, but it must have collapsed long ago." Arrggggg! And the town? There's a fucking serial killer on the loose.It's so fucking close. The situations are there.
And, now, the bad part that I am uncomfortable with. I think this is an EASL issue. And I feel like a jerk faced jerk. But, also, the descriptions are just not there. To the degree that it feels like an EASL issue. Just , word choice and phrasing and cadence and things like that. I admire the ability of someone to write this well in another language. But, you have to also be able to transfer the ideas from your head, to the paper, to a DMs head. And while you can see the glimmer of the ideas here, you don't get the transfer because of the attractions and generalizations.
Oh, Did i mention that, after you kill the big bad lich at the end, you get The Soul Stone. Which, once a day, can bring someone back to life. Including a zombie. !!!!
Oh, and, let's not forget, zombies, skeletons, wights, wraiths, etc, at level 12? Don't they all turn to ass at seeing the party cleric? I'm not sure how you handle this.
This is Pay What You Want at DriveThru with a suggested price of $6. The preview is 38 pages. Which is fine. Dig deep in to it, past the fist few pages, and you get a true sense of the writing.
https://www.drivethrurpg.com/product/409358/EQ5-The-Dread-Lands?1892600