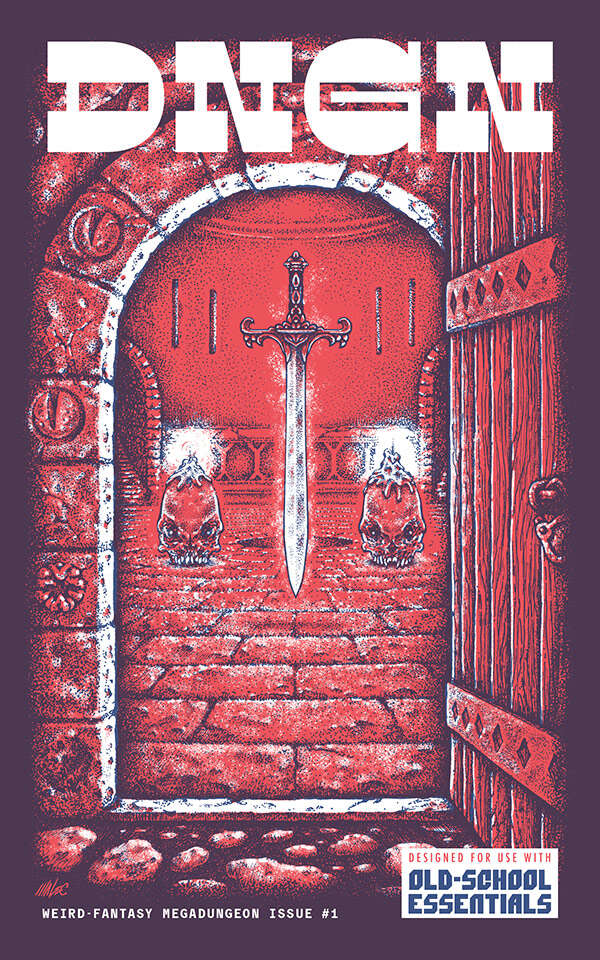 By Vasil Kaliman
Singing Flame
OSE
Level 1-?
DNGN #1: Weird-Fantasy Megadunegon is the first issue of a serialized zine that takes place in a megadungeon. Each issue will cover ten levels of the dungeon. It's cover-to-cover of classic B/X monsters, magic items, encounters, secret doors, and old-school fun! It is a quick and easy resource of adventure material that a referee can use at the gaming table with no prep. DNGN is designed to work as a complete megadungeon adventure, or for levels be dropped directly into your pre-existing campaign setting.
This 44 page adventure features ten "2 page' dungeon levels, each with about six rooms, and a "bonus adventure" at the end with a second dungeon. It's HEAVY gonzo and, while the format is decent, the actual encounters feel almost procedural in the degree they are are on-theme and yet ultimately disconnected and unfulfilling, either seen separately or as a whole.
Yeah, how's that bitch for a summary?
The first of many issues, it claims, each with more levels of the DNGN. This feels like the art punk crowd found OSE and latched on to it. And I don't mean that in the bad way. There are some fresh ideas from the art punks, and the OSE style is a decent baseline for formatting. But, ultimately, both are like buying a $800 drill and thinking it will turn you in to a carpenter; window dressing to the main event.
First, the OSE format. I like it and the rest of you dick heads who don't can just fuck right off. We start with a room title, to orient you to the framing of what's to come. Getting you in the mood, so to speak. Then some bolded keywords like "6 stone bowls" with some more details in parens after that, like: (12" radius). We then get some bullets to epands on the above descriptions, with their own bolded words and terse little descriptions. I think it lends itself well to scanning and fall naturally in to a "tell me more" Q/A style for play. The DM glances down, hits the bolded keywords, the players ask followup question and the DM can relate more, based o nthe paren information or the bullets. And, fucking importantly, it's hard to fuck this shit up. Oh, it's possible, I've seen it. But, also, it's REALLY hard to turn this fucking shit in to a three paragrapgh wall of text shit fest. It kind of forces a terseness in the descriptions while leveraging the "less is more" style that I think our imaginations work best with. And, did I mention IT DOESN'T LEAD TO THREE PArAGRAPGH SHIT FEST DESCRIPTIONS? So, is it the best? Meh. It gets the job done. Do I respect the person who can craft a three sentence evocative and interactive room description in "sentence style?" Absofuckinglutly. But that number is quite rare and at least the OSE style formatting doesn't lead to an unusable adventure. Theoretically, you could then focus on the interactivity and making the descriptions evocative.
So, on to this. I'm mildly surprised when I see, first thing in the adventure, the wandering monster table. 1d2 ACOLYTES dragging 1d3 ZOMBIES in chains. 1d4 DEEP ONES * sacrificing a human to an idol of a star god. 1d4 DUERGARS looting a charred and smoking corpse. Hey, that's not bad! I can dig it! And then, looking depeper, only twenty entries for ten levels? And, I cherry picked some shit, there's a lot of "they attack" on that table. Or, a merchant who has a key for sale for the nearest door? What's that about? And, pay attention, the "what's that about" applies to almost all of the entries, as we will soon discuss.
Ok, so, ten levels. Two pages per level. A sixish room map on one page and the facing page (digest format!) having the rooms keys. The map is clear and easy to read … but it only has six rooms also, so, meh. It does have light and floor(?!) conditions though, for each room, on the map. Which is nice for running the dungeon, at least the light anyway.
And the room entries? "Dead dwarf (in adventuring gear) sprawled on the floor. Bone fragments are scattered around the body."Hmmm, I'm not sure … "Here lives a sadistic? CLERIC. He gathers his victims' thumbs, strips the flesh away, and uses them to make bone curtains he sells to an eccentric clientele pictures/art" Oh, could it be that … "One statue in one room emits a foul odor. (entire figure is carved from human ear wax.)" Ah, fuck me man. It is, essentially, procedurally generated. And I don't mean a series of tables in the adventure. I mean that the entire thing is so disconnected from one another that it feels procedurally generated. There's a theme, I guess, of some insects, and a heavy HEAVY gonzo sci-fi theme. So much so that I'm not even sure this could be classified as D&D. maybe a splugorth dungeon? Almost every room has some sci-fi in it. Anyway, the contents of a room don't make sense. It's like someone rolled on a sci-fi'ish version of the dungeon trappings table from the 1e DMG. Just some things in the room. And the individual rooms don't really relate to each other. No zones or anything like that. Those acolytes? Who the fuck knows where they are going or why. That cleric? He's got no story at all or relation to anything else in the dungeon. Just each room, individually. Almost like a funhouse dungeon. But, also, each room is not a set piece. It's just a collection of random things.
I'm super supportive of using tables, in a design, to help the DM spark ideas and get their imaginations going. But you can't just write them down. You have to riff off of them, put them together. Make them work together to be larger than the sum of their parts, and, not detractfrom each other because they are all seemingly random.
At one point, in a 30×80 room, there is a mass of vibes growing 4' up the wall. With a purple worm hiding in them. For serious? There is no sense at all.
And the entries themselves, going back to look at them? Generic. Abstracted. The deep ones are calling for a trans-dimensional being! No. Absolutely not. They summon Cthulhu! Or one of the Great Old Ones! The Shadow People of Karth! Be fucking specific. "There is a journal in an unknown script." Well, what the fuck does it say? I've got a fucking spell, that's why!
So, the trappings are here. A "Megadungeon" with but six rooms per level. A format, but nothing to format.
This is $8 at DriveThru. The preview is fifteen pages and shows you the maps and dungeon levels, so its a good preview.