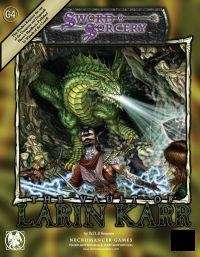 By W.D.B. Kenower
Necromancer Press
3e
Levels 4-9
Hunt for a Legendary Treasure. Deep beneath a peaceful valley lies the vault of the legendary drow adventurer, Larin Karr. Rumors claim that Larin Karr vanished long ago, but his vast treasure acquired from years of plundering hordes in the Underdark still remains. Can you find and loot the impenetrable vault?
This 114 page adventure features a small valley with numerous towns and adventuring sites, with the titular vault (25ish rooms) being the capstone. The adventure is designed well, a rarity in D&D, and the designer understands D&D. It's the real deal D&D sandbox, with a major fucking caveat. A product of its time, and as such is not much more than a curiosity.
I own a Nissan Frontier truck, for off road camping. (#vanlife bitches!) The gold standard in this space is the Toyota Tacoma. I like to say that the Frontier is 10% more reliable than the Tacoma, costs 30% less than the Tacoma, and has 5% of the aftermarket parts of the Tacoma. Somewhere, a Nissan engineer designed the engine bay. He spent four years on it, fitting everything in it perfectly with no space to spare. This saved the company $.000001 cents per unit manufactured. And then I come along and want to add a fuse for a winch. Is the Frontier designed well? Absolutely! Is it a royal pain the fucking ass to work with? Absolutely.
And thus, Larin Karr.
This is a real deal sandbox adventure. Things are interconnected. People are interesting. The locations are well done. There is a complexity here, in design, in interconnectedness. In morality and the situations going on. This IS a real sandbox adventure, designed well. IN THE LAND OF 3E WHERE SHADOWS LIE. For it is devoid of what is needed to make it runnable at the table. And, thus, I will never run it. Every adventure ever made in the history of mankind is now available. Why oh why should one put up with this adventure, and, I will assert in the following text, its nigh impossibility to run, when you could choose from half a dozen others that do the same thing and ARE easy to run? Why choose to suffer? Because Larin Karr is THAT much better than the other? No, it's not. It's good, but, once you reach those lofty heights, of being "good", nothing s going to rock you harder than the others. This relegates Larin Karr to a curious place. A thing to be studied, to learn both how to write an adventure and how to not write an adventure.
Larin Karr has an interconnectedness. Things in one place impact and/or have a relationship with things in another place. This is not "go collect the three gemstones scattered throughout the valley" (although this is present) but more the nature of how the real world works. The local lord, near one settlement, has a younger brother who runs one of the other three settlements. And a cousin who is mayor of the third. Family ties. Makes sense right? And the mayor is really self-appointed and hates his cousin and wants to overthrow him. Also, hes hired a gnoll in the forest to do that. Also the gnoll is now blackmailing the "mayor." Also, both of them know some things about other things. You go places, you learn things, you talk to people, you return to places to follow up. On a decently fucking sized overland map with five mile hexes that is at least 27×40 … with about half of it directly relevant to the adventure.
Further, note in those examples how things seem natural. They make sense. The infighting amongst relatives is common in history and fiction. The blackmail? Makes sense. The local lord is just a kid, barely 20. FABULOUSLY wealthy, and trying to appear not so because its so out of place here. The best of everything. Trying to do a good job. He comes to power and finds some records that this old abandoned ruined keep nearby actually belongs to him. So he sends out some party members to go take his keep back! That makes sense. Hes digging through shit, does not understand the full context, comes across shit, claims what is his.
In other places we get a different kind of naturalism. An old orc burial site, underground. Floor dotted with totems, skulls on spears, necklaces of fangs draped over skeletons. Much debris scattered about, broken pieces of armour and shields, bits of leather, rusted lamps. A discarded cape in a corner. FUCK YOU! You just got eaten by the cape! A cloaker! It makes sense. It fits in well. The designer understands the scene, the orc burel ground. He understand what belongs there. It's not some case of mechanics first, but, rather, what makes sense … ok, now lets fit it in to the rules. Which is the fuck how this shit should be. Things feel right. The interactivity is natural.
"Two rusted portcullises stand half-raised at either end of this corridor. The dull ends of the grates descend to within 2 feet of the floor. Small or Tiny creatures may pass beneath the grate without difficulty; Medium-sized creatures must take a moveequivalent action to crawl beneath the portcullis; Large or bigger creatures require a successful Escape Artist check (OC 15) to negotiate the narrow space. Either portcullis may be raised entirely with a successful Strength check (OC 20), which breaks the raising and lowering mechanism. Once raised, a portcullis drops to the ground upon its release; future attempts to open it require no Strength check."
So, that portcullis. Half opened. People squeezing through it. The mechanism breaking. That is exactly how a portcullis encounter should be. It's not just a simple binary condition of open or closed, raised or lowered.
And herein we also see that Larin Karr has a problem. A serious fucking problem. It's a 3e adventure from the time of 3e. Usability, essentially, does not exist.
That cloaker encounter I'm so fond of? Well, after that broken lamp sentence we get "One piece of trash, a discarded cape in the northeast cornet, is something far more sinister. The cape is, in fact, a cloaker, which lies curled in the corner of the save waiting for unsuspecting passers-by. " This is, in no way shape or form, taking in to account that the DM has to run this room. Oh, the encounter is, but the writing for the DM is NOT. That fucking thing is padded to hell and back, a conversational style that does nothing to make it easy to scan. Quite the opposite, in fact. We see this all over the place in the this adventure. "A2: Rough Tunnel – Though poorly constructed and low (6 feet high), this tunnel nonetheless provides safe passage to and from areas A3 and A5." Repeating what the map says. Telling us that, in fact, the kitchen is a kitchen. Poorly constructed and low is great. The rest … no.
But, these are rather simplistic examples. The heart of Larin Karr is not, I would argue, the "dungeons." There are a few of them, each with a handful of rooms (the titular vault having around 26, I think?) The heart of the adventure is the situations going on in the valley. The situations amongst people/places, and this, I think, is handled quite poorly.
Oh, the DESIGN is great, but how its presented to the DM is terrible.
Lord Kyle's Manor is a location, in the first town area. This is where you get the description not only of the manor, but of Lord Kyle. Which takes about a column. Which is about three DENSE paragraphs. The fucking paragraghs are great. The description is solid, in the first paragraph.; And the "Developments" in the next two, have some solid information. But, digging through a column of text, DENSE text, that is almost wall of text, to grab the information you need? Absolutely the fuck not! And yet, it's got fucking gold in it! Nice commentary on other NPC's and leading conversation … it lends to a natural development with him. And a great situation to resolve in the ruined keep, and how it comes to be, but, again, it's fucking buried.
And this is the way of this. It's a continuation of the bad olf 2e formatting, the formatting from Dungeon. The long text paragraph, with little else to break up the words. TO call attention to things. To highlight sections.
And this is BAD. Because of the density of material, it's particularly bad in this adventure. It's complex. And it's hard to find and dig out. And I'm not GOING to dig it out. Maybe you want you run your highlighter dry, and make margin notes, and create summary sheets for yourself. I've got better things to do.
And, so, Larin Karr. An excellent adventure that is saddled with the Style At The Time. You can see how Necromancer built their reputation from things like this. It's refreshing to see it, and especially so, I suspect, in the era of 2e/3e adventures, to see a real adventure pop up. The din of excitement around it makes sense. But, it's not 2002.
Larin Karr and Thracia fit much the same role. Very good adventures. Classics. But products of their time. And, because of that, they are little more these days but interesting curiosities. Less so Thracia, whos terseness it benefits from, from something to buy and examine. Something to learn from. Rare examples of actual well done adventures … and with fatal flaws to also learn from.
You wanna run this? Good luck. You want to learn from it? Good choice. That's right. Not The Best. Not Regerting this decision at all. Larin Karr deserves better. It deserves a refresh, like Thracia deserves one.
This is $11 at DriveThru. The preview is only three pages,and thus hardly a preview at all, certainly not enough to make an enformed decision about eh product from it before you buy it. But, also, the formatting, the tight text, almost reaching wall of text proportions? This is Larin Karr.
https://www.drivethrurpg.com/product/894/The-Vault-of-Larin-Karr?1892600