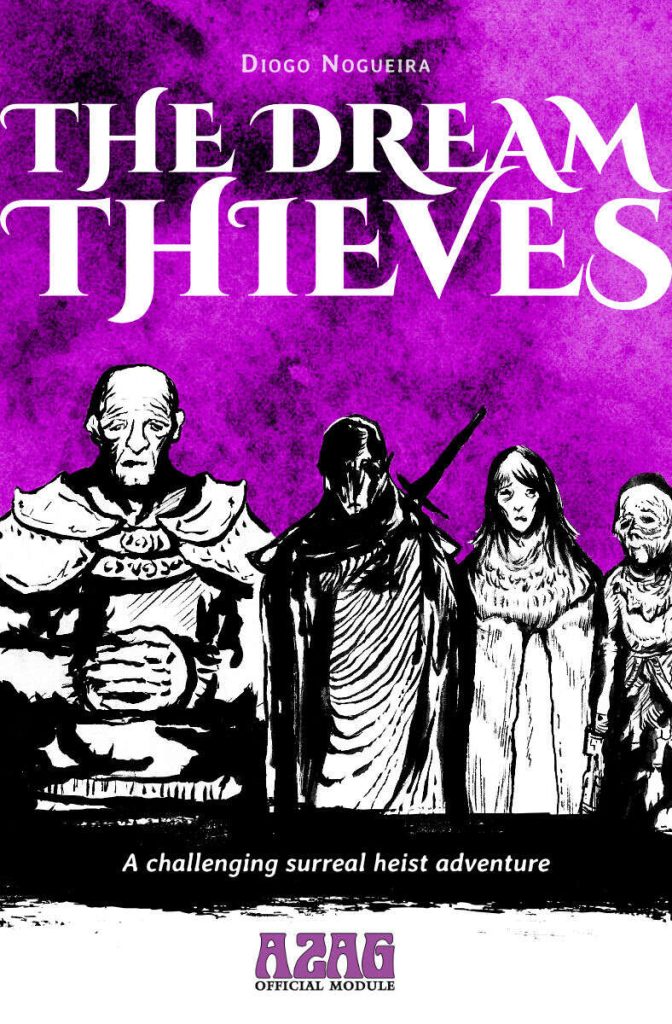 By Diogo Nogueira
Old Skull Publishing
AZAG/AFF/Troika
The Amaranthine Sorcerers, rulers of their self-named city, are servants of an entity that demands dreams as payment for their gifts of sorcerous powers. But the sorcerers themselves grew fond of these dreams, or perhaps the magic they received from this entity imparted them with this obsession with the oneiric. Now they hoard dreams. They collect them as kings collect treasures from the realms they conquer. They covet the dearest dreams of others. They steal dreams from one another, in a strange rivalry, as great as any mortal foe. But they are never satisfied. Others also covet those dreams, especially those that lost them to this greedy cabal. They seek brave adventurers to venture into the sorcerers' inner citadel and recover them. For a great reward, of course. But are these rewards worth the great risk of challenging sorcerers that can manipulate both your dreams and your worst nightmares?
This sixty page adventure marks the end of my engagement with Troika. Errr, I mean, it has six wizards towers, each with a dream theme, and some tenuous "make shit up as you go along" mechanics. Some rooms have an interesting description, but, ultimately, I hope I die before I wake.
I continue to work my way through my review requests. And I continue to hate the people who suggest I review things.
Ohs Nos! Them wizards are stealing dreams and someone hired you to do a "heist" to get them back! And in the context of this adventure, "heist" means … I don't know … the usual dungeon thing?I mean, get to the tower, go inside, and wander around the six rooms until you find the dream you are looking for and leave again? That's a heist? This whole thing reeks of an unfocused design.
There are six towers, each themed to a different dream wizard. All in a compound in the center of the city. Why six? I don't know. WOuld it have been better to say six and then fully stat one instead of doing all six? Maybe, but then that would require some hard design work, I suspect. WIll you use all six? Probably not.
To get to the towers, in the center of the city, have you have to get in to the central compound. During the day the gate is guarded with three soldiers and one apprentice wizard. The apprentice takes bribes. At night there are three apprentices and one soldier. The soldier takes bribes. There's your evocative heist moment.
Then you get to make a wisdom test to navigate the maze of streets to get to the towers. Again, suerdy superdy evocative there, with that description and mechanic. Can't wait to game it.
Then you get to the towers. Once inside … you might get confronted by a dream or nightmare! Ohs Nos! "The Living Nightmare sensing the presence of free dreamers ambush you in one of the passages. You were paralyzed by fear but made a sacrifice to get away. What did you sacrifice?" Yeah, it's full of indi game narration. I can groove a little on this mechanic, but not like this. And it's just all garbage tack on shit. There's nothing going on here except what appears in that text. Pffft.
Ok, then you've got the rooms proper. They are themed to the towers. Shadows, Dreams, Skulls, etc. There's little bit of an artsy feel to them, and I don't exactly mind that. "A large, circular, dark room with six small displays of light that project shadows on the ceiling. Each of them shows an ever changing silhouette of a warrior in fighting positions; a tree growing and withering; a bird flying; a human being born, growing, getting older, and dying; a city growing and being ruined; an egg hatching and growing into a serpent that lays an egg. There's a bigger lantern in the middle with sheets of paper hanging above it." Yeah, ok, a little pedantic in the beginning, but it's got decent energy. Of course, it ends with "everyone in the room has a gut feeling that they need to make a shape for the shadow the light projects." Fuck that shit. You don't tell people what to do. They get to figure the fucking shit out. Make a stealth test! Make a wisdom test! All to nothing.
The mem is that the indi scene has no meat to it. All flash and no game. Just make rolls with no consequences, and narrate your own blah blah blah. And this "adventure" certainly lives up to that. And that's all you're getting from me on this. I'm not reviewing Troika shit anymore unless someone verifies and smrears to fucking god with a cherry on top that its a real adventure.
This is $8 at DriveThru. The preview is thirteen pages and shows you nothing of the towers, although the last page shows you that "evocative' entrance to the city center, with the guards. Pfftt. And a big ol Fuck You to whoever suggested I review this.
https://www.drivethrurpg.com/product/407809/The-Dream-Thieves?1892600