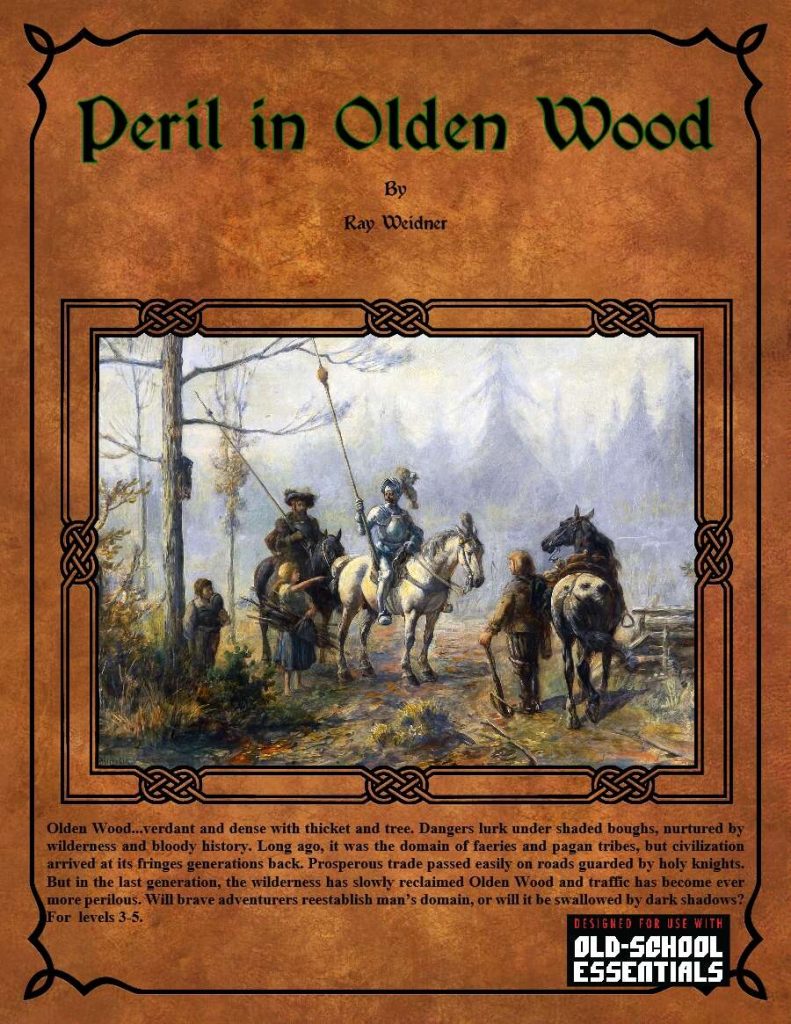 By Ray Weidner
The Merciless Merchants
OSE
Levels 3-5
Olden Wood…verdant and dense with thicket and tree. Dangers lurk under shaded boughs, nurtured by wilderness and bloody history. Long ago, it was the domain of faeries and pagan tribes, but civilization arrived at its fringes generations back. Prosperous trade passed easily on roads guarded by holy knights. But in the last generation, the wilderness has slowly reclaimed Olden Wood and traffic has become ever more perilous. Will brave adventurers reestablish man's domain, or will it be swallowed by dark shadows?
This 91 page adventure details a small regional slammed full of shit going on, with the main attraction being a three level sixty-ish room dungeon. Descriptions are not the most evocative in places, but the situations described are great and the actual room descriptions are generally short enough to not be a pain.
There is a correct amount of information to present at every level of zoom on. A hexcrawl requires a certain amount of detail. A dungeon room requires a different amount of detail. This adventure is best described, I think, as a regional setting with a Thing Going On (the main dungeon.) And what Ray does here, in this regional adventure setting, is provide the correct amount of detail at every level. Organized well. With decent enough descriptions. AND A METRIC FUCKING TON OF INTERACTIVITY.
Seriously, that's what I want to talk about to begin with. The amount of shit going on in this place is absolutely the correct amount. It's not a barren place, with only one thing going on, or a few things. And it's not so overly full of shit that you can't keep track of what's going on. Instead, it's the correct amount for the scale.
I'm looking, right now, at page four. It lists twelve different things the party could fuck around with. Drive out the kobolds. Recover a missing spice caravan, Rescue the caravan leader. Eliminate the river pirates. Purge some cultists. Remove the priest of the new faith. Get the reeve to toe the line of his lord. Rescue missing kids. Let loose The Evil One, bring back an old alter, find the armor of a ancient hero, and restart the Solstice festival. Some of these are at odds with each other (purge the cultists/remove the priest) some of these are naturally related (the kobods, spice, caravan leader.) Most of these fit in to the hooks provided, from the spicing guild to the old duke wanting his taxes back.
But wait, that's not all! You get a page long table (at the start of every major section) that lists the important situations going on in that section. Whats goin g on, the threats, complications and opportunities. Perfect! I'm oriented in a great way!
The new religion/old cult shit is handled well. Some people are REALLY in to one or the other, others just go to church on sunday man, and others dont give a fuck at all. Along with some hidden, or not to hidden, signs that you belong to one group or another. Rumors fit in perfectly, leading the party to places when true, with some fun false ones as well.
Plots within plots within plots! Every place is seemingly overrun with things to do! The local temple … thats' related to the new religion, that's related to the new priest, that could be interconnected to multiple quests? We get a short little description, a listing (with cross reference!) to the priest and his personality, etc, and then a short little section on trease in the temple, for looting purposes. Or thievery. Or, maybe for blackmail purposes? Cause there's a letter from the Mueiel, the eldest daughter of the innkeeper, at the bottom of his chest. "The fruits of our special friendship are beginning to show …" Rought Roh Raggy! Looks like there might be some leverage over this firebrand of a new faith preacher! Or, the helpful bright eyed kid in the town square, who will be your faithful companion. And good naturally spill all ofyour secrets, with no ill intent, to the local spy for the river wreckers. Who are actually a small village nearby, essentially a bandit village. Oh, and they have a lot of relatives in the main town, so, you know, nothing is ever clean cut here.
Everything interconnected. Shit to do. No excessive wasterd detail on things that don't matter.
Organization is good. I noted the situation overviews at the beginning of each section. Thats fucking great. A one page monster summary sheet. Good use of bolding, bullets and whitespace to draw the eye to important points, mixed with paragraph style to add context.
The dungeon maps are great, with lots of interesting features and interconnections. The rooms are generally well described, although some get a little long and more than a few could use a little work on the evocative text department. That's a hard skill. But, still, you need it. Monsters in the main dungeon get an order of battle. There are multiple ways to assault a keep.
It's fucking rocking in every single way.
The outdoor maps get a little busy. It feels like its trying to emulate an art style, but, they are just a little much for my eyes. It's pretty, but, a little much for me, in order to support quick reference. The dungeon maps, though, are stellar.
I could go on and on and on about this thing.
Thisis, I think, as close as your going to come to matching the really good Judges Guild shit form the olden days. Or The Keep. It could serve as a model for how to write a regional adventure, from the formatting and style used to the degree of detail and specificity, to the number of things going on and the degree of interconnection. This continues to the main dungeon, the multiple ways in, the maps of the dungeon proper with its interconnectivity and so on. It is almost worth me recommending as the regional setting that you graduate to, that EVERYONE should graduate to, after their adventurers grow up past level 3.
This is $8 at DriveThru.A FUCKING STEAL! The preview is sixteen pages and perfectly shows you multiple section sof the text. Town, organizations, writing style, you can get a great idea of what you are buying. A perfect preview.
https://www.drivethrurpg.com/product/397008/Peril-in-Olden-Wood?1892600