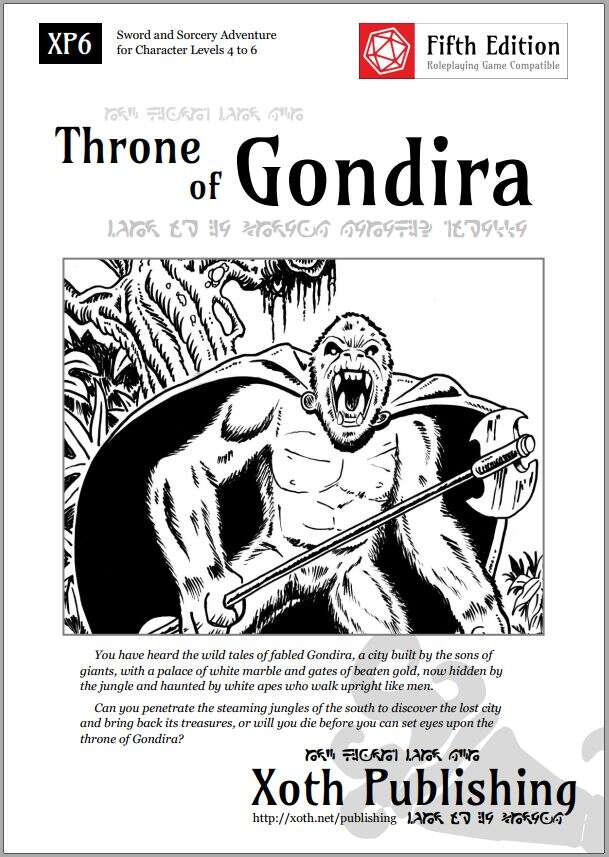 By Morten Braten
Xoth Publishing
5e
Levels 4-6
You have heard the wild tales of fabled Gondira, a city built by the sons of giants, with a palace of white marble and gates of beaten gold, now hidden by the jungle and haunted by white apes who walk upright like men. Can you penetrate the steaming jungles of the south to discover the lost city and bring back its treasures, or will you die before you can set eyes upon the throne of Gondira?
Working my way through requests.
This sixty page travelog of an adventure uses about forty pages to feature a small jungle region and a few dungeons, mostly in the city of the whip apes. It's got a bland style, and focuses on the high level to a degree that I have no idea how one would actually run this.
I don't like the Xoth adventures. They are too disconnected from their setting to make them interesting or able to run. They masquerade as sandboxes, but, rather than a sandbox adventure what this means in the Xoth context is that tend to be more of a travelog and/or regional setting. Abstracted, bland, and devoid of what's needed to make an adventure actually run.
So, it's another lost city/jungle/ape adventure. The Appendix N has a strong hold over folks. And is Yet Another Failure in the genre. It stars rather strong, once all of the pudding text is ignored, with a brief diary entry of an explorer. Not too specific and and the explorers feelings come through rather well. It's both a hook and a brief "map", so to speak, of how to get to the area i question. It is a standpoint column of text. It mimics a kind of dryer explorer diary, perfect for its intended usage, although the dry style continues in the rest of the adventure.
The rest of the adventure is … meh. We've got a small regional. It's got some "civilized" areas with the usual assortment of jungle tribesmen and a few minor temples with a lake monster out front or oracle living inside. It's also maddednning in how the regional areas are referenced. The map provided has some names on it and they don't always matchup with the headings used later in the adventure. Is the Land of Kash on the map the same as the mud man temple? And whats with the rando insertion of the rebel tribesmen, what appears to be an event in an section otherwise devoted to describing locations? But, also, it's after the "bland) wandering table … but doesn't appear on the wandering table?
The main attraction is the City of the White Apes. A small overview and city map, and several dungeons underneath it. The maps for the dungeons are done well in some cases, being a little larger and having a more organic feel to them. I don't mean caves, I mean a kind of flowing of the passages and corridors that feels like something some people dug out … at least as much as the map diagram, proper, is concerned.
But there's not enough specificity. It's almost as if the designer has some kind of mental block in providing the sort of organization and text required to run it, all in the name of "Sandbox." The white apes, in the city, don't really come across at all. You occasionally get a chance of one beig at the city gates, or overseeing the slave pens, but it comes across as an empty city. Maybe thats on purpose, I guess, but it's SO hesitant to mention the apes, or them running around, that the entire place feels empty. And, no word on what the apes, intelligent, do to respond to intruders. Or if they capture the party, or anything like that. Can you just walk right up the palace gates and go in? That seems wrong, given what the text implies in other places. But that's how the text comes across. As if you just wander in to a lost city, go up the palace, and start your typical dungeon exploration. But it implies that they are around. Kind of like thatSnake Riders of the Arandondo adventure in which there was only snake rider in an adventure the heavily implied they were everywhere but never mentioned them. Not quite that bad, but close.
That's a pretty big problem. At the same level of issue is the text style used to describe the dungeons. It's bland, and alternated from "unneeded" to "excessive text with backstory." You get text, on the one hand, that is "This is a natural quay where canoes can easily lay to." Inspired to run the room? Why is the text even there in the first place? You don't need it. It's bland and nothing is going on. And, yes, not everything needs to be an actual encounter, there's a place for some smaller/empty rooms in any adventure, but there's too much of it. "THis chamber is full of dirt, broken pottery and skittering vermin" or "An anaconda is coiled up in this chamber." There's nothing to these. It's at the level of a minimalistic dungeon description, but it doesn't even have an evocative writing to it.
Contrasting with that are the LONG sections of text, equally bland. Backstory. Motivations. And a lot of padding with if/then clauses breaking up boring descriptions. It is perhaps heartbreaking that section of Howard and other Appendix N texts are scattered throughout, with things like "Out of the darkness of a corner rose a swaying shape; a great wedge-shaped head and an arched neck were outlined against the moonlight." Not exactly a room description entry, but, it shows all the signs of the evocative writing that the text of the adventure, the actual room entries, are missing.
The entire thing is bland. Written at a level of detail, and a style of text, that robs it all all emotion. Devoid of the hard editing that makes a description terse, easy to scan and run, and evocative. It's a textbook example of something that might be run to read, and imagine but not actually run.
This is $15 at DriveThru. The preview is ten pages and you get to see some of the room descriptions and so on. It's a good preview, in the sense that you can see the content thats important to help you make a purchasing decision.
https://www.drivethrurpg.com/product/322051/Throne-of-Gondira?1892600