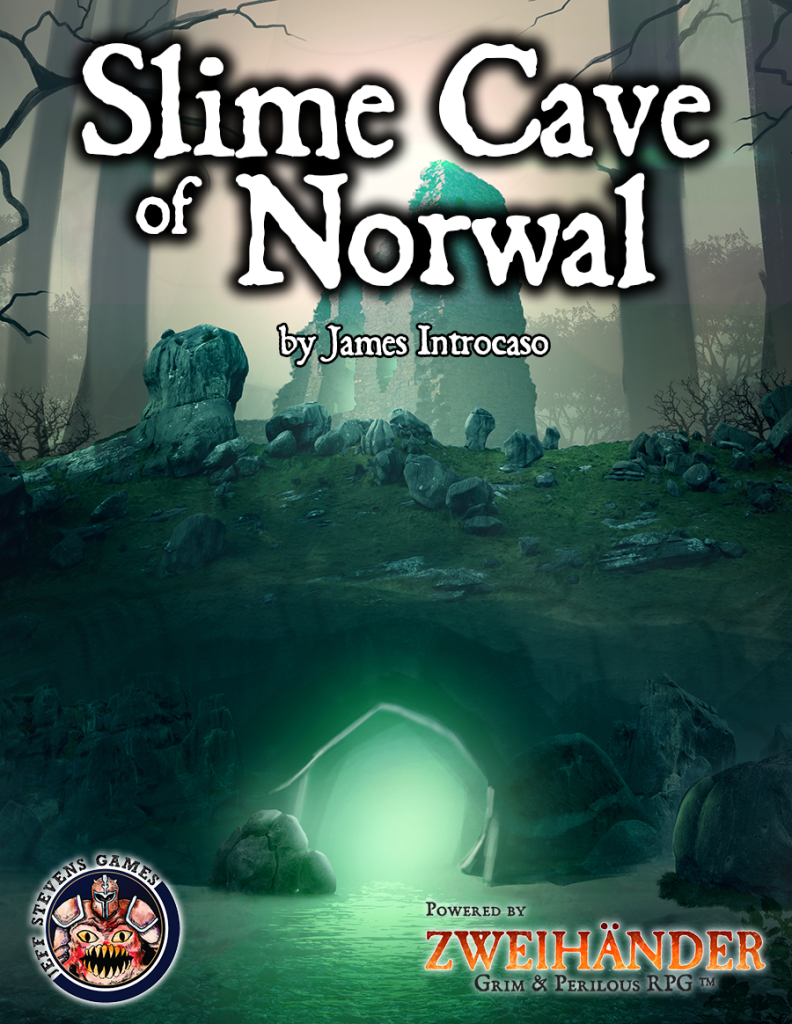 By James Introcaso, Sean Van Damme, Jeff Stevens
Self Published
Zweihander
Basic Tier
Anthla Tremal leads the Cult of Slugidor, the ancient deity of oozes. She brought the cult to the caves five days ago after learning Orthive's tower was destroyed when the now-deceased wizard tried to summon Slugidor. The cult found the basement of Orthive's tower connected to the caves and captured and questioned Orthive's ghost. According to Orthive, the cult needs a "worthy sacrifice" to offer the demon lord. Anthla sends the minor oozes created in the slime to terrorize the people of Norwal, hoping heroes track the monsters back to Slime Cave…12p 6r
This twelve page study in depression describes a cave complex with six rooms and a few slime monsters in it. What do you actually expect to get from a review from a low effort adventure? Joy? Meaning? What even does happiness mean?
So far everything written for Zweihander is crap, right? Or did I miss something?
I guess Zweihander remains the hotness in the mainstream OSR world, with the market continuing to be spammed with adventures. This one was a 5e adventure converted to Zweihander. So, you know, one of the worst things in the world: a conversion. The grim & perilous world of Zweihander is about to meet its greatest foe: the magical ren faire of 5e! Yeah, so, tonally, this thing has issues. It's the gump drop fairy world of 5e, with candy colored art, rather than the grimdark of Zweihander. Conversion, conversion, conversion. Yes, you can use any system, but, certain systems have certain vibes and a raw conversion, in my experience, seldom manages to convey the vibe of the game. All they are doing is slapping some new stats on monsters, converting skill checks if you're very lucky, and that's usually it. Low effort conversion to take advantage of the hotness. LAME
So, a village of 200 people supports a tourist industry to the local ruined tower and caves full of slime. 200 people. Tourist industry. With a spa. And a gift shop. And an inn that serves extra oozy eggs and slime pea soup. Ok, so, I have to admit, I like the food, and the slime spa treatment iea, but only in a farcical "lets push this fucking thing to its fucking limits." But, this plays with the suspension of disbelief. As does the hook of all of the local militia having being killed by slime oh please might you do something? I'll maybe give you a magic shield, and, if you bargain more, I'll throw in a slime bath treatment at the spa. Seriously? This is the grim dark that Zweihander promised me? I'll all for farce in a game, but there has to be some core of realism. The world the players are in MUST be the straight man. It must SEEM normal, until the party shows up and starts to fuck things up.
So, there's a cult, because mental illness, anti-science (alchemists) and cult religions are the three acceptable bad guys these days. Not that I have a problem with that, but, its fucking over-used. Everything is a fucking cult these days. Come up with a decent fucking spin on a cult maybe? Remember the throwaway cult in Hoard of Tiamat, and the Hack & Slash remix of chapter 2? THATS a fucking cult. This is just a fucking low effort throwaway. Anyway, the cult is in the caves, blah blah blah, they need to lure heroes to cave to sacrifice them to summon their slime god. Lure. Heroes. Yes, another fucking low effort idea. I can't come up with any reason why they are in the caves and/or pretext for things so I'm just going to say that they want to lure heroes in and sacrifice them. Jesus. How about a skill gauntlet while you're at it, just to "test" them? No? That would be effort? Ok. So, cult luring heroes to the cave.
You have to track the oozes that raid the town. I have no idea why you have to do this. It seems obvious that the ruined tower, and slime cave underneath, are the place to go. But, anyway, you track the oozes. If you make your roll you track them to the slime cave. If you fail your roll you track them to the slime cave and get attacked by four of them. So as to encourage mix/max'ing of characters. Inside the cave are six rooms.
Let's see … "get attacked by an ooze" seems to the major theme here, surprisingly. After fighting oozes in cave one, cultists come rushing out, (their names are in room two, obviously) to pretend to be adventurers and lead the party to the finale trap room. Oh, and a "shimmering ooze" attacks the party, I guess maybe when they cross a slime river? It's just a one sentence thing. Which, I can appreciate form a terseness standpoint but has absolutely no flavour at all.
Another room has an ochre jelly in it, standing behind a slime river and in front of a chest. The chest is trapped, setting it off pushes you in to the ochre jelly. Why you left an ochre jelly in the room is beyond me, as is why the thing didn't attack you before you opened the chest.
Oh, there's a ghost. The cult trapped a ghost in a giant alien-like pod transparent bell jar. He's a scared ghost though, and doesn't fight ot help you. Except by prodiving monologue to explain everything that is going on in the adventure. Because that's the only way to convey information, beyond a journal/diary, in a shitty adventure.
I guess, the only good part of the adventure is that if the party fails then the cutists summon their slime god and it devours the entire world. So, you know, time to switch games. THAT'S a good thing!
Low effort ideas. Low effort interactivity. Conversion job. Nothing to see here, move along!
This is $3 at DriveThru. The preview is eight pages. Good enough to make a purchasing decision. That, to be clear, should be "NEVER."
https://www.drivethrurpg.com/product/368404/Slime-Cave-of-Norwal–ZWEIHANDER?1892600