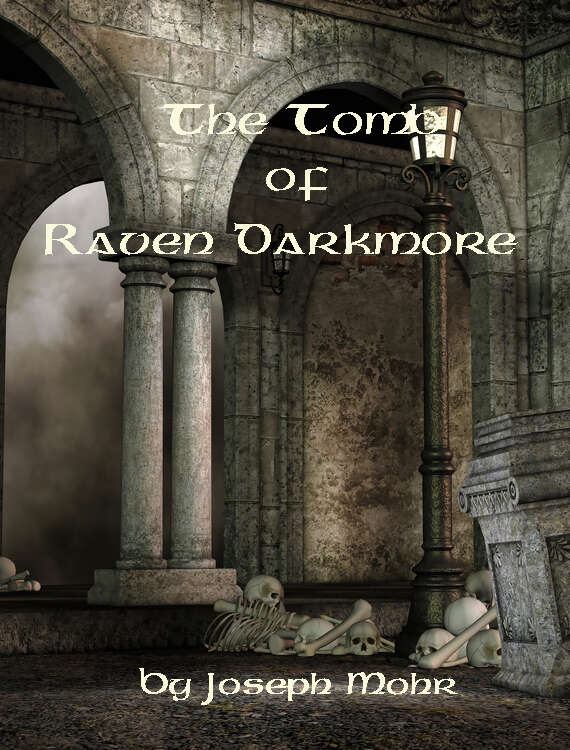 By Joseph Mohr
Old School Role Playing
OSRIC
Levels 9-12
Raven Darkmore is the legendary Grandfathr of Assassins. He has ruled the night for the last forty years. Now he has been laid to rest. The location of his tomb has been a mystery until recently. A pair of thieves have found the location. Unfortunately, one of them died, trying to explore the tomb. His partner decided that he needed a little help. He has contacted the party offering to lead them to the tomb for a share in the treasure. But not everything is as it appears. The thief leading the party to this tomb is not trustworthy. And the tomb is not as empty as it might seem.
This 27 page adventure describes a small 23 room tomb dungeon with a "central star" layout. It stuffed full of high level baddies, all living in harmony, waiting to kill the party. And is in single-column format. And is dull.
Do you think your life has meaning? Let us assume you were locked up, today, in solitary confinement for the rest of your life, with little to no agency in your life from now on. Let us contrast that to the life you have now, or, perhaps, what you imagine to be #BestLife. Is one more meaningful than another? Can the choices and outcomes of either life be declared to be meaningful … because there can be no meaning, making everything, essentially, the same, and the struggle against the absurd what brings value? But, what if there is no struggle? What if you are not aware of it? Sometimes, reality has a way of slapping you around and challenging those beliefs of your. Reality, in this case, in the form of The Tomb of Raven Darkmore.
Blah blah blah. Grandmaster of Assassins dead, buried in a tomb, thief dude finds it and recruits to you help him loot it. He will, of course, betray you and, of course, the GM isn't actually dead but is hanging out inside with all of his assassin buddies. As in, there are ten 10' squares with ten high-leve dudes in the room, about half assassins. If you follow the DM advice then they just backstab instead of doing their assassinate strike. Oh, and then there's the ghost that hangs out in the tomb. And the two bad-ass vampires running around. And the mummy lord priest. And the Death Knight. All in a small tomb complex laid out like a central star. No one really cares that you're there, or hunts you down, or really cares that anyone else is there either. They just hang out in their little rooms, waiting for someone to come visit so they can attack.
This is the problem with tomb adventures. This is the problem with ihg level adventures. A static environment with unintelligent undead for low level adventurers is not the same as a high-level adventure with intelligent (super intelligent) undead. If this were a low level adventures, returned, then it would just have the "I am a boring tomb adventure" problem to solve. But, as a high level adventure, is has to solve all of the high level adventure problems also, and it just doesn't try at all. They are all just there, waiting.
And I didn't even mention the two assassin patrols or the black pudding or the hang of displacer beasts wandering around. There are, of course, a lot of traps.
It's all in single column. It's gots continuity errors. The ghost loves his wife, but I guess he never leaves his own tomb to go find her missing bones? Plus, her tomb is LITERALLY on the other end of the room, an open room. And her locket is in her crypt. But he's never gone over there to find it? And then, when her bones DO show up, later in the adventure in another room, they are labeled as HIS bones, not hers. It's like no one tried.
A chapel to a forgotten god. A tomb with an alter to the same god. That's the detail you get. Nothing special. All abstracted. Everything boring and generic, when it exists at all. The descriptions are all facts and mechanics. Both doors are locked with extremely complicated locks (-50% to picking.) Of course. "The coffins of the king and queen lie side by side in death. Dominik and Eliza were king and queen of a minor kingdom that once existed in this area. They died nearly 400 years ago during a war that engulfed this region." That's your room description. Enjoy. Abstracted detail. Non-existent detail. This is like a randomly generated dungeon. Just roll on the DMG chart and put the monsters in and slap a trap down in each room.
This is not D&D. Oh, I know, one true-way-ism and all that fuckery. Why bother writing an adventure when you could just randomly roll on tables to produce the same thing?
The highlight of the adventure is Ghosty McGhostface, who will help you, maybe, in the final fight, maybe, if you find his wife's bones. Maybes. There are essentially no room descriptions. Maybe one room has "murals of his best assassinations." Everything else is backstory and trivia, when it has descriptions at all.
Love bland descriptions with an emphasis on mechanics? Do I have an adventure for you!
And, of course, there's no level range given on the cover. Or in the product description. Why bother? Three stars on DriveThru. Ouch!
This is Pay What You Want at DriveThru, with a suggested price of $3. The preview is six pages. For that, you get to see the level range, on the title page, as well as two pages of wandering monsters in the wilderness. Bad preview. Previews need to show you something of the meat of the encounters, what you will actually be buying.
https://www.drivethrurpg.com/product/310981/The-Tomb-of-Raven-Darkmore?1892600