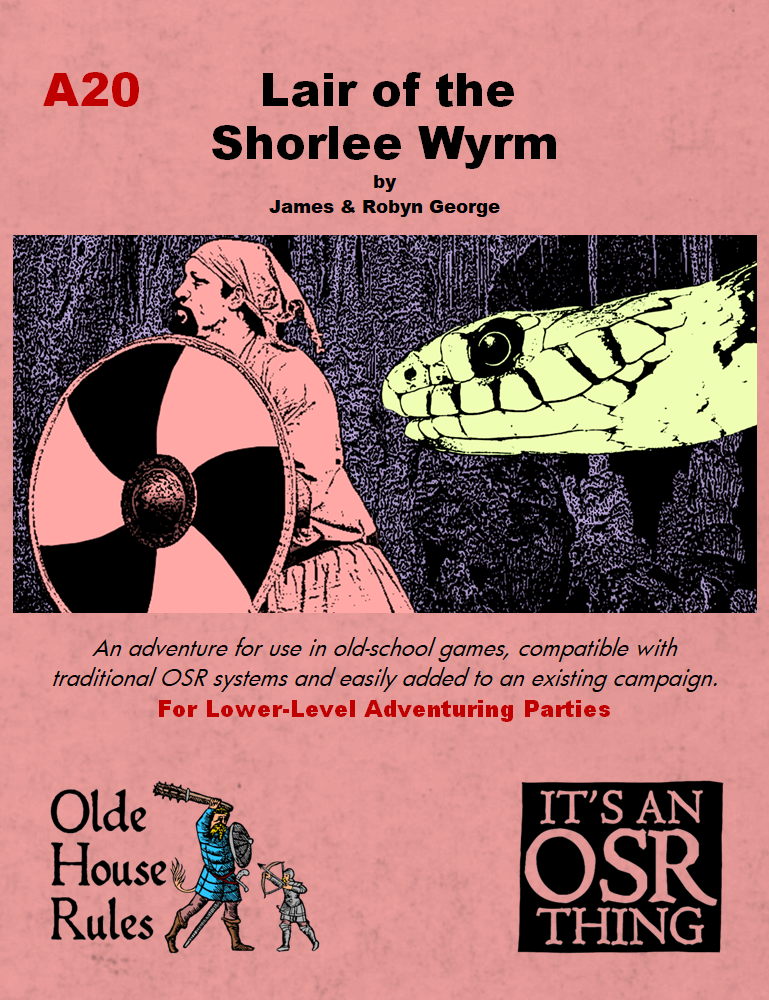 By James & Robyn George
Olde House Rules
OSR
Lower Levels
Years ago, a dragon was slain in the Shorlee hills, or so said the one surviving warrior who made it back, only to succumb to his wounds before the morning came. But the attacks ended, so it must have been true. Dead men tell no tales, and the lone warrior died before revealing the location of the beast's lair. Who knows what riches it held; who can guess what treasures lay unguarded for the taking? There is an old saying in Shorlee: riches lie not for long, and who knows what dangers – and rewards – await those brave enough to go in search of them, for the site of the old lair is forgotten no longer. Its long-sought depths await the plundering hand of adventurers seeking their glory – or doom.
This 32 page adventure features a two level dungeon with about fifty rooms. It starts with some strong "rural rea-life slain dragon" theming, and then devolves in to mostly a hack. The mystery and wonder of the place peter out after 40% or so, and it reveals itself to be seemingly random, not continuing the initial strong theming. And it's long-winded for it's hacking, a quarter page for encounters is the norm with half page/one column not being unusual for "the usual hacking."
There's a land right out of Harn, a quiet rural land with a scowling local steward serving his absent lord. A hundred years ago a dragon terrorized the lands and was slain by seven 2nd sons, only the last returning, to local sainthood as The Seventh Man, before perishing from his wounds. The lair was not found. Except now a local shephard found a bunch of coins by a hole in the ground newly opened up from the recent rains and flooding. With looting the lair threaten the lucrative local pilgrim trade? Strong stuff and a solid planting of the seeds of local legend in a Harn-like land. This is all handled in a several bpage background & overview section. Very light on details and keeping things high level, it provides a pretty solid footing for interpreting what is to come.
And what is to come starts strong. A hole in the ground, opened up next to a tall oak tree (mythic underworld entrance!) with a few coins scattered around. And then a cave, full of massive mushrooms growing in it! Solid entrance. The caves continue. A skeleton half under rubble, a torn bag of coins. A cave with statues … and and a basilisk. There's a strong low-fantasy, or, maybe, classic fantasy vibe going on.
But this soon devolves. Kobolds show up. In a dormitory with beds. Cultists, replete with suiside herbs stored in their cheeks. (What about Frank? He's just here to hang out with the guys and play cards and get away from his wife. Now everyone is like Chew these Herbs If We Get Caught … And Keep Them In Your mouth At All Times! And no hint of this cult in the town/village overview section? For Shame!) The patterns become obvious after awhile. Enter a room, hidden monsters attack. There's a weird thing to look at a time or two, like dragon eggs, broken, with small child skeletons inside of them (and a mute little girl you find the caves …)but for the most part this is just a hack.
And the designer seems strangely interested in keeping any advantage from the party. The little girl refuses to help the party in any way. The cultists all commit suicide ratherthan be meaningfully questioned. The rings of undead control only work for the cultists. The skull from which gold coins flow (Cool!) is verboten for Lawful characters. It's all a little forced, IMO, with a touch here and there of enforced morality. A character of Lawful alignment means dumb and unable to have fun, evidentally. Better to leave this stuff out
It is a sign though of one of the major problems with the adventure: the length of the rooms. Even the most simple room goes on for a quarter page, half a column, with longer rooms taking up at least a column. There's this conversational style and a huge amount of DM asides mixed in with the rooms. I'm not a monster, a sly aside, with a wink, to the DM now and again if a fun little bit. But it becomes prescriptive when the rooms are full of it and you have to wade through all of this DM minutia to get to the important bits of the room … like how many creatures there are and IF there are creatures in the room. And this is an actual problem in several of rooms, the inability to quickly tell how many and of what there are.
For awhile I've had four pillars of judgment. Ease of Use at the Table, Evocative Writing, Interactivity, and the elusive Supreme-Court-Porn of  'Design.' I've toyed with the ideas that there is this kind of sliding spectrum of each and at some level they produce something that is worth your time to use. I think, now, though that I'm thinking of it wrong. The overwhelming feedback from most folks, when you talk about adventures, is how they don't use them because they are hard to use. And they're right. This points to the Ease of Use pillar. I suspect that there's actually this hurdle in Ease of Use. The number one priority is to make it easy to use. Because if you don't then no fucking person is going to use the fucking thing. It doesn't have to be perfect in this regard, but you have to get over some hurdle. Just make it not torturous to use. Then if you can hit the bare minimum in terms of evocative writing and interactivity then you get a Recommendation. Maybe not even that, maybe you don't even have to make it an interesting adventure with the writing or interactivity. Just make the fucking thing not a chore so it can actualy be used to play the game. That makes you a Journeyman. Anything at all in the other areas makes you a Master. There's, how's that for the setting the baf impossible fucking low and still seeing 90% of the designers not be able to meet it? (These rules only apply to MOSTLY everyone. Jabberwocky's Wake still gets a pass from me.) Yeah, it's really taken me ten years to come up with that. Go figure.
It's short on treasure for an OSR game full of death and hacking. 10,000cp and 5,000sp might be realistic but not level-able.
This is $2.50 at DriveThru. The preview is two pages and shows you only the setting background. It's decent read, to get the vibe of the place, but a shitty ass preview since it shows you nothing of the encounters you'll be purchasing/using. Previews need to give you a sample of what you're buying.
https://www.drivethrurpg.com/product/300851/A20-Lair-of-the-Shorlee-Wyrm?1892600