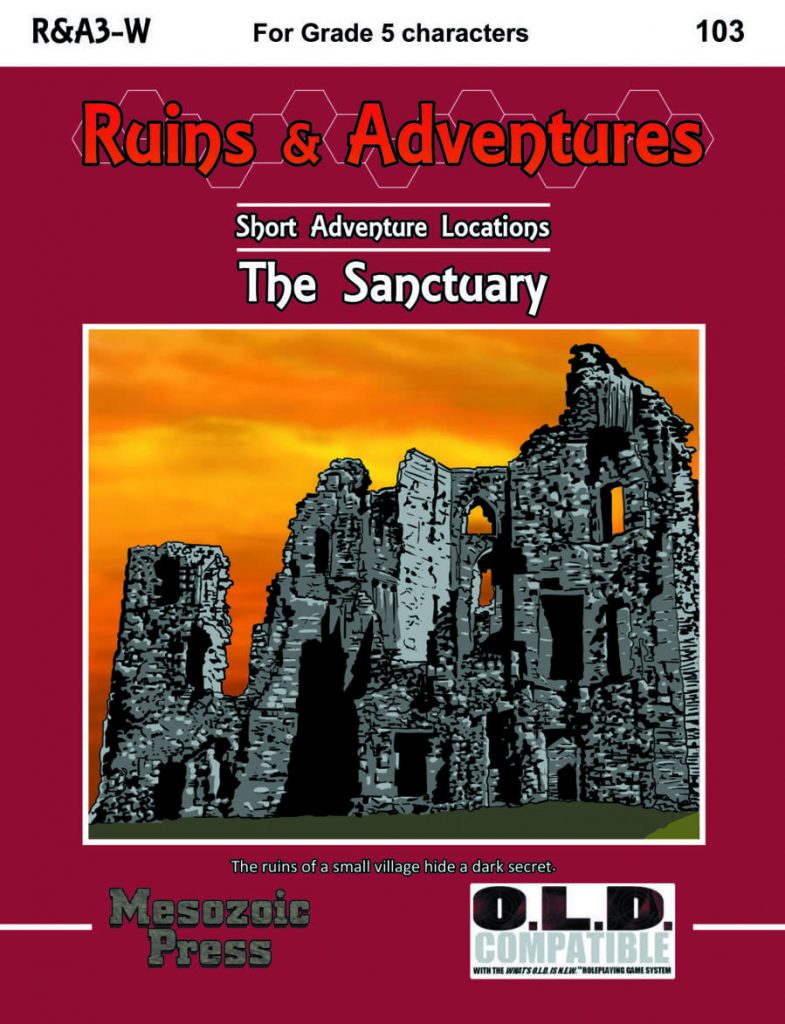 (No designer listed)
Mesozoic Press
B/X
Level 5
The ruins of a small village hide a dark secret.
This twelve page adventure describes a 20-ish room dungeon in about six pages. It has a slow feel to it, with writing that tends to the blander side of evocative. It's not exactly bad, from any particular standpoint, but nor does it distinguish itself.
Well, I don't know where to start. How about that one sentence synopsis? It's a half-build village with a hole in the ground that leads to the dungeon. It's handled in one three-sentence read-aloud. So, not really a village with a dark secret, more of a hole in the ground with some pretext words thrown at it. Maybe less time spent on the background, at a page, and more time on the environs/dungeon would have been in order.
Anyway, dungeon. It's got some 5hd undead. And a room with nine zombies (are those still a challenge for level 5 characters?) and an undead tentacle monster with a couple of traps. The complex feels empty, as if the rooms are full of nothing with an occasional monster popping up.
Read-laoud tends to the longer side of four-five long sentences per room and comes across as … staid? I mean, it's there. It's accurate. It's not overblown. It's just like the world's least imaginitive-but-competent DM is reading you. It comes across as fact based rather than leaving deep impressions. There is a bench against the far wall. There is an iron door on the west wall. There is a set of wooden shelves on the north wall. Ok. Sure. It's not exactly doing aything wrong but the writing isn't exactly next-level either.
I can pick apart small things. One read-aloud section has a note that "As you push forward …" which is awfully close to telling the party what they do/how they react. The overview of the dungeon, proper, before the keys start has some bullets with general information. Floors/ceilings, doors, and then everything slick with water. The slick with water stuff should have probably been moved to the first or second bullet, since it is likely to be references more than the door issue or the general environment. (It also has a mechanic for running on slick stone,) Likewise, a bolded word or two would have gone a decent way to drawing the eye to the correct bullet text. Another room notes that, in the DM text, "There are four dried ink pots on the writing desk each with a silver collar …" This is in contrast to the other DM text follow-ups in that area that begin "The painting is of …" and "The large chest contains …" and "The small chest contains … " Note how those start with the primary object, meaning I only need to look at the first word to determine if its the correct chunk of text that I'm looking to relate to the party. The writing desk, though, is buried deeper in the sentence, causing me to work harder. Yes, I actually do know I'm a git, thank you very much.
An alcove is "small" and other areas are "large" and so on, the issue being the use of the more boring/generic adjectives and adverbs instead of selecting another word that brings more imagery along for the ride. Likewise there are little historical one-liners that contribute little. A statue once held a candle .. .which has no impact on the adventure. Frank the bad guy hated a statue so he destroyed it … and other little one liner historical backgrounds that bear no meaning on the adventure. Not exactly a sin at one line but not contributing either.
One room, with a dangerous roof, notes pieces of the roof on the floor, with a great hint. Another trap is directly behind a portcullis … so the party should already be aware. Both are good examples of enabling exploratory ad careful play for players paying attention.
So, not much good and not much bad. I could quibble with the amount of text in certain areas, but it does an ok job. I find it dry though, and not really distinguishing itself in any way means I, personally, would look elsewhere.
This is $1.50 at DriveThru. The preview doesn't work. I wonder why this isn't free?
https://www.drivethrurpg.com/product/275813/Ruins–Adventures-3-The-Sanctuary-B-X-Essentials?1892600