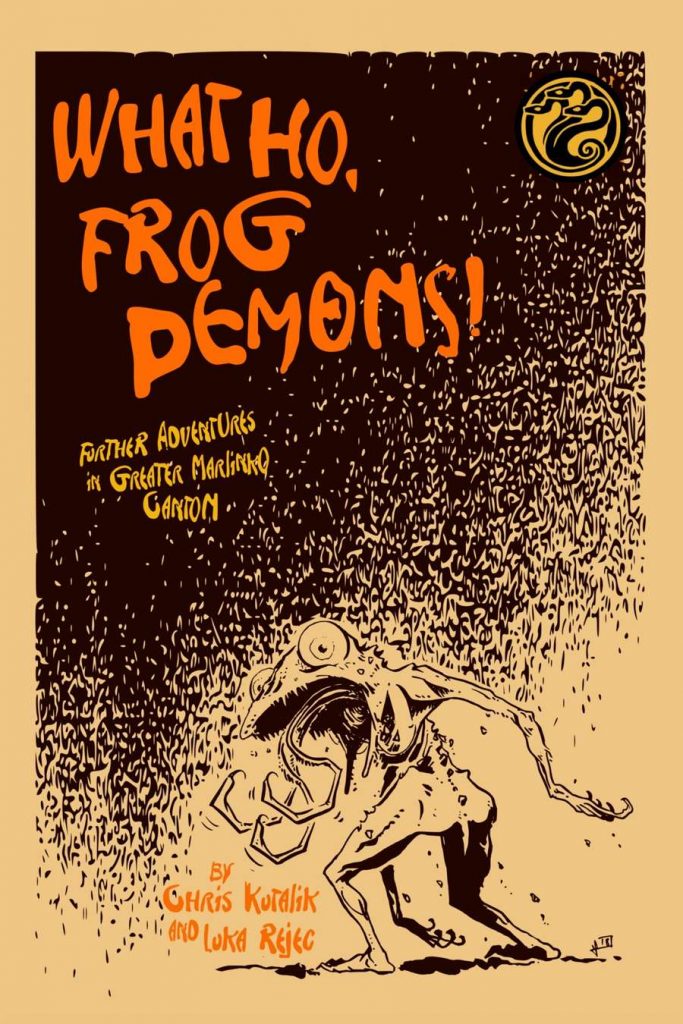 By Chris Kutalik, Luka Rejec
Hydra Cooperative
Labyrinth Lord
Levels 2-4

Weighing in at 112 pages of pure Slavic/Vancian/Moorcockian acid fantasy, What Ho, Frog Demons is the fourth stand-alone, mini-sandbox adventure in the Slumbering Ursine Dunes series. Fever-Dreaming Marlinko was an experiment in reforming the city setting book: sloughing off the tedious bits and cranking up the most adventurable qualities. What Ho, Frog Demons is a similar experiment: what happens when you rev up a regional setting book really high for pure play at the table.

This is a 112 page regional setting, with hex crawl, a small-ish dungeon and a village adventure. Regional, as in it links up the previous three titles in the series with the region surrounding them. It's at its best when it's focusing on its core mission of "pure play at the table." It drifts off in to Isle of the Unknown encounters at points, providing just window dressing instead of interactivity, in contrast to its Pure Play mission statement. It also revels in its text too much, generating some wordiness that detracts from scanability.

When this is good it's quite good and when it loses focus it drifts off in to focusing on the trees instead of the forest. Great in-voice rumors and maybe a bit light on treasure for gold=xp games, there's a good focus here on play at the table, as one would hope when the designers state it in the products mission statement. The hireling who eventually steals, the horse buyer who doesn't really care where the horses come from, a slave trader of dubious quality, a grove of weird fruit that can heal you. The region generally delivers encounters that have some memorable quirk as well as a good degree of interactivity. In many of these cases there's this Potential Energy thing that I sometimes talk about. A kind of tension inherent in the encounter that can drive to interactivity with the players. They WANT to do something with it. Interact, talk, loot, whatever. That is key to a good adventure and this has that. Usually.

Some drift in to Isle of the Unknown territory in which things simply EXIST, without that energy to drive action. At one point there's a great bronze arm laying in the countryside with a family of talking badgers living in it. Ok. And? There's nothing more. There's nothing necessarily wrong with a short two-line description, like this one has, but I'm generally looking for that tension/potential energy in an encounter and this one doesn't have that. There's a place for empty rooms in a dungeon and I'm sure a place for a friendly group of talking badgers, but by giving them something they want, ot have, then we prompt a bit more interactivity. The adventure isn't full of these, most of the encounters ARE interactive, which makes the non-interactive ones stand out more.

Tonally, the adventure stands out also. It drifts in to the silly side of things a bit too readily. I'm a big fan of the Rients Stooopid play style, but I get quite nervous the more silly/stupid elements are introduced. In Actual Play I've got little trouble Going There, but my tolerance for it, in written form, is greatly diminished. A little goes a long way when baking it in. There's some need to maintain the facade of Serious Elf Game or else I tend to lose interest. So, some=ok and there's a line. Do robo dwarf monsters with chainsaw hands cross the line? How about monsters yelling out that they have a fabulous deal on a timeshare for you? The Hydras have cranked it up to twelve with these when eleven was more my style. Monsters calling out about hidden treasure, etc, in order to lure the party? Check. Monsters offering Bay Lake Tower rental point deals on a timeshare colet? Good concept poorly related, I think. I recall some Level 5 Robin Hood adventures in Dungeon, or some Magical Levant adventures. Turning it up to twelve narrows the use cases and endangers dismissal instead of riffing.

The writing and language used in the encounters revels in itself. Layered, dense in its imagery. And if I'm going to knock Talanian for the readability in his High Gygaxian then I should also knock the Hydras for their layered opium. The writing can reach points where the density fights immediate comprehension. Recall, I want to read this once and then scan the entry while running it at the table. The lushness of the text fights against that in some cases in the exact way that High Gygaxian can.

Cholly the Cursed Halfling is an example of this. Here's (most) of his entry:
After donning a woefully cursed helmet, this diminutive Black Hobbit began roving the land in search of a place to wreak his darkest fantasies of violence. The awful fetid heart of the Frog Demon Temple seemed like a sound spot to enact such dire plans (plus it got him away from all those irritating Chaos Party membership drives). Rather than attacking on sight, Cholly will wait until PCs are involved in something distracting before sneaking in from the sides and attempting to target the most vulnerable members of the group, either with standard weapons or his four bombs (hand-sized stereotypical black spherical bombs with sizzling fuse).


Cholly wears a gleaming helmet with two grotesquely-oversized horns spiraling upwards. The helmet is actually a particularly annoying minor frog-demon, so reviled in demondom for his frequent and tediously predictable rage-quits, that he has been permanently bound into the item-form known as the Birse-Helm of Mnuch's Extreme Vexation. The helmet provides infravision out to 60' while worn, and allows the wearer to deal an additional 1d6 damage on a charge. Unfortunately, it also causes a deep and furious insecurity in its wearer. Any suggestion or attempt to remove the helmet will cause the wearer to respond with a (quite literal) homicidal rage for 1-8 rounds. The helmet may only be removed with Remove Curse or the death of the wearer.

Note the first two sentences in particular, and the second sentence of the second paragraph. Yes, it's lush and layered and deep. And dances in to excess and backstory … which is NOT "pure play at the table."

The first adventure, the Frog Demon temple, is advertised a lower-level Tomb of Horrors, and it is. Complete with a statue on a pedestal with a spell on it to make it impossible to lasso, etc, and special giant frogs trained to hide under the water. That sort of thing is absolutely in the vein of a bad Tomb of Horrors adventures. Beets for the Beet God involves a cult takeover of a village/region, etc, and is more open-ended. The Village Generator, Rural Carousing and other info in the appendices are quite nice and accentuate the setting well.

Completionists who own the other three books will want this one. I would not suggest this as the first exposure to the series. Ursine remains a great introduction and Marlinko the best of the four, with Eld being the perfect follow-up to both/either. The rest of us, well, we have hard decisions to make. The book is interesting and creative. Most of the wandering encounters are good and great many of the locales are good also, with the specificity needed to fire the DM's imagination … if a little muted in total length.

It's weird. I think the encounters, for their actual length, are not more content than the one or two sentences found in Wilderlands. Or that's the impression I have anyway. In contrast my memories of the other three books ar that they are more pamphlets, instead of the 112 pages of this, and choked full. A testament, perhaps, to the overall quality of those other three.
It's lush. It's interesting. And it strays in to '12' territory where '11' would have done.

This is available for $12 at DriveThru. The preview shows you good rumor table and then shows you the Weighty Conversations rumor table, with lengthier descriptions. The last page shows two hexes. The first is irrelevant, since its the Misty Isles. The second though is a decent enough example of what a hex contains in What Ho.
https://www.drivethrurpg.com/product/257155/What-Ho-Frog-Demons?affiliate_id=1892600
I spell checked this one, but, I refuse to type "in to" as "into." It found nothing else. So … "tongue stuck out."