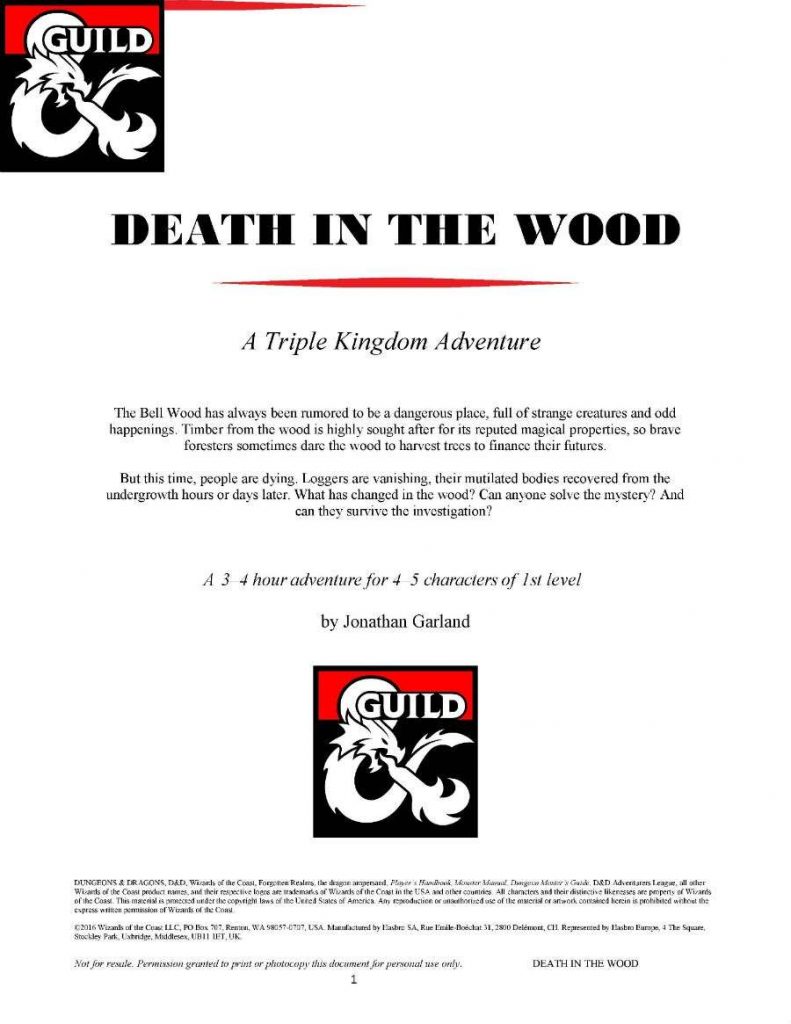 by Jonathan Garland
Self Published
5e
Level 1
The Bell Wood has always been rumored to be a dangerous place, full of strange creatures and odd happenings. Timber from the wood is highly sought after for its reputed magical properties, so brave foresters sometimes dare the wood to harvest trees to finance their futures. But this time, people are dying. Loggers are vanishing, their mutilated bodies recovered from the undergrowth hours or days later. What has changed in the wood? Can anyone solve the mystery? And can they survive the investigation?

This twelve page adventure has the party looking for a womans missing lumberjack boyfriend while avoiding a cursed wood that is killing people. Not exactly a railroad, not exactly terse, both an outline and prescriptive. It's a mass of contradictions and I suspect that, with a little work, the style it uses would be ok. If you think a four-hour adventure should be contained in four pages. Still, not odious, which is a compliment.

Let us imagine a barren desert with no features at all. It is rocky and hard to walk across. Right down the middle of it is a narrow path clear of rocks, easy to walk on, with water fountains every 3 miles. Do you have free will in this situation? If I write an adventure that does not force you to take the path, but doesn't really support you in taking another path and make the easy path REALLY obvious, then what? That's what this adventure is.

Show up in town. See a woman in a bar pissed off that he boyfriend is still missing after two months and learn of a series of murders in the woods. Then a barfight breaks out with lumberjacks, the guard shows up and arrests the party. Yeah, ok, you MIGHT be able to avoid the fight, but its supposed to happen. And the adventure specifically points out you could escape arrest, and to let the party if they do. (Imagine, having to write those words in an adventure, What a World! What a World!)

This thing telegraphs in every sense of the word except actually handing the party a piece of paper saying "MANFRED DID IT." In the first place, the bar, you learn he used to date the Erin, the woman with the missing boyfriend. And in the second place, the jail, you learn he has a history of violence. He proudly shows you his axe with a notch in it (that later matches the notch in the boyfriends skull.) A sprite in the woods says "You big people always killing each other." This is a railroad in every sense of the word even if it doesn't use DM Fiat to keep things on track. Or, maybe, it's so simplistic to be confused with one? Anyway.

It features trig blights and Galafanakis evil tree thing. What's up with this shit? It seems half the 5e adventures I see have them in it? Are they the new kobolds?

"You killed someone last night" says the sheriff "Deaths, even in self-defence, are unacceptable. Get out of town." Yeah? How about I stab you in throat 157 times? Seriously? We're supposed to stand there and get slaughtered? Oh, they weren't going to kill us? You can see the future now? You look like the sheriff and not a mother fucking sorcorer, sorry to mistake you. You know, it occurs to me that I may have a problem with authority figures in elf games. Or, as I would say "so called authority figures."

There's long read-aloud at the beginning of each location and you would not be wrong if you made comparisons to a scene-based adventure format. The read-aloud tends to be describing a social interaction though, as if you just walked up on something happening. It's also pretty well written, which I don't think I've said more than three or four times? It does a good job of communicating the social vibe going on. It's still too long and the players are almost certainly going to be playing with their phones, but it's not the overwritten fantasy drivil that is present in most read aloud. What's that thing they say about character-driven movies?

I could also point out that the loggers in camp seem willing to talk to the party even if the party killed a few of them in the bar … at least I don't thin I saw a few words of warning otherwise. It also commits the sin of "throw a few more blights at the party if they try to take more than a short rest." Uh, No. We don't play adversarially in D&D and the DM isn't telling a story. Who cares if they rest?

I'm coming off negative here, but I want to mention more than a couple of posativies. It IS based around the relationships of people, which is a good thing, and relatable. Simplistic, but still, it comes through well. Information tat tha party can learn is relayed in bullet points so it's easy to find. Further, the locations/scenes are set up in a way that adds just a little more. In the section on the logging camp it notes that the loggers, wagon driver, or cook knows the following … That's the first time the cook and wagon driver are mentioned. It's not much, but it adds just a little more detail to the camp other than "just loggers" and that's the sort of thing a DM's brain need to remind them to paint a full picture instead of a boring one. It does this in multiple scenes/locations.

This thing is simplistic but easy to follow for the most part. (There is some "paragraph" information presented that could be organized better.) It's based around people, the bullets convey information well. It's not really interactive, in any sense other than "talk to people a lot" and seems to rely on the "opening fight" crap advice that should have never been published. But, I would not stab my eyes out if handed this and asked to run it. High praise! (For new readers, yes, that actually IS high praise.)

I don't know about the read aloud. Some of it is ok here AND its longer than it should be. Too bad. Yeah, I know you have to make things REALLY obvious in investigations, but, man, this is WAY obvious. From the first location/scene.

This is Pay What You Want at DMSguild with a suggested price of … $0! People who pay $0 are jerks, even if that is the suggested price. Give the dude a dollar, at least!