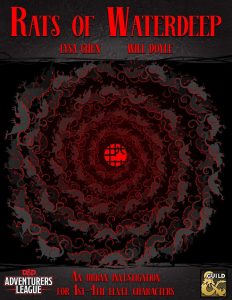 By Lysa Chen, Will Doyle
Self Published
5e
Levels 1
Solve a brutal crime on the mean streets of Waterdeep in this madcap companion adventure for Xanathar's Guide to Everything!
This 29 page city adventure is fun. Modeled on a Noir novel, it doesn't take itself too seriously, but never falls over the line in to humor or sillyness. It walks up and leans over it, waving its arms to not fall over it, but stays firmly planted while looking over its shoulder and giving the finger to the hardcare serious adventures behind it. Pretty well organized and written, I'd be happy to run this, and it's good enough that I'll look up the authors others works. Also: One of my vices is city adventures, so, be warned.
The docks are quarantined, there's a plague. The watch has a message from someone inside that says they know what's behind it. The party gets to escort the detective in … only to find the informant dead and the detectie most likely compromised.
There's a touch of noir in this. It's a mystery, the party escorts a detective. He's new to the squad and wears a fedora and trenchcoat and doesn't understand why the rest of the watch detectives just wear the city uniform. There's a crime lord with a henchman, jilted lovers in the form of the Rat King and the Lady of Plagues, bored secretaries causing trouble … a lot of fun shit to roleplay with.
In this case the crime lord is Waterdeeps on Beholder Bob, and his lacky Mind Flayer. He meets the party after they find the first body, is bored, and sends his thugs after them while he floats away, bored and distracted, with his lacky. I bitch a lot about forced fights and so on, but, if you're gonna do it then having your 1sts meets a behold and a mind flayer and get a chance to talk before thugging it up is absolutely one way fun way to do it. Plus, he disintegrates the detective you're escorting if the party get lippy. NPC removed! Yeah! Fun! Yeah! This is almost a DCC aventure! Well, no, but still, closer than most!
It's got a nice map/adventure flowchart up front explaining the area and the adventure and how the hooks and clues work together. PERFECT for a nice overview. It uses bullet points to convey information. PERFECT for scanning and locating information and breaking it up.
The elements are great. For example, at the apothecary-with-something-to-hide the secretary is trying to get rid of the players using the usual bored clerk gimmicks. The roleplaying notes for the NPC's are good … pretty nice.
Oh, and the usual "lets explain everything in a diary?" bullshit? It's handled through a player handout. Players LOVE handouts AND it doesn't overstay its welcome by droning on. Great!
And, and, if you CATCH the plague you will turn in to a rat! You get features, like beady red eyes, or whiskers, for each save you miss in the adventure. FUN!
And there's a town newspaper handout!
And on the down side …
The bullets are good, as are the NPC notes, but they do get a bit long at times. A little bolding, or a sentence or sentence and half less would be better, as would a more direct writing style. You're conveying information to the DM who is scanning during play … it has to be terse … while remaining evocative. Cut the bs.
Certain details are abstracted. We're told the plague goes by many names, including Rat Pox. Well, fuck, the fact that you named that one means rats are important. A few more naes mixed in would have been fun.
Finally, the two main characters are the Rat King and the Lady of Plagues. They are demihumans. B O R I N G. Think of how much more fun it would have been if they were straight out Petty Gods?!?!?! A REAL rat kind and a minor god plague?!?! FUN! And fun friends to make!
I'm clearly a fan of this. I like city adventures, this one is fun in the way I like adventures to be fun. Not humor, not silly, but with some nods to those elements. It's not Sliced Bread quality, but it's solid enough.
This is $5 at DriveThru. The preview is broken. I has sads.
https://www.dmsguild.com/product/240322/Rats-of-Waterdeep?affiliate_id=1892600