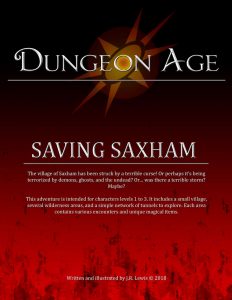 By JR Lewis
Dungeon Ag Adventures
5e
Levels 1-3
The village of Saxham has been struck by a terrible curse! Or perhaps it's being terrorized by demons, ghosts, and the undead? Or… was there a terrible storm? Maybe? No one seems to know exactly what happened here. But the villagers are terrified, bizarre monsters roam the forest, and strange lights strike the woods every night at midnight…
Fuck me. An eighteen page 5e adventure that doesn't suck. Good magic, good NPC's, good information transfer (mostly) and a setup that's not the same as every other adventure under the sun. It's not perfect, but it's a damn sight better than most 5e. I'd run it.
Twice now I've seen .. "gentle?" 5e adventures. I'm playing in a 5e game and when confronted with an evil artifact controlling people, three kids with black eyes speaking in unison … and then when they started to crackle with blue electricity I blew out one of the kids throats, killing him. Turns out I was supposed to save the kids. IE: find a non-violent solution. This adventure is similar, with aspects of the "the dragon is actually the good guy" trope. This is a different play style. While I'm always a fan of letting people talk to monsters, the whole "ultra-violence is not the answer" 5e style is new to me. I think it's interesting.
Here's your spoiler, which I'll actually warn you about for once: everyone in the village died from plague. 30 years later, the ghost of the village priest is bringing their bodies back to life, but it's a three day process during which they _resemble_ evil treants and then evil zombies. Left alone, everything will work out ok. But we're not leaving things along, are we? We're adding the PC's ….
Thus you've got this village with moron villagers saying things that don't make sense, confused about their surroundings, "evil" shit walking around in the woods, and even a couple of factions. There are some elf druids ready to burn down the world, or at least the woods and village, to stop the blight, and then some faeries that would be unhappy if their woods are burnt down. There's even some goblins to talk to. It can be a VERY social, and non-violent, adventure, if you can not blow out the throat of a small child with your magic missiles.
There's a good summary at the beginning of what's going on, the NPC's get a little memorable description in a couple of sentences and then bullet point information to convey to the party, all in their own voices. The magic items are flavourful and non-standard and even tend to the non-mechanical, making them more wondrous than the usual +1 sword fare. I'm overcome by a magic ring faintly smelling of patchouli. Always. 🙂 I'll chop off my hand for Vecna in a heartbeat, but that ring .. man … patchouli? IDK .. And THAT'S a magical fucking experience. Even the wanderers in the fort are great, from a sickly bear whose belly bursts to an rotting animal carcass covered in ants. And the fucking monsters? ONE FUCKING LINE EACH. Yup, all stats on one line. It's like the designer actually plays D&D! And those goblins and elves? Great. Friendly goblin looking for his sons and a shit-head elf druids. Perfect! Who doesn't love some arrogant fucking elves in their game?!
There are issues, of course. First, the nature of the village is a little light, or, rather, how the villagers are coping. It's in there, a little, with their confusion, etc, but maybe not as much as it could be. This is going to be a major part of the parties questions and interactions with the villagers, so a little more guidance/resources in that area would be good.
Second, there's a … disconnect? Between the map and the descriptions in the adventure. The map is nice, locations are numbered, and a little key on the map says that #2 is the weasel mound, for example. But the adventure heading (which is large and bold, Yeah!) says "Road to Saxham. Well, yes, that's technically correct, but not quite what I was expecting to see. #2, Weasel Mounds, or some combination thereof is what I would expect to see. Then there's an entry called "Overgrown Fields." Well, yes, that is the next thing you would see if walking up the road to the village, and there is a field drawing on the map, unnumbered. Thus the text is laid out in a kind of "walking tour" format, if you start at one end and walk to the other. It IS an open area, so it's not a linear adventure, but the text is laid out as it were, if that makes sense. Traditional number/key would have worked, as would maybe matching the section headings to the words on the map. There is a vague feeling of being lost in the text, which I think stems from this organization decision. But it IS close to the line, as if I'm almost there in understanding things.
But, still, it's quiet and fresher than most and rewards the thinking player who doesn't blow out kids throats with magic missiles at the first sign of crackling blue electricity. I'm gonna grade on a 5e curve and give this the Best tag, understanding that I may have had No Regerts if it wasn't on a curve. It's not the usual dungeoncrawl with weird elements and that's nice to see also.
This is PWYW at DriveThru with a suggested price of $3. The preview is nine pages and gives you a good sense of the actual adventure and the writing style. How the NPC's are presented, the confused villagers, the section headings/maps, and on so, although you miss most of the social stuff with the elves/goblins/ghost/etc.
https://www.drivethrurpg.com/product/252050/Saving-Saxham-A-Dungeon-Age-Adventure-5e?affiliate_id=1892600