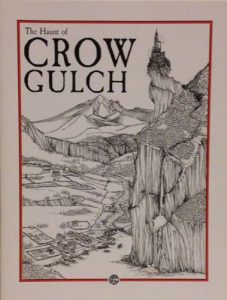 By Randy Musseau
Roan Studio
1e
Levels 4-7
… word of adventure and gold has drawn the characters to Crow Gulch A Gnome by the name of Galemon has offered 50 gold pieces, in advance, to adventurers and sell-swords willing to explore the ruins of the ancient tower in search of a silver orb. He will pay another 500 gold upon success. Rumors and fireside tales speak of a growing terror that lies deep beneath the Haunt and the rocky crag upon which it rests, but this has not deterred those hungry for wealth and glory.
This 24 page adventure details a small town (first half) and a about twenty wilderness encounters followed by about ten dungeon encounters (second half.) Small fonts, lack of whitespace and bolding leads to some wall of text and SERIOUS highlighter fodder. The descriptions get long, even if there is a nice realism to them. Far too many negatives for me, but it's altogether terrible.
You drudge up a cliffside, having wilderness encounters along the roadway, then get to the tower and explore the dungeons underneath. Along the way are a couple of expanded wilderness areas: a harpy lair and dragon crevisse, if you choose to go off path to chase down some fleeing monsters for their lairs. Inside the dungeon you find a sorceress … turns out the gnome hiring you was ruse and she uses him to find strong souls to sacrifice in order to summon a demon. So, while a test/challenge adventure, it doesn't feel artificial like those usually do.
That is the great strength of this adventure. The encounters feel natural and things seem to fit as a part of the natural world. It's not because the toilets and fresh water were provided for. Rather the text gives that natural feel and also a kind of 'in the moment' sort of vibe. You find prisoners almost dead, or raving madmen who rushing down a narrow cliffside trail … who slip and fall off the edge. Harpies and dragons feed, creatures are doing things. More than that though it has that natural feel that the best MRP products did.
That does, however, come at a steep price. The font is small. Whitespace is sparse and bolding/offsets/etc non-existent. This text is THICK and hard to wade through. This all combines to make the text something torturous and I can't see how you can run this at a table easily. Highlighter? Sure.
It engages in repetition to pad things out, with the same details being repeated. It has motivations and background and history embedded in the text. It engages in … definitions! Roblins are playing dones(dice.) There is a jacinth (orange gemstone.) Folks, if you're gonna use a two dollar word then don't explain it. Give your readers some credit. Otherwise 7th grade me will never pronounce Chaos as if it rhymes with Taos.
One of the harpy lair rooms starts with "Large Cavern. The ceiling is a dome of sharp stalactites and filth covers the floor. A ledge along the right wall is covered in piles of twigs, rags, fur and clothing, each arranged in a nest-like fashion." That's not so bad. Relatively short. Not a paragon of evocativeness, but better than most. Then come harpy stats, inline, then comes the searching, inline, all in the same single paragraph, with comments. "Searching the nests (8 in total) will yield …" (four more sentences, including telling us what a jacinth is.)
It engages in this behaviour in a variety of ways, over and over again. At one point you encounter a will-o-the-wisp trying to lure a victim in . It has in it: "This is a trap. The boggart is trying to lure victims in" and then at the end of the encounter everything is justified. "The Boggart is an immature Will-o-wisp. It is building strength by feeding off the essence of its victims. It can appear in humanoid form or as small and bright hovering lights. The net is old and useless. The crackling was coming from the Boggart itself as it attempted to maintain its current form.)" Well, no shit to both.
But, the core of the encounter is great. A tony writhing and twisting figure trapped under a small net crackling with blue electricity. And if you watch long enough you can see it change to tiny hairy man, giving you a hint something is not right. It's great little encounter.
Most of the encounters here are great. People slipping off cliffs. Harpies luring you off cliffs (cliffs are a feature of the wilderness part of the adventure.) They are great. They just get ruined by the fact I don't want to slog through the text.
That's all commentary on the back twelve pages or so of the adventure. The first half describes the region and town. In the same, if not more, detail. Lots of motivations for the butcher's wife to stay in town, and so on. It feels more like a writers guide for a Tv series than it does something to use at the table.Way WAY too much detail, and a focus on things not needed.
It's not a bad adventure, it's just not good. Or, rather, it's a pain to dig through. It feels like the setting should be pulled out for a fluff book, while the text proper needs to be pruned back a lot to remove all of the extraneous stuff, and then some whitespace and bolding, etc added for improved scanability. Also, I might buy a fluff book on the region, but it also needs to focus more on game ability rather than why the baker chooses to stay in town … unless there's a hook in there.
This is $2 at DriveThru. The preview can give you a sense of the font size and density of the text, but not really the encounters, etc.https://www.drivethrurpg.com/product/152482/Crow-Gulch?affiliate_id=1892600